The World at UCLA event showcases international students' stories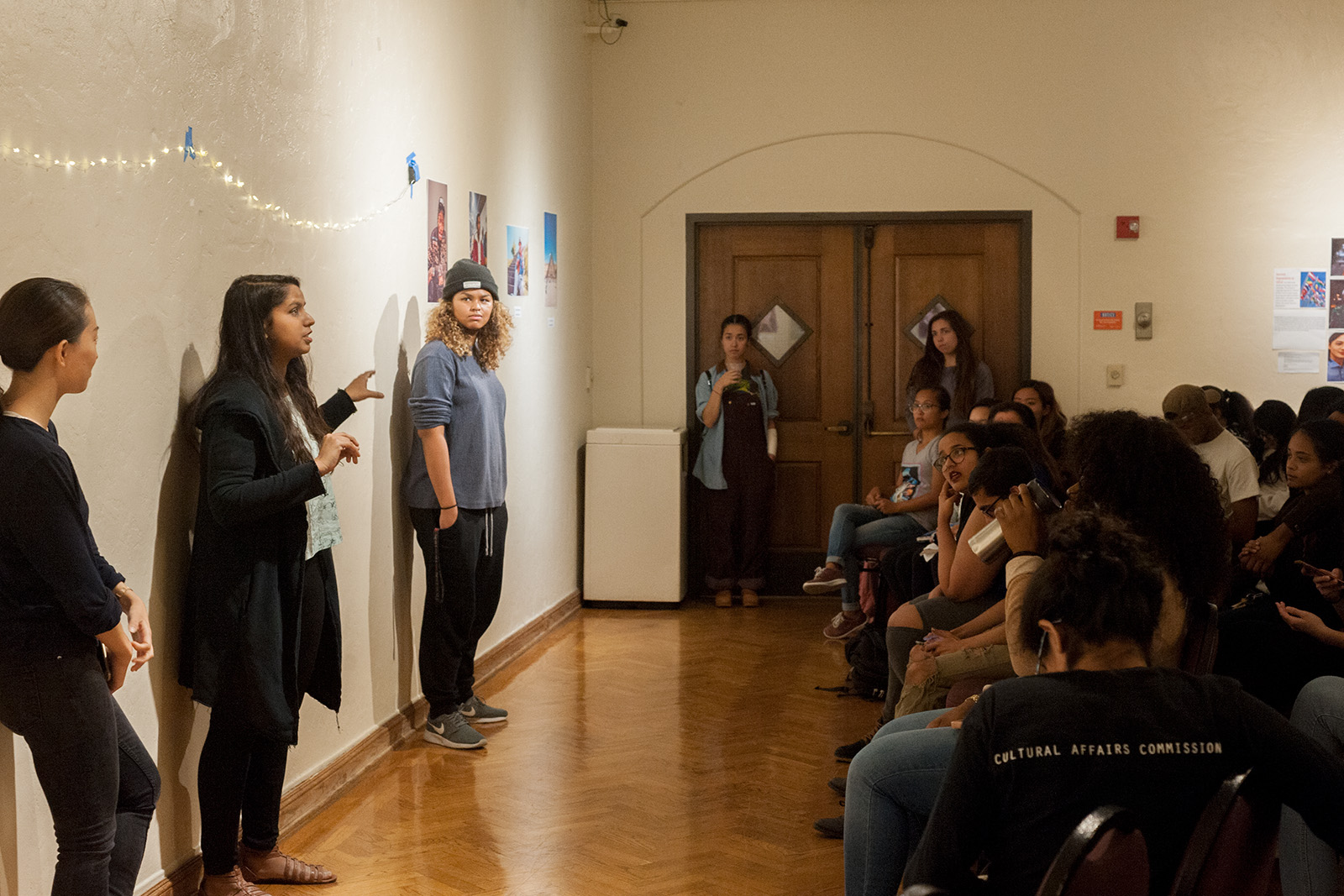 International students shared their personal stories and thoughts on interacting with people from other cultures at the World at UCLA event on Wednesday. The event featured an open mic and a storytelling gallery. (Joe Akira/Daily Bruin)
November 17, 2017 1:51 am
Raunak Rupani performed mashups of songs in French and Mandarin during an open mic event Wednesday.
"An easy way to get to learn about different cultures is to combine it with something you love, and for me it was music," said Rupani, a fourth-year economics student from Dubai.
Rupani's performance was one of many acts at The World at UCLA, an open mic event held Wednesday by the Cultural Affairs Commission, the Undergraduate Student Association Council General Representative 2 Office and the International Student Leadership Coalition. The event also displayed the USAC General Representative 2 Office's Second Impressions project and the Dashew Center's research and storytelling project International Voices.
These projects feature different international students' stories on confronting stereotypes, being away from their home countries and their experiences at UCLA related to their cultural identities.
Ahm Lim Lee, a third-year political science and economics student and the internal vice president of ISLC, said she thinks the open mic event allowed students to share their stories in a less restrictive environment. CAC already holds an open mic event called The Word on Wednesday every week, so ISLC and CAC decided to combine the two events for one night.
During the event, Bianca Brown, The Word's director and a third-year philosophy student, asked the audience members to write down the name of a culture they wanted to learn more about and questions about that culture on a piece of paper. She then put the questions into a box and read them aloud to open up discussion. Students talked about various topics, including how hosting large sporting events affects residents of nearby communities and how soccer matches can unify a country.
One student said she thinks there is a disconnect between American and Indian perceptions of wealth. For example, many blue-collar workers in India have to work 12 hours a day in 120-degree weather for wages substantially lower than the United States federal minimum wage.
Brown said she wanted the audience members to reassess their behavior toward international students, and to be aware of how they can make them uncomfortable through stereotypes and microaggressions.
"A safe space can sometimes feel unsafe," Brown said. "I want the speaker to feel like they can let the audience know if they feel unsafe or uncomfortable about something."
Rupani said he thinks it is important to learn about other cultures because students are constantly surrounded by people that come from different backgrounds and have to learn how to interact with them.
"UCLA students acknowledge international students exist, but never really try to pursue an understanding of them," he said. "Students follow the path of least resistance and don't really get to know them."
Lewis is an Opinion columnist and News contributor.
Lewis is an Opinion columnist and News contributor.