New UCLA center aims to better local school systems through research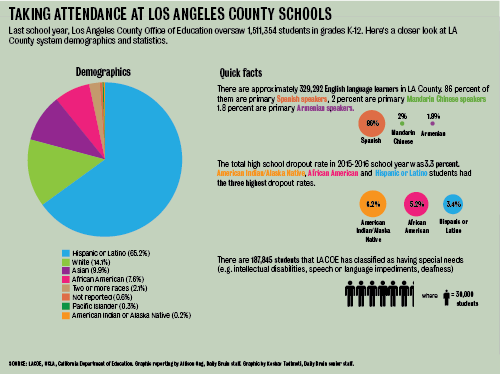 A center that will provide research-based support to improve school systems in Los Angeles and across the country launched at UCLA last week.
The UCLA Center for the Transformation of Schools hosted a community forum on public education for local high schoolers Nov. 8. Faculty in the center, which is under the Graduate School of Education and Information Studies, hosted the youth forum to connect California students with organizations like the Los Angeles County Office of Education and local criminal justice groups, said CTS director Joe Bishop.
Bishop said concerns raised by high school students in the forum showed that students from disadvantaged communities want strong relationships with peers and adults within their schools.
"How can decision-making in schools lead with a student perspective? Rarely do we give students the microphone," Bishop said. "Students want … to feel supported for and cared for."
CTS founder Pedro Noguera said one of the center's main goals is to help school districts affected by poverty and racial segregation, which includes the Los Angeles Unified School District and other large school districts in the United States. Last year, LAUSD enrolled more than 650,000 students.
CTS ultimately aims to publish reports and concrete recommendations policymakers can use to inform legislation, he added.
"These students are coming to school with needs that schools don't have the means to address, everything from housing and trauma to nutrition and health," said Noguera, a professor of education. "The model of schooling we've adopted in this country, especially for poor kids, is ineffective and doesn't work."
One of the center's research projects analyzes how districts can better promote the needs of low-income, ESL, and foster youth through funding determined by the Local Control Funding Formula, implemented statewide in 2013. The legislation distributes more revenue to school districts meeting certain criteria, such as higher numbers of English language learners or low-income students.
Noguera said he thinks some districts are not properly using LCFF funds, resulting in wasted resources. For example, state officials and activist groups accused Fresno Unified School District and Long Beach Unified of misusing LCFF revenue earlier this year by using these designated funds to support police department programs or school renovations.
Noguera added he thinks districts could engage students, parents and teachers to help them prioritize their agendas.
Another CTS project will focus on preventing youth incarceration. CTS will conduct research at local high schools alongside faculty from UCLA Center for Childhood Anxiety Resilience Education and Support, according to the CTS website.
CARES uses community-based intervention to build resilience against trauma, whether that trauma arises from family-based issues, such as serious illness, or community issues such as violence, said CARES managing director Kate Sheehan.
"Our goal is that every schoolkid has access to resources regardless of where they are and how much money their district has," Sheehan said. "We want to make sure everybody knows how to protect themselves, and protect their kids from stressors."
CARES pilots programs for trauma-impacted youth, such as parenting groups and mindfulness meditation, Sheehan said. CARES and CTS are interested in programs that support populations with different cultures and address unrecognized stress, anxiety and post-traumatic stress disorder symptoms, she added.
Noguera said the Social Justice Humanitas Academy in San Fernando, California, which falls under the jurisdiction of Los Angeles County, is a model for local schools to learn from. A majority of the students there come from low-income and Latino backgrounds, he added.
Bishop said he thinks the academy, along with successful schools in other disadvantaged areas, views education through a community-based lens by addressing students' needs in health care, familial support and even local transportation. CTS is currently building networks of public, private and charter schools to support each other with research-based evidence, Bishop added.
The center is also looking for ways to fund its research and elevate local student voices, possibly by creating an educational film series or collaborating with UCLA undergraduate groups, Bishop added.
"Part of building trust (in educational systems) comes from having conversations. It's a community mindset. Are we allowing students the opportunity to shape their learning with us?" he said. "We need to have conversations around race, culture, class – both students and adults can make that happen."