Linebacker Kenny Young strives to wear Jackie Robinson's number with pride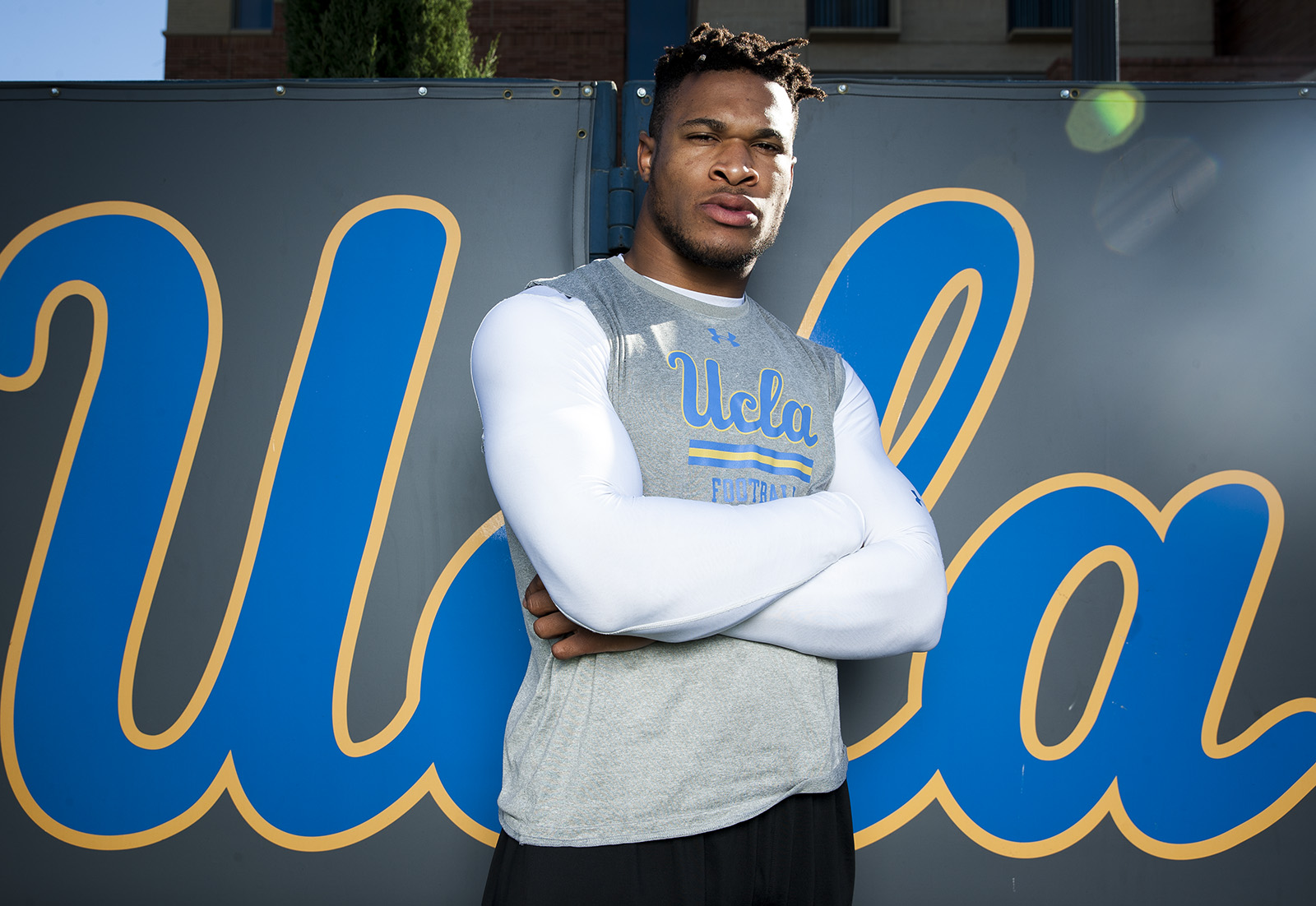 Senior linebacker Kenny Young wears Jackie Robinson's historic number 42. In his four-year career, Young has recorded 271 tackles, 18.5 of them for loss and 5.5 sacks. (Aubrey Yeo/Daily Bruin senior staff)
November 16, 2017 11:33 pm
Kenny Young had heard enough questions about the perilous state of UCLA's defense.
"So negative, man. So negative," he joked with reporters last week. "Be positive."
Despite the throngs of fans voicing their disapproval of the Bruins' disappointing past two seasons and an injury-ravaged defensive roster, the senior middle linebacker has remained a pillar of positivity for the UCLA defense.
It's almost as if he was channeling the spirit of another athlete from UCLA who wore the number 42 – Jackie Robinson. And as Young describes it, Robinson's legacy is the driving force behind the culmination of the senior's four-year transformation at UCLA.
"It's become part of the reason why I wake up and get out of bed," Young said. "Part of the reason why I get rest at night and prepare for the next day, part of the reason why I do everything in my life."
After arriving on campus as a four-star recruit from New Orleans who just so happened to be given the number in high school, he learned that the university planned on retiring 42 across all of its athletics teams. Fortunately for Young, UCLA also allowed him to continue wearing the jersey until he graduated.
Four years later, the heritage behind the two digits has taken over every aspect of Young's life as a student-athlete.
"Words don't do justice to the feeling of what it means to go out as the last 42," he said.
Off the field, the middle linebacker's furrowed brows and focused demeanor portray a meticulous, battle-tested ferocity, but his words reflect the thoughtfulness of a man well-familiarized with his role and identity at UCLA.
The digits he wears during games have impacted his day-to-day life.
"When I saw the influence I had with the number, I had to enhance a few things," Young said. "I couldn't walk down Bruin Walk sagging my pants. … I can't carry myself that way."
That mindset is yet another characteristic connecting these two athletes who were both born in the Deep South but trekked across the country to attend UCLA.
One of the men wrote in his autobiography that "a life is not important except in the impact it has on other lives."
The other is in the midst of his expedition to use his on-field play to impact the people watching him.
"You can always have influence around people, you never know who's watching and that's the greatest motivation," Young said. "Our responsibility each day is to hold a high standard for uncommon greatness within ourselves, and we do that through other guys seeing that energy and them being inspired to have uncommon greatness within themselves as well."
But the linebacker found out just how hard it is to bring that energy for other people all the time, especially when injuries take a toll.
Young is fortunate enough to be making his 40th collegiate start Saturday against USC, but earlier this season he was sidelined for seven consecutive quarters with head trauma after he suffered a blindside hit that knocked his helmet off.
Considering these challenges, Young said he could draw another inspirational connection between Robinson and himself.
"Any time he had adversity present itself in any form in his life, he's always persevered," Young said. "I could date back into my life a few times where any time I had challenges in my life, I always became bigger and stronger and persevered over those obstacles. And I'm still doing it."
One of the most omnipresent obstacles for UCLA this year is the number of injuries it has suffered. The Bruins' strong-side and weak-side linebacker positions have been a revolving door this season – in several games, a lack of healthy players has forced defensive coordinator Tom Bradley to play nickel defense.
For the past couple weeks, UCLA has trotted out sophomore linebacker Krys Barnes, a special teams specialist prior to this year, and redshirt sophomore Keisean Lucier-South, a former defensive end who converted to linebacker and first started at the position at Washington.
That lack of consistency and experience can test most players' patience and resolve, but Young has been instrumental in helping the youngsters adjust in game.
"It's crazy to see so many people go down, but (Young), he's always calm," Barnes said. "He's always out there, flying around, doing his job. … He's always putting people in the right spots."
In the week following UCLA's loss to Utah, Young said he wanted to focus on winning the last three games of the season and reaching a bowl game.
He accomplished the first step of his goal last weekend when UCLA defeated Arizona State and Young tallied eight total tackles, including one for loss. Now only USC and California remain, with the Bruins still one win short of bowl eligibility.
Against the Trojans' Ronald Jones II – who gashed UCLA for 121 yards and two touchdowns in last year's game – Young will need to take on additional responsibility to make sure his teammates contain the explosive running back.
Coach Jim Mora, for one, said he believes his starting middle linebacker is up to the task after persevering through a challenging rash of injuries.
"I think the consistency of his play speaks volumes (despite) the moving parts not just next to him on either side with the linebackers, but also in front of him with some of the defensive line injuries," Mora said. "That's a credit to him and the way he studies the game and the importance of the game to him."
That consistency is also displayed on the stat sheet.
Young leads the team with 77 tackles this year and is eight tackles away from breaching UCLA's top 20 in career tackles.
It only makes sense that Young will end up at the same place as the man whose groundbreaking life is forever tied to the number 42 – in the record books.
Wang joined the Bruin as a freshman in 2015 and contributed until he graduated in 2019. He was an assistant Sports editor for the 2016-2017 academic year and spent time on the football, men's basketball, women's soccer, men's tennis and women's tennis beats.
Wang joined the Bruin as a freshman in 2015 and contributed until he graduated in 2019. He was an assistant Sports editor for the 2016-2017 academic year and spent time on the football, men's basketball, women's soccer, men's tennis and women's tennis beats.