'Conversation Cafe' fosters discussion on cross-national experiences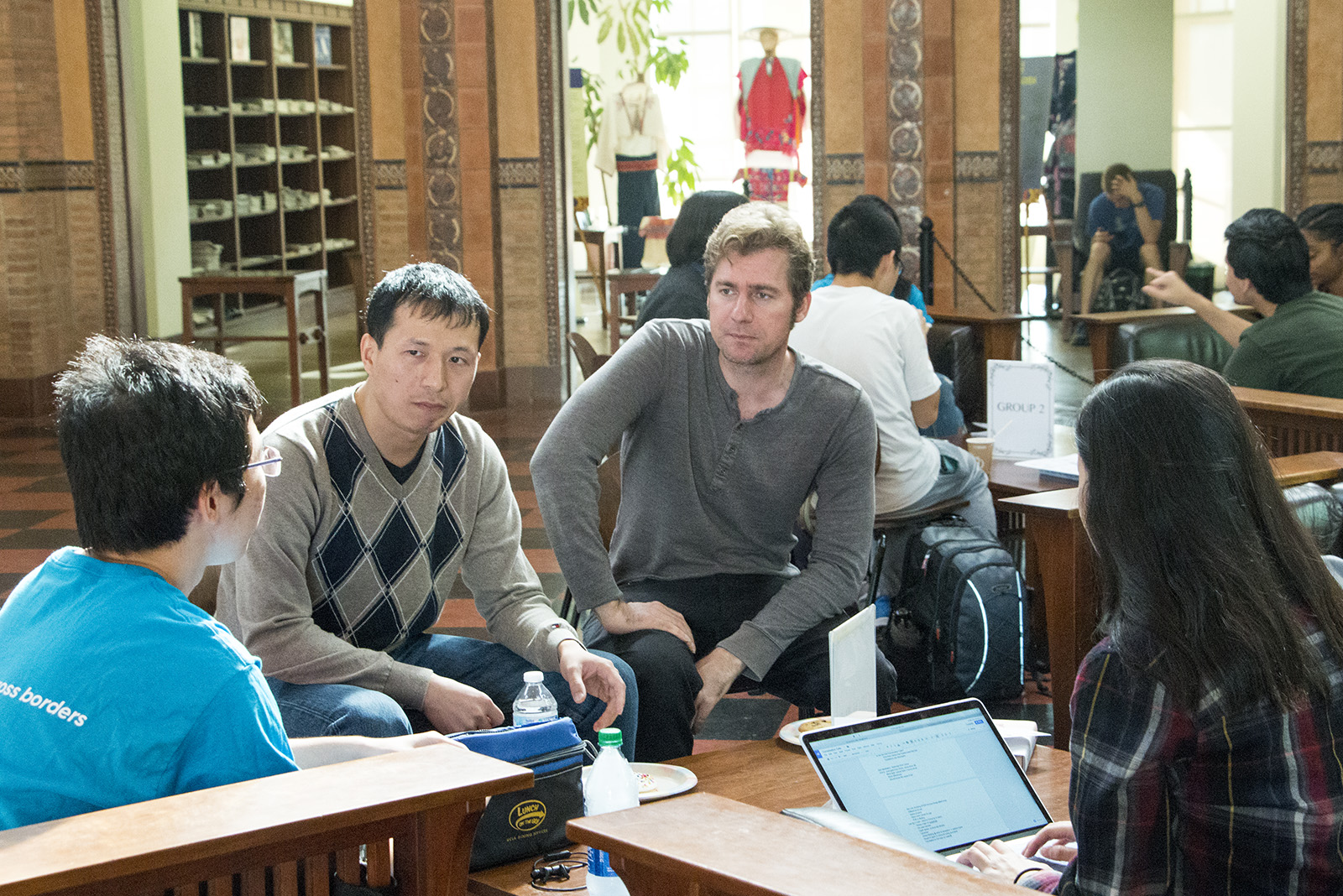 Students shared their experiences of finding a personal identity in a foreign country at the "Conversation Cafe" event Monday. (Laura Uzes/Daily Bruin)
Students from different parts of the world shared their experiences with developing a personal identity at an event Monday.
Several campus offices, including the Dashew Center for International Students and Scholars and the UCLA International Education Office, partnered with Powell Library to host "Conversation Cafe," which facilitated discussions between students about the struggles of finding a sense of belonging in a foreign country.
Powell access services assistant Temo Moncada, one of the event coordinators, said the idea for the event came from the Conversation Cafe website, which offers tips on how to create a productive forum for open discussion.
The program was the kickoff event for International Education Week, an initiative of the U.S. Departments of State and Education to encourage students to gain international experience through study abroad programs, international research, internships and work opportunities.
Students who attended the event were divided into different groups led by student volunteers who helped facilitate discussions on topics like cross-national experiences and queer culture abroad.
The discussions also focused on the themes in this year's common book distributed to new students, "The Best We Could Do," including immigrant experiences and the importance of building a home in a new country.
In one group, students talked about the contrasts in education standards across different countries.
Douglas Li, a computer science graduate student from Beijing, said he thinks different educational curricula contribute to varying social mindsets. He added he thinks China's strict school regulations discourage open participation and dialogue.
Students who participated in the event said they bonded over common experiences such as being victims of racism and stereotypes.
Joey Auer, a third-year political science and economics student who studied abroad in Paris, said he thinks the discussions felt personal because the setting was more intimate than a traditional panel or lecture.
Auer added he thinks it's important for individuals to study abroad and open themselves up to different perspectives because the current political climate in the United States is too closed-minded.
"(Studying abroad) is about realizing how different the world is once you leave your little corner of it," he said.
Alexander Peter, a second-year undeclared student, said that although he is not an international student, he attended the event to learn more about world geography and cultural diversity.
Peter added he was surprised that many people in his discussion group shared common values like tolerance and understanding even though they came from different backgrounds.
"What surprised me the most is how similar everyone is. … Our generation is more uniform in thought because of social media," Peter said.
Li said that because he often only engages with other Chinese international students, the event allowed him to foster relationships with people from different cultures.
"Sometimes we just need opportunities to get to know each other, and then (we can reach a point of) understanding each other," Li said.