UCLA sisters' soccer advancements rooted in family support, training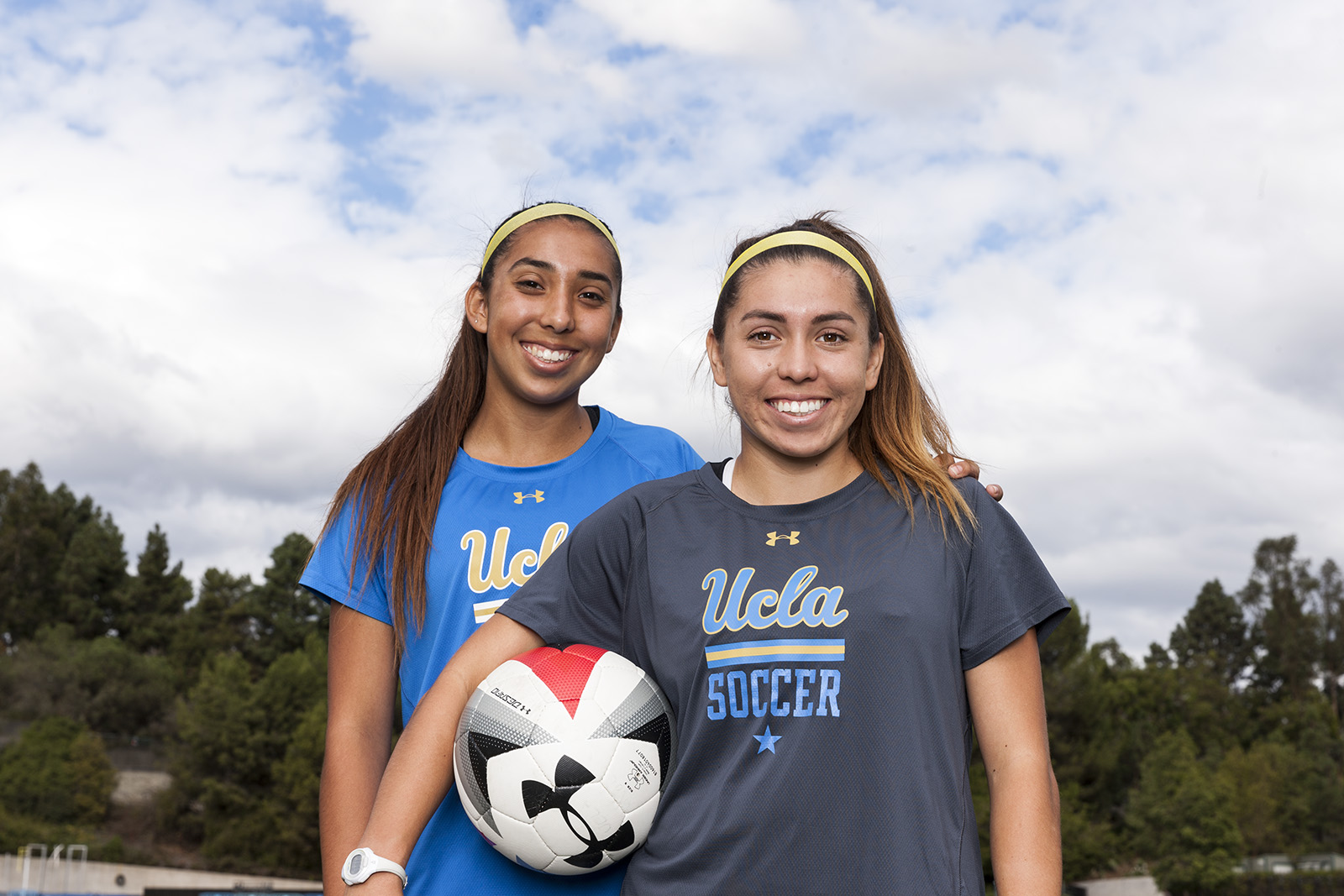 Anika and Karina Rodriguez spent time playing against each other in their home's backyard. Their father, Rafael Rodriguez, said he trained them the same way, but the girls naturally fell into differing roles on the field. (Keila Mayberry/Daily Bruin staff)
November 13, 2017 11:16 pm
Anika and Karina Rodriguez's journeys began at home.
Their father Rafael Rodriguez, a youth soccer coach, started training them in the backyard at ages 4 and 5. While Rafael initially trained them the same way, redshirt sophomore Anika Rodriguez, the elder, grew into an attacker and freshman Karina, the younger, blossomed into a central defender.
Anika Rodriguez has emerged as a key figure in the UCLA attack, racking up nine goals and 15 assists over two seasons, while Karina Rodriguez has started all but two games at center back in her freshman campaign.
"I coached them exactly the same way," said Rafael Rodriguez. "One of the girls was naturally inclined to attack and the other – it was weird. The same exact training and one is forward and the other's a defender."
The development in their varying positions meant that the two frequently went head-to-head.
"We used to practice in the backyard almost every single day," said Anika Rodriguez. "We (went at it) pretty much every day consistently for four or five years until we went on our teams and pretty often after that."
Facing off against each another helped both learn the tricks of their respective trades. When the two sisters competed against each another, however, frustration over getting beat by their sibling entered the equation.
"It's really helpful having each other to play against," said Karina Rodriguez. "We'd get frustrated some days. One would beat the other. It definitely helped a lot in growing our game."
Anika Rodriguez said she won more battles when they were children because she was the elder of the two, but Karina Rodriguez soon caught up, eventually becoming a standout for the United States team that went to the 2016 U17 World Cup in Jordan.
Rafael Rodriguez said he recognized that the intensity of the sessions would benefit them in games.
"They were the best at bringing the best out of each other," their father said. "I always felt that whatever they faced between the two of them was going to be more competitive than anything they were going to face out in the field."
Fast forward to Aug. 22, 2017, when the then No. 1 Bruins opened conference play against Colorado.
With the game scoreless, Anika Rodriguez received the ball on the left flank. She blew past her defender and charged into the box. A heavy touch almost allowed the Buffalo defender to tackle the ball away, but Anika Rodriguez slid to maintain possession.
Back in control, she skipped past another defender toward the end line before slipping a pass to freshman forward Ashley Sanchez for a simple first-time finish.
Anika Rodriguez's ability to take on a defender one-on-one traces back to her backyard practices with her sister, when her father encouraged her to focus on footwork.
"(My thing) has always been footwork. It's something that I think sets me apart from everyone else," Anika Rodriguez said. "I think I can do some things with the ball that other people can't."
When Anika Rodriguez's dribbling abilities began to surface on the youth circuit and she consistently beat defenders with the ball at her feet, her father initially tried to take some credit, but he couldn't do so for long.
"As a coach, you want to be proud," Rafael Rodriguez said. "At some point, I sat back and said, 'You know what? I don't teach that. That's God-given.'"
The same goes for his younger daughter, who at 7 was captaining a team made up of players two years older than her.
"At first, she played two years up," Rafael Rodriguez said. "She's 7 years old and she's leading this 9-year-old team as a captain. How do I teach that? I can't teach that."
Anika Rodriguez, as the elder sister, was the trailblazer. She was the first to experience club soccer and get involved in the Olympic Development Program. She was also the first to get youth national team call-ups and commit to UCLA.
Karina Rodriguez got a first-hand glimpse of what to expect by watching her sister and listening to what she had to say.
"She was always there going, 'Hey, this is what you need to do if you want to get there,'" Karina Rodriguez said.
Anika Rodriguez arrived in Westwood in 2015. Her sister followed suit two years later.
They have three younger siblings at home in Torrance, 20 miles away from the UCLA campus. Their family is a fixture at home games.
"Having our family close to home and having them come to our games all the time was important to us," Karina Rodriguez said. "(We have) three younger siblings and (we valued) still being able to stay connected to them."
Those younger siblings also have soccer ambitions. Their older sisters still live and play together in Westwood.
"It's like having a little bit of home always," Anika Rodriguez said. "That's nice, especially in a place that can be challenging and difficult."
Bribach joined the Bruin as a sophomore in 2016 and contributed until he graduated in 2018. He spent time on the gymnastics, women's basketball, women's soccer and beach volleyball beats.
Bribach joined the Bruin as a sophomore in 2016 and contributed until he graduated in 2018. He spent time on the gymnastics, women's basketball, women's soccer and beach volleyball beats.