Bruin Republicans hosts 'Ben Shapiro: The Rise of Campus Fascism' event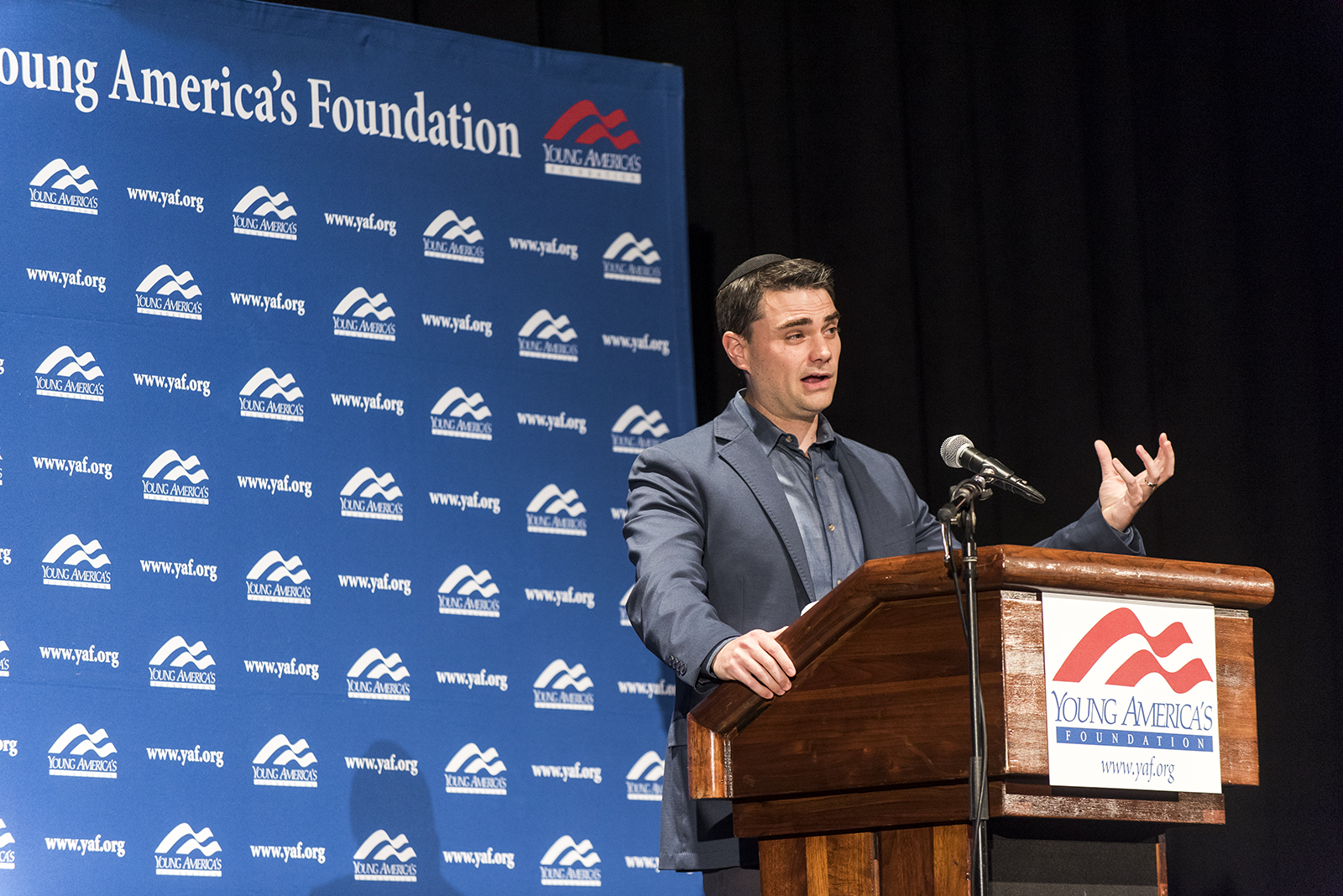 Ben Shapiro, a conservative commentator, explained the nine elements of fascism and said left-leaning university campuses display those behaviors. (Kristie Valerie-Hoang/Assistant Photo editor)
This post was updated on Nov. 13 at 9:49 p.m.
A conservative commentator said he thinks left-leaning university campuses display authoritarian traits at an event hosted by a conservative student group Monday.
Bruin Republicans held the event "Ben Shapiro: The Rise of Campus Fascism" at UCLA to promote conservative ideals, said Jordan Sadlier, the club's president. About 600 students attended the event, which featured UCLA alumnus Ben Shapiro, the editor in chief of the Daily Wire, a conservative news and opinion website.
Several student groups protested Shapiro's speech on Bruin Plaza, with some protesters saying they think Shapiro's views are hateful and do not belong on campus.
Young America's Foundation, a conservative youth organization, donated money to help cover the costs of the event.
Shapiro, a former Daily Bruin staffer, said he thinks left-leaning college campuses accept authority uncritically and are aggressive toward people who disagree with their political beliefs.
He also said he thinks college campuses promote anger and hostility without justifying those feelings with evidence. He added he thinks left-leaning students decide the validity of someone's views based on which identity group they belong to.
He added he thinks American conservatism emphasizes individualism, while left-leaning campus groups blame societal constructs for economic inequality.
"White privilege, this idea that there's a big conspiracy to keep you down, … this is supremely stupid and counterproductive," he said. "It's teaching the individual that they can't get ahead if they work hard … because of some conspiracy that's stopping them from succeeding."
However, Shapiro said he is grateful UCLA agreed to allow Bruin Republicans to host the event.
After his talk, Shapiro answered students' questions on topics such as social welfare, immigration and affirmative action.
Shapiro said he does not object to legal immigration as long as immigrants do not receive welfare benefits and as long as they assimilate with American culture and ideals. He added he thinks undocumented immigrants come to the United States to have a better life for their families and should stay on a case-by-case basis.
Shapiro added he thinks affirmative action is a racist policy that negatively affects Asian-Americans and has affected Jews in the past.
Victoria Miller, administrative director of Bruin Republicans and a second-year Russian language and literature student, said the club held the event because many of its members are fans of Ben Shapiro and to publicize the club itself.
"Ben Shapiro is pretty universally popular with young conservative people," Miller said. "(He's) very logical. People like that about him."
Bruin Republicans accused UCLA of suppressing its free speech last month for imposing additional security costs on the event. At the time, the university said Bruin Republicans would have to pay basic security costs for the event if less than 70 percent of the event's attendees were affiliated with UCLA. The university changed its stance last month and said they would cover all of the security costs for the event.
Mike Cohn, director of Student Organizations, Leadership and Engagement, said university police closed down parts of Ackerman Union during the event for security reasons. He added the university has not yet finalized security costs for the event.
Mick DeLuca, UCLA assistant vice chancellor of campus life, said the university would ensure protesters could not prevent Shapiro from speaking.
"The university will not permit a response or protest so disruptive as to effectively silence the speaker and prevent them from communicating," DeLuca said.
Several students and alumni who attended the event said they appreciated the opportunity to hear Shapiro speak on campus.
Michael Bezoian, who graduated from UCLA last year, said he thinks Shapiro's views on undocumented immigration are not as conservative as they should be.
"He thinks (undocumented individuals) should be reviewed on a case-by-case basis, but I think the most important thing is the rule of law," he said. "It would be justified to deport all (undocumented individuals) and have them re-enter legally."
Jordan Nakdimon, a second-year political science student, said he thinks Shapiro did a good job of articulating conservative principles. He added he thinks conservative students on campus are not taken seriously.
"There's a decline of getting at the root of why we believe what we believe," he said.
Zhen is an assistant news editor for the national and higher education beat. She was previously a contributor for the campus politics beat and an online contributor.
Zhen is an assistant news editor for the national and higher education beat. She was previously a contributor for the campus politics beat and an online contributor.