West LA congressman holds event to raise awareness of veterans' issues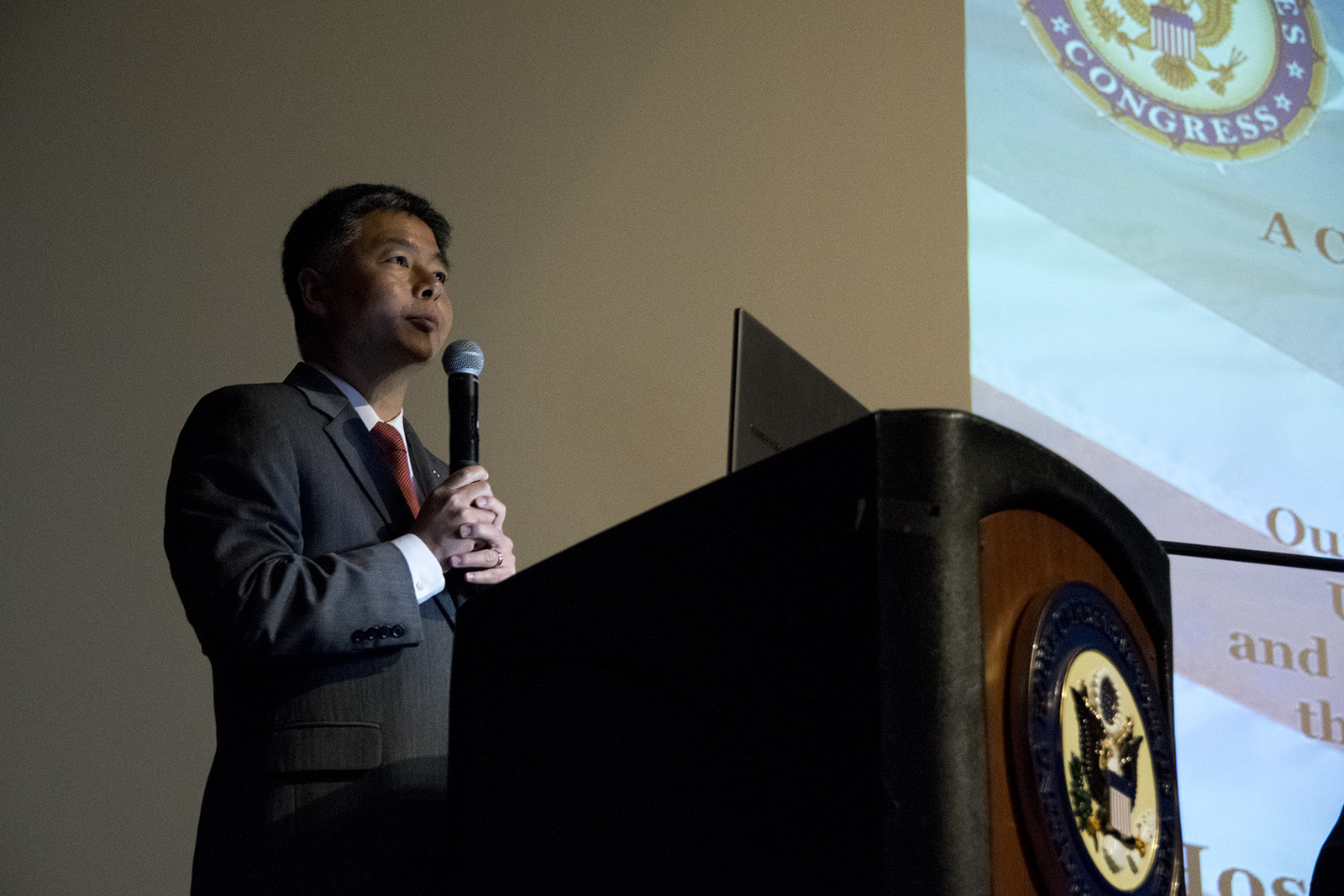 Ted Lieu, who represents UCLA and Westwood in Congress, hosted the town hall Friday night to highlight veterans' experiences. (Michael Zshornack/Photo editor)
After serving in the Navy for almost five years, Tatiana Medina said she did not receive proper treatment at Veterans Affairs medical centers in the United States after her service.
Medina, who served as an operations specialist aboard the USS Mount Whitney, said she had to wait three to nine months before seeing a doctor.
"Unfortunately, it took me to reach rock bottom before I could be admitted (to the Veterans Affairs medical center in West Los Angeles)," Medina said. "It shouldn't take me or anyone to hit rock bottom before getting proper treatment – I served, I sacrificed and I deserve better."
Medina spoke at a veterans town hall that took place at Wadsworth Theatre in West Los Angeles on Friday. Congressman Ted Lieu, a Democrat representing the district that includes UCLA and Westwood, said he hosted the town hall so community members could listen to local veterans' stories and learn more about the different missions of the U.S. military.
After the event ended, protesters holding signs displaying messages such as "Lieu Liar Liar" and "Fire the big rat," with some wearing "Make America Great Again" hats, rallied outside the theater. They chanted "Lying Ted", as Lieu took pictures with individuals who attended the town hall.
During the event, 13 veterans, including Lieu, took turns sharing their stories in combat, what they learned during their training and tours and how they have lived since their service.
Lieu said when he served as the executive director for an Air Force base camp in Guam in the 1990s, he helped support Operation Pacific Haven, which evacuated many Iraqi Kurds who were being persecuted by the government of then-Iraqi dictator Saddam Hussein.
"If we hadn't (brought them) back, they would've been killed, most of you would not have read about it," Lieu said. "But we felt an obligation to help them."
Chi Szeto, who served in the army from 1997 to 2005, said he started a nonprofit after he returned from Iraq to fundraise for veterans because he felt he had not served enough.
"I don't want to just remember the fallen, I want to celebrate their hopes and dreams," he said. "(Honoring) those gone before me is how I live my life for others."
Dick Littlestone, an army colonel who served during World War II, the Korean War and the Vietnam era, said he was often gone for long tours away from his wife and children, and appreciated the efforts his family made.
"I was assigned and left for Korea two weeks before my wife was due with my daughter," Littlestone said. "I met my daughter when she was 13 months old."
Aretta Gottke, chairwoman of the Woman Veteran Patient Advisory Council, said she experienced sexual harassment while stationed in the naval base at Guantanamo Bay. She said overcoming her trauma has pushed her to help empower other women in the military.
"My great fortune is that I have an iron will, which caused me to survive past the brink of destruction to advocate on behalf of thousands of others," she said. "I am encouraged to change the 'me too' conversation to a 'never again' mandate."
Lieu said he thinks it is important that individuals not judge or criticize veterans, but listen to their stories and learn from them.
"We have the best military in the world because of our personnel," he said.