Editorial: UCLA community should care about new Westwood council proposal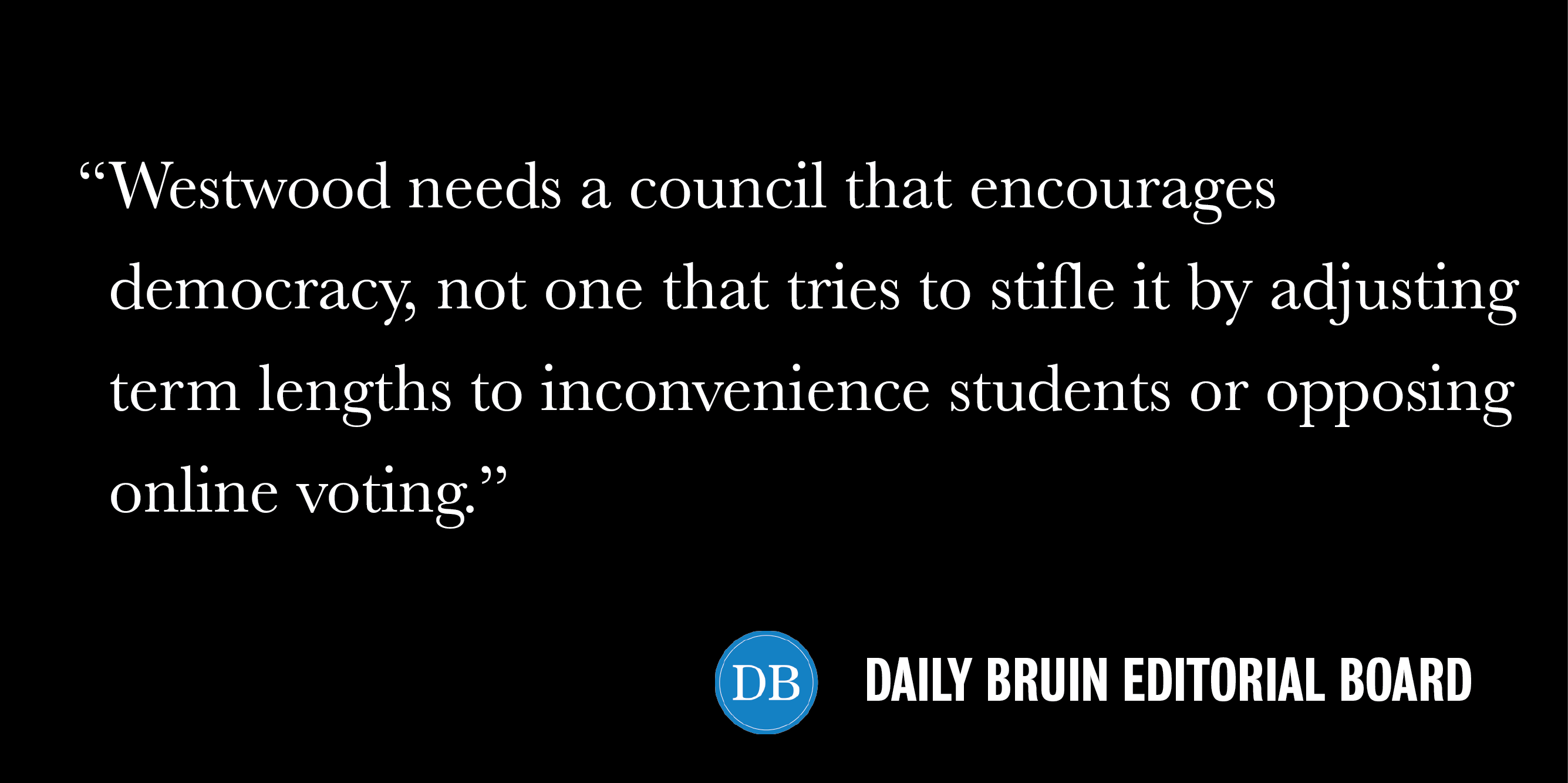 If a proposal to reshape Westwood's governance succeeds, local politics could get a bit personal.
Undergraduate and graduate student leaders at UCLA announced a plan Wednesday to create a new neighborhood council to advise the Los Angeles City Council on matters regarding UCLA's campus, Westwood Village and the North Village. A council known as the Westwood Neighborhood Council already exists for this purpose, but its extensive boundaries and limited representation of students, faculty and staff dilute the interests of UCLA, Westwood Village and homeowners.
Students need to pay heed to this process. Bruins can be stakeholders of the community for two, four or even 10 years, depending on their degree programs. The new neighborhood council provides an opportunity for the UCLA community to decide what Westwood should look like and what services should be offered to the community – something that shouldn't be taken lightly.
There are several ways for the UCLA community to get involved. In the coming months, proponents of the new North Westwood Neighborhood Council will hold town hall meetings to discuss the bylaws governing the board and will ask for stakeholder signatures to petition to the Department of Neighborhood Empowerment, the city body that oversees neighborhood councils, for the creation of this new council.
Should the petition prove successful, community members will be able to decide via a ballot vote whether a new council should exist. And should the ballot measure prove successful, Westwood stakeholders will be asked to step up and serve on the council.
If students want a council that listens to their concerns, the first step is to participate in the process of creating one – especially one in which students could potentially hold a majority of the seats.
And there's ample motivation for doing so. UCLA leaders and businesses in Westwood trying to serve university students, faculty and staff have already clashed with the current council on a number of issues, including the construction of new student housing in the Village, requirements for businesses to receive alcohol permits and whether to introduce online voting for neighborhood council elections.
A council that places extensive restrictions on how businesses can operate in the Village or what kind of housing should be built in a densely populated college town is not in the interest of the UCLA community nor other Westwood stakeholders.
Lisa Chapman, president of the WWNC, told the website Curbed LA she thinks students want things done quickly and that the WWNC already provides opportunities for students' voices to be heard through an ad hoc student advisory committee – not to mention, students can run for seats on the council reserved for renters.
However, as UCLA expands student enrollment to meet state goals, Westwood needs a representative body that reflects the composition of the people who live in the area. It is no longer enough to have one seat reserved for 45,000 undergraduate and graduate students, with little say for faculty or staff who spend their working hours in the area.
Westwood needs a council that encourages democracy, not one that tries to stifle it by adjusting term lengths to inconvenience students or opposing online voting. The new neighborhood council offers a chance to change that – but only if university members listen and take part in the discussions taking place over the next few months.