UCLA women's volleyball sweeps Colorado in Pac-12 matchup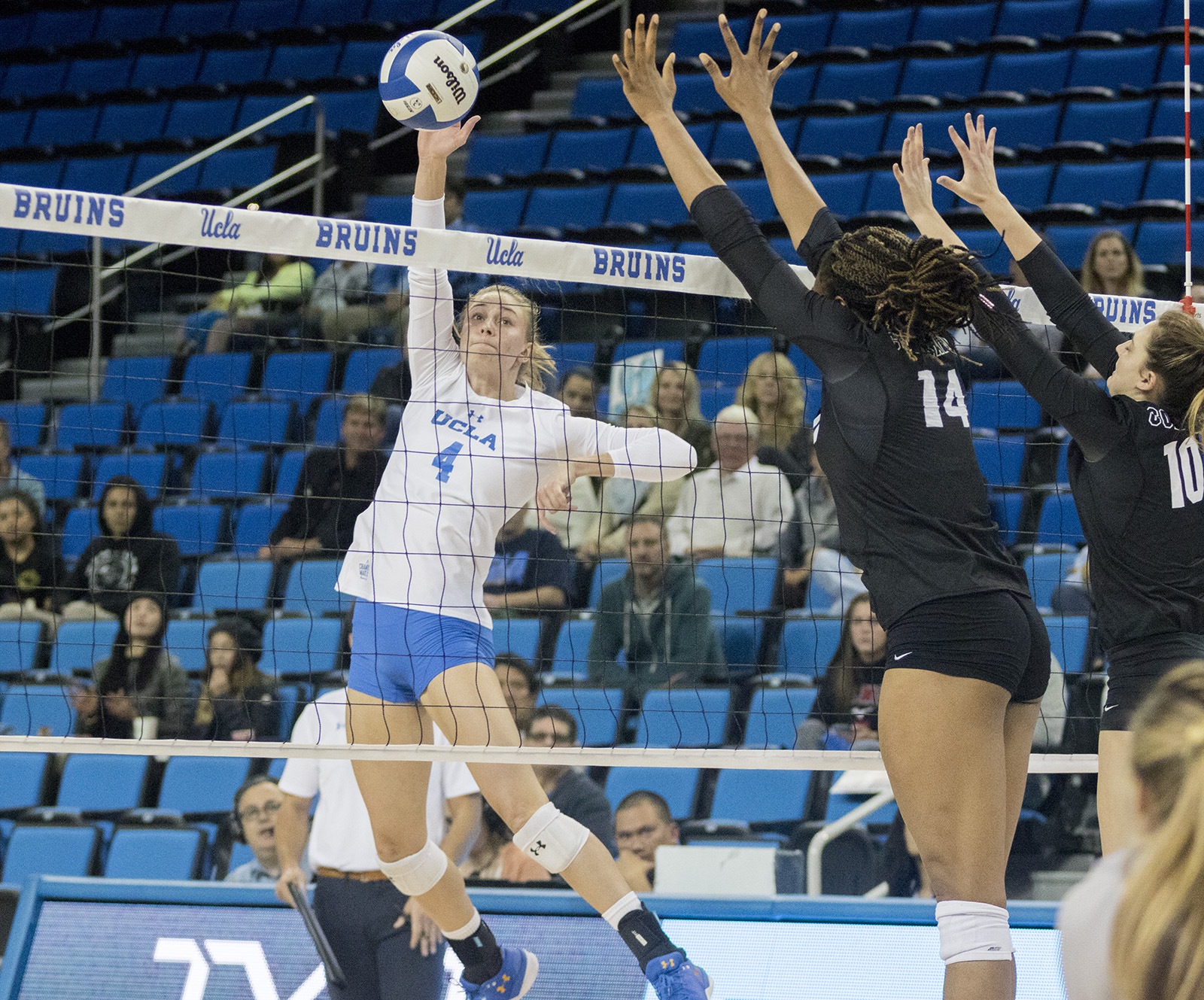 Freshman outside hitter Jenny Mosser tallied seven kills in the opening set alone, including four of the Bruins' last six points.(Ken Shin/Daily Bruin staff)
November 10, 2017 1:43 pm
The Bruins scored six of the last seven points to win a closely contested first set.
That momentum carried them through the next two sets.
No. 18 UCLA women's volleyball (16-8, 9-6 Pac-12) swept No. 25 Colorado (19-7, 9-6) on Thursday by scores of 25-23, 25-18 and 25-20.
The Bruins didn't lead in the first set until their 24th point, eventually coming back to win the set behind seven kills from freshman outside hitter Jenny Mosser.
"When their setter was front row, (Mosser) had a huge physical advantage. (Madeleine) Gates was a big physical advantage on their blockers," said coach Michael Sealy. "I was a little surprised we didn't score more often earlier in that set."
Mosser, who had a game-high 28 kills against Colorado in their first matchup, finished with 14 kills, while sophomore middle blocker Madeleine Gates tallied 10 kills on a .529 hitting percentage and seven blocks.
The Bruins took a 9-1 lead in the second set and continued to play strong defense, holding the Buffaloes to hitting percentages of .103 and .136 in the second and third sets, respectively.
Colorado outside hitter Alexa Smith is third in the Pac-12 in total kills, but the Bruins held her to eight kills and a hitting percentage of .000.
"We served so well that they had to set the ball out to (Smith) so we could have two blockers and play good defense around it," Sealy said.
The Bruins had a more difficult time against Smith and the Buffaloes in their away match Oct. 21. Smith registered 27 kills, and the Bruins narrowly earned the win.
"The fact that we beat them in three was a big step because last time we took them to five, so that's really exciting for us," Mosser said.
Freshman outside hitter Mac May was absent in the first matchup against Colorado, as she was too sick to travel. May has been an integral part of the Bruins' scheme, and Thursday night was no exception.
"She's obviously a big threat so it spreads to blockers and opens up everything for other hitters," said Mosser.
May concluded the night with eight kills, two aces and three blocks.
"(Having May was) huge just because we could do our normal stuff," Sealy said. "It made it difficult too because going into this match we had no idea what they wanted to do block-defense wise because we pretty much hadn't played them yet."
UCLA was able to play its style, which, according to Sealy, is very similar to Colorado.
"I think in the conference they're the team that's most like us," Sealy said. "Pretty balanced attack. It's not overly physical but just good balance and the pins hit hard."
UCLA will face No. 15 Utah on Friday, a team the Bruins lost to 3-1 on Oct. 20.
Mosser said she plans to keep up the energy from the Colorado sweep against Utah.
"I think we need to continue a lot of what we did tonight," Mosser said. "Just play together and … play for our seniors because it's Senior Night. Don't get down if they're winning."
Kearns joined the Bruin as a sophomore transfer in 2017 and contributed until 2018. He spent time on the baseball and women's volleyball beats.
Kearns joined the Bruin as a sophomore transfer in 2017 and contributed until 2018. He spent time on the baseball and women's volleyball beats.