Women's volleyball ready for matches against Utah and Colorado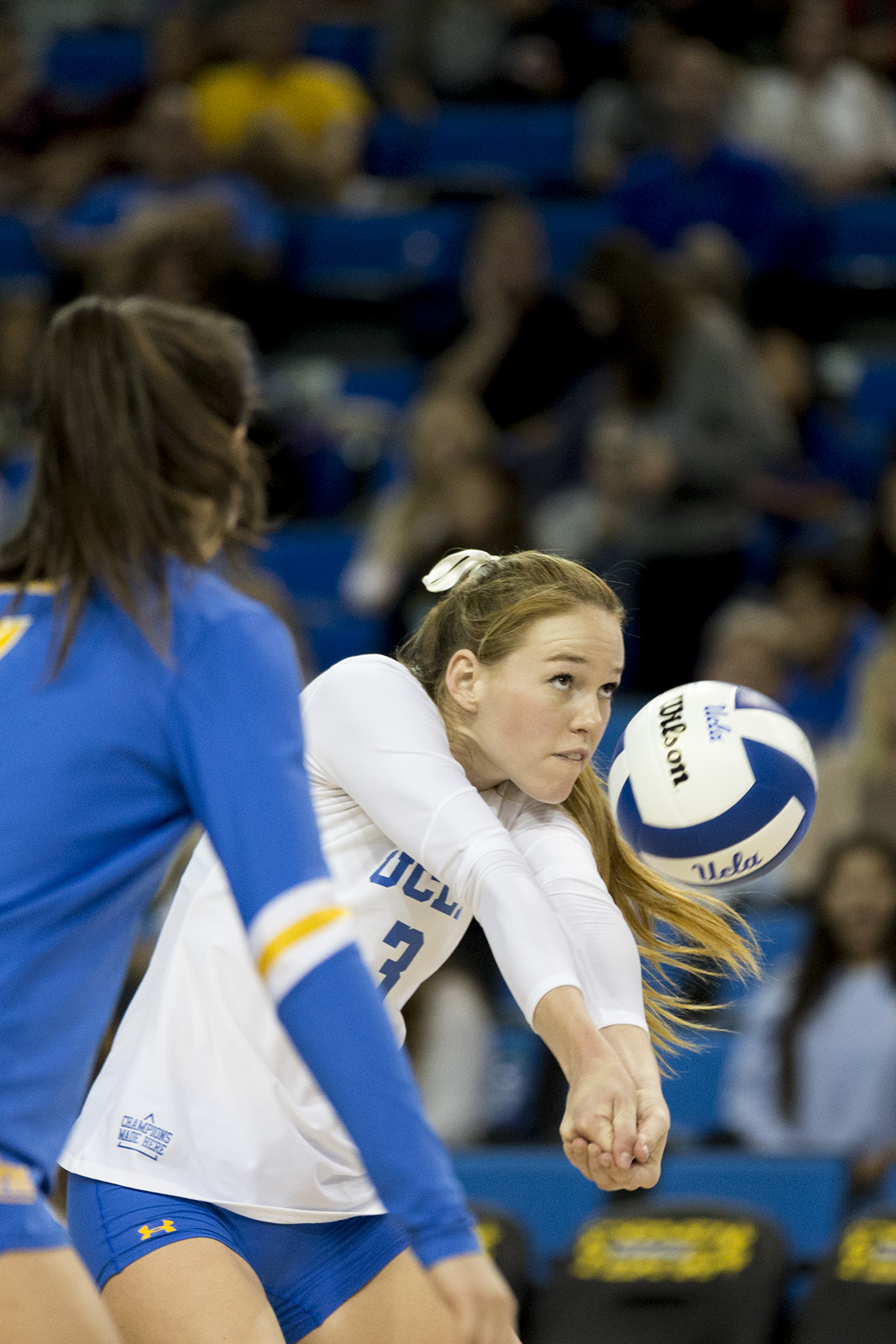 UCLA women's volleyball will be celebrating senior night Friday against the Utah Utes, a team that toppled the Bruins in four sets the last time the two teams faced off. The team will honor senior setter Sarah Sponcil and senior outside hitter Reily Buechler in the John Wooden Center. (Aubrey Yeo/Daily Bruin senior staff)
The last time UCLA women's volleyball faced these two top-25 teams, one match resulted in a four-set loss and the other in a five-set win.
"We have nothing to lose against these teams – they are both really good teams," said senior outside hitter Reily Buechler. "We're just going to go in super confident. … It's going to be fun to go after them and put some pressure on them."
No. 18 UCLA (15-8, 8-6 Pac-12) will face No. 25 Colorado (19-6, 9-5) on Thursday and No. 15 Utah (18-7, 9-5) on Friday at home.
While UCLA played both teams just three weeks ago, it will have a boost to its lineup this time around with freshman outside hitter Mac May, who was too sick to travel the last time the Bruins faced the Buffaloes and the Utes. Last weekend, she posted a career-high hitting percentage of .636 in the Bruins' match against Arizona (9-14, 3-11).
Coach Michael Sealy said that having May around means that Utah and Colorado might play a different blocking defense, making things hard to predict.
"Even against Colorado, I have no (idea) what their block scheme is going to be," Sealy said. "We're really not sure how the match will play out, it will almost be playing for the first time all over again."
The Utes have lost four of their last five matches since facing the Bruins, but the Buffaloes have gone on a four-match winning streak, including a sweep of the No. 13 Washington Huskies (19-6, 9-5).
"I think especially against hardworking teams like Utah and Colorado, who swept Washington, we'll have to work hard to just stay in the game the whole time and consistently play throughout each set," May said.
Colorado has outside hitters, Alexa Smith, who hit .500 with just two errors for 14 kills in its most recent matchup against Washington, and Joslyn Hayes, who recorded 12 kills to hit .500 in the same game.
The Buffaloes also boast the likes of middle blocker Naghede Abu, who is fourth in the conference with a hitting percentage of .357, and setter Brynna Deluzio, who is second for her 11.05 assists per set.
The Utes, on the other hand, have outside hitter Adora Anae, who ranks fourth in the conference with 4.21 kills per set.
"Utah just has some very strong players that we're going to have to stop. … Adora Anae, their outside hitter who is ridiculous," Buechler said. "She's always going to play well but if we can stop her in some rotations it's going to be beneficial for us."
The match against Utah also marks another special occasion as the Bruins will be honoring their seniors, Buechler and setter Sarah Sponcil. Both have started in every game this season.
"They will definitely be missed. … They run our team, they lead us through each set of each match," May said. "It will be a little emotional, hopefully we can just be happy and spend the rest of the time with them and take advantage of every opportunity while they're still here."
Teo joined the Bruin as a freshman in 2016 and contributed until 2017. She spent time on the women's volleyball, beach volleyball and swim and dive beats.
Teo joined the Bruin as a freshman in 2016 and contributed until 2017. She spent time on the women's volleyball, beach volleyball and swim and dive beats.