Student develops miniature ion thrusters as rocket fuel alternative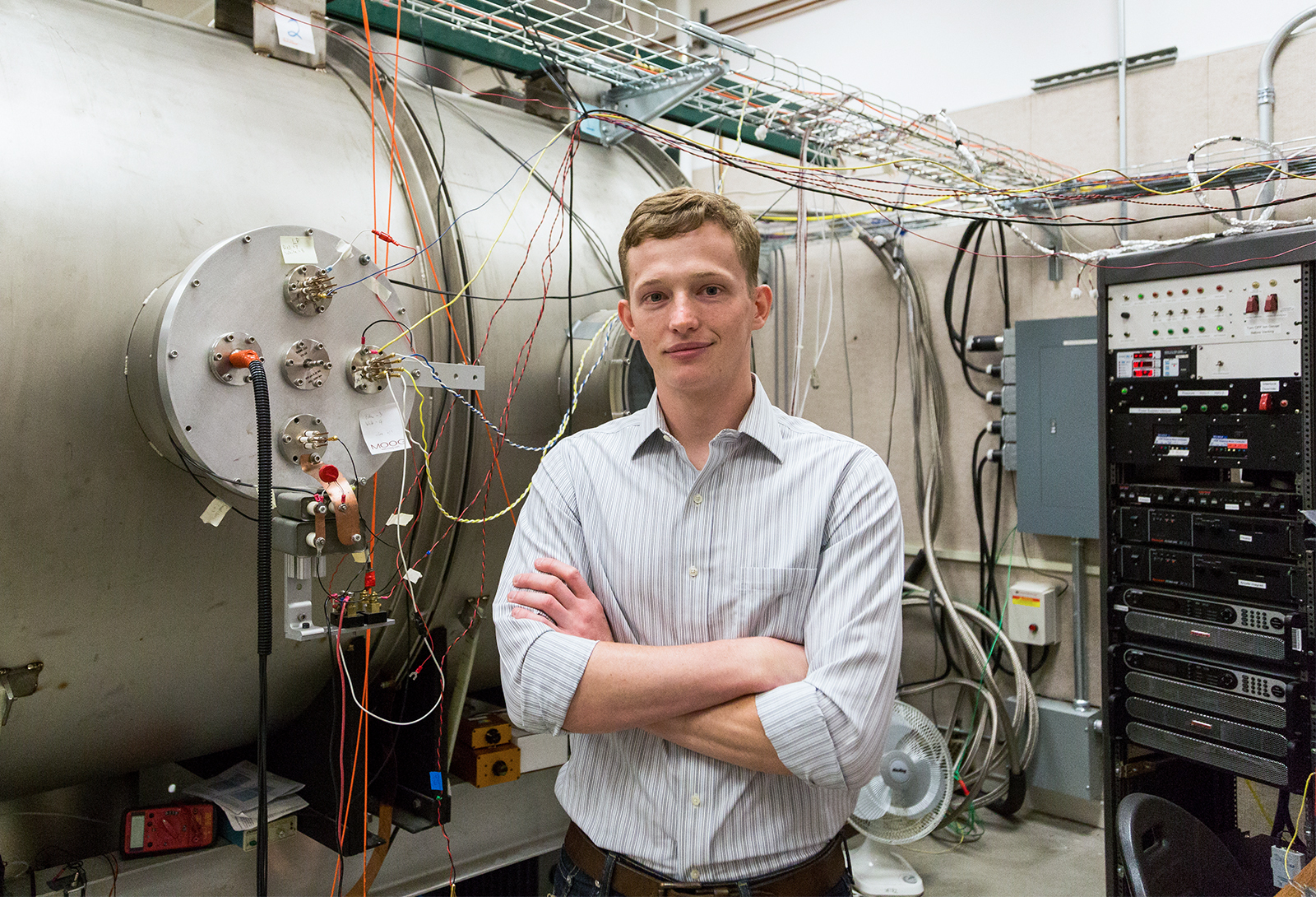 (Amy Dixon/Assistant Photo editor) Stephen Samples, a doctoral student in mechanical and aerospace engineering, is developing smaller ion thruster technology that uses less energy to make space travel more accessible.
A UCLA doctoral student aspires to make space travel more accessible by reducing the size of spacecraft-propelling technology.
Stephen Samples, who studies mechanical and aerospace engineering, is developing smaller and more efficient ion thrusters, or devices used to electrically propel spacecrafts. NASA awarded him a fellowship in August that provides him with funding for four years to conduct his research.
Ion thrusters will help make space travel more efficient compared to rocket fuel, said Richard Wirz, a UCLA professor of mechanical and aerospace engineering and Samples' mentor.
The thrusters contain a cathode that generates electrons, a compartment that contains plasma, and grids that allow the ions to exit while keeping the electrons inside, Wirz said. These three components interact to remove electrons from atoms to create ions that electrically propel a spacecraft. This method has the potential to last longer on a mission than exploding rocket fuel, he said.
Samples said his research involves bringing all three components – cathode, plasma-containing compartment and grids – of the thruster together. He added he is determining how reducing the size of the thrusters can lead to potential problems, and is working to address them before they will be incorporated in space missions. Potential problems involve the physics required to fit the plasma into such a small device.
Samples said he chose to attend UCLA for his doctoral degree because he wanted to work with Wirz, who originally proposed the idea to develop a miniature ion thruster while working at the California Institute of Technology and NASA's Jet Propulsion Laboratory. Wirz thinks current ion thrusters, which have been developed by both institutions, are inefficient because they are large and require more electric power than a more productive, smaller model.
"When I was in graduate school (at Cal Tech), they were building thrusters the size of a trash can, about 30 centimeters in diameter," Wirz said. "They couldn't make them smaller, so I took that as a challenge."
Wirz said he hopes Samples will create ion thrusters that are only three centimeters in diameter, which is one-tenth of the size currently used by NASA. This will both reduce the cost of space travel and allow NASA and other groups to create smaller spacecrafts. Samples is currently working on the physical design of the thrusters, while Gary Li, a doctoral student in aerospace engineering, is researching the physics behind how the plasma is generated and how it can be applied on a smaller scale in the thruster.
"In this lab, we have the best miniature ion thruster of its kind in the world," Li said. "What we're doing is working on it to make it even better."
Samples thinks developing a smaller ion thruster will have wider implications for space travel. Using smaller thrusters that can generate the same amount of power as larger ones could save NASA millions of dollars because they will be cheaper and easier to build. Samples said he thinks his project will reduce the cost of constructing spacecrafts so universities and student groups will have more accessibility to space technology.
"With miniature (technology), we could take these $500 million missions and do them for maybe $10 million," Samples said.
Having interned at NASA as an undergraduate student, Samples said his main goal is for the thrusters he creates to be used in a future NASA mission.
"I would like to continue to work on it and have it in space," he said. "That's the dream."