Research workshop addresses international student issues, concerns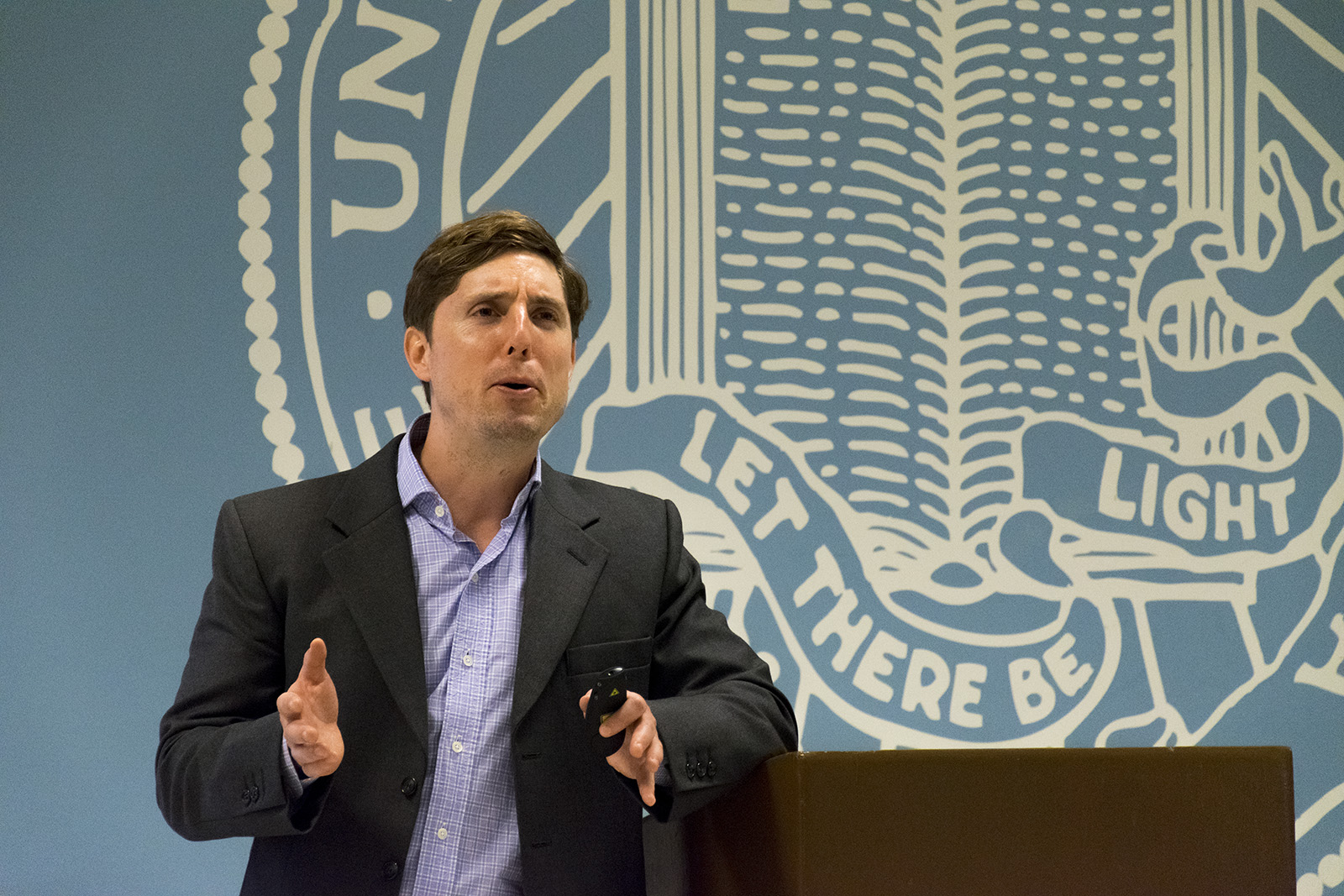 Justin Gelzhiser spoke about how campus events impact international students at the ISLC Applied Research Workshop & Mixer on Wednesday. (Farida Saleh/Daily Bruin)
A graduate researcher said at an event Wednesday that international students had a negative perception of UCLA following 2016's campus shooting.
At the International Student Leadership Coalition's Applied Research Workshop in Ackerman, Justin Gelzhiser, the chair of applied research for the ISLC, said campus events like the June 2016 shooting can compound international students' stress and homesickness. He added he thinks there needs to be more research that analyzes international students' experiences.
Gelzhiser, a graduate student in education, said students on lockdown during the shooting sourced information from different types of media and international news to try to find out what was happening on campus. The campus went under an hours-long lockdown because of a murder-suicide in an engineering building.
"I saw my own students sitting on the ground, not knowing what's happening," he said. "I saw one student, in particular, from Beijing, texting all around the world to find out what was going on."
He added he thinks international students need more specialized mental health support from the university. For example, many international students from East Asian countries do not seek mental health treatment because of the stigma in their cultures, Gelzhiser said.
Aurora Wang, a third-year sociology exchange student from China, said she liked that Gelzhiser highlighted how international students are affected by traumatic campus events such as the shooting. For example, she said her family reached out to her following the shooting in Texas last week.
"Before I came here, my family and friends were really worried about my safety. … I had lots of messages from my family," Wang said. "These are circumstances I've never had before."
Ashraf Beshay, the president of ISLC and a fifth-year biology student, said he worked with Gelzhiser to organize the workshop to also encourage more international students to engage in research.
"The workshop is meant to be a conversation starter to destigmatize research as something too high calibered (and) make it more accessible to students," he said.
Beshay added many research scholarships are not open to international students and many students do not have time to work in labs for free. He said this affects international students in particular because they already pay high tuition fees and are often restricted from work opportunities.
Gelzhiser said he hopes to make this workshop a quarterly event with professors, graduate and undergraduate students working together on research projects that highlight international student issues.
"(The workshop) aligns with UCLA's core values," he said. "Education, research and service."