Cross Country confident in qualifying for national championship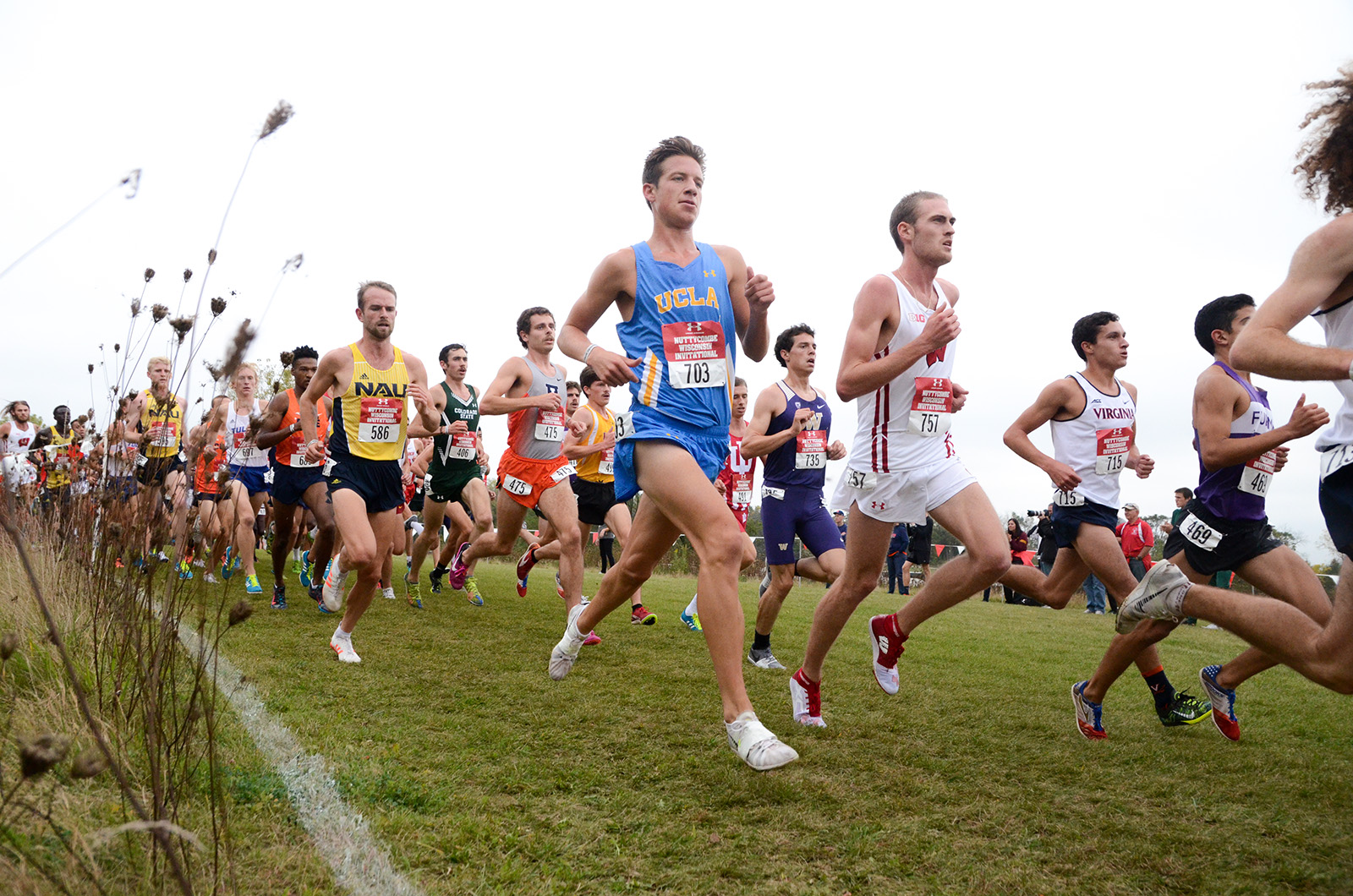 The NCAA West Regional is the critical meet for the Bruins that will determine whether they will be able to go to the national championship meet or not. Assistant coach Jennifer DeRego believes her team, which is ranked No. 8 in the West Region, will be able to qualify.
(Courtesy of Ricky Bassman)
There's only one meet that stands between UCLA cross country and this year's national championship meet: the NCAA West Regional.
"We have really great talent on this team," said freshman Erika Adler. "This race will bring that out and allow us to perform at our best. (Assistant) coach (Jennifer DeRego) says we could beat Arizona."
UCLA is currently ranked No. 8 in the West region, while Pac-12 rival Arizona is ranked one spot ahead at No. 7.
Though it is her first year coaching the team, DeRego believes her team can qualify for the national championships.
"If they run (the race plan) really well, the team can finish seventh, which will give them a good chance at an at-large spot at qualifying for nationals." DeRego said.
DeRego gave praise to Adler as well, following a Pac-12 championship showing in which she led the women's team with a time of 19:31.5.
"Every race she's getting better. She's learning how to manage her anxiety," DeRego said of Adler.
Adler echoed this sentiment when asked about her feelings for the upcoming race Friday.
"I'm really excited. The nerves haven't hit me yet but once I settle into Seattle, I'll probably start having those anxious feelings," Adler said.
The men's cross country team is currently ranked No. 3 in the West Region as well as No. 10 in the nation. Sophomore Garrett Reynolds is confident in their chances to return to the championship meet this year.
"Traditionally and historically speaking, about six or seven team qualify from the West Region because the West is so deep," Reynolds said.
Reynolds finished second on the team and 14th overall at the Pac-12 Championships two weeks ago, helping to vault the team into third place overall in the meet and adding to, in assistant coach Devin Elizondo's words, a list of "stellar (individual) performances" by Reynolds thus far this season.
The men's team has finished in the top 10 of every meet it has competed in this season and was in the top three in all but one of those meets. History seems to be on their side as they seek to qualify for the NCAA Division I Cross Country Championships for the fourth year in a row.
"There is a whole system of points and rankings from the previous races of the season, which is determined by a calculating system which takes all those results into account," Reynolds said. "If we, for instance, get sixth at regionals, we could still make it to the national meet with an at-large bid because of the points that we have accumulated during the season."
However, this doesn't mean that the Bruins will be taking their competition lightly.
"We can't give anyone any room," Reynolds said. "It will still be a quality race. But I think we're in a good spot to qualify pretty comfortably."
Both the men's and women's teams will be competing Friday on the University of Washington's cross country race course at Jefferson Park Golf Course.
Frederick joined the Bruin as a junior in 2017 and contributed until he graduated in 2019. He spent time on the cross country and track and field beats.
Frederick joined the Bruin as a junior in 2017 and contributed until he graduated in 2019. He spent time on the cross country and track and field beats.