Student leaders propose new Westwood council with more student influence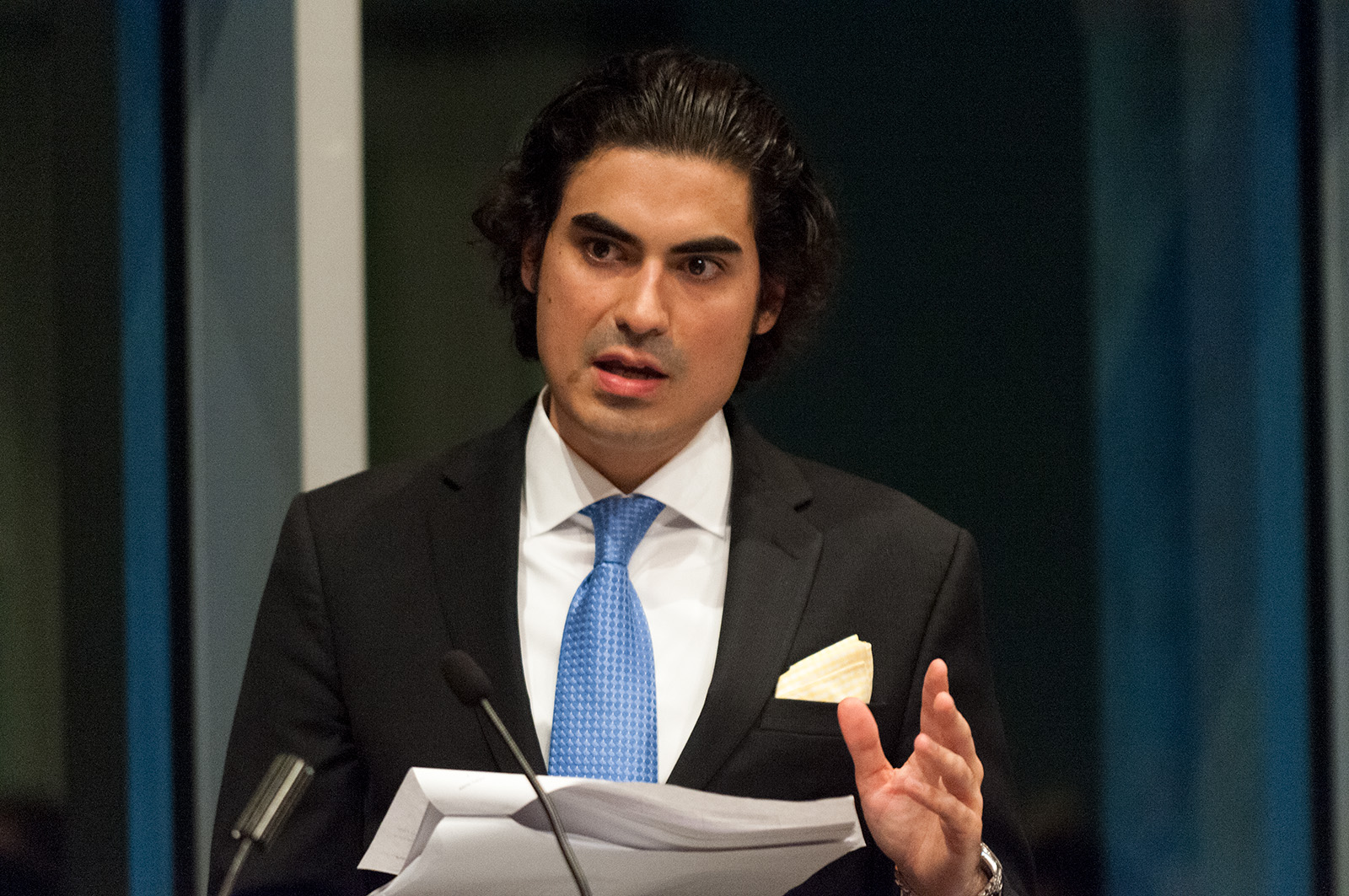 Michael Skiles, president of the Graduate Students Association, said student leaders are beginning the process of creating a new neighborhood council that oversees UCLA, Westwood Village and the North Village. (Hannah Burnett/Assistant Photo editor)
Students may soon have more control over how Westwood operates.
Student leaders are pushing to create a local council to advise the Los Angeles City Council on students' concerns regarding Westwood, such as its lack of nightlife and affordable housing. Michael Skiles, president of the Graduate Students Association, along with other graduate and undergraduate student leaders, proposed creating a new neighborhood council in Westwood to better represent students at a GSA forum Wednesday.
The North Westwood Neighborhood Council, the tentative name for the new council, would serve UCLA's campus, Westwood Village and the North Village.
The Westwood Neighborhood Council, which is currently the official advisor to the City Council on matters regarding Westwood and its residents, would exist in addition to the proposed North Westwood council. However, members of the Westwood Neighborhood Council who live or have businesses within the boundaries of the new council would need to resign because their council would no longer control that area, Skiles said.
Westwood Forward, the coalition of students working on the new council, is putting together an application for a council subdivision to the Department of Neighborhood Empowerment, the city's legislative body for neighborhood councils. Skiles said he expects the first official elections for the North Westwood Neighborhood Council to take place in June if the department approves the application. Only those who live within the boundaries proposed in the new council's application will be able to run for seats.
Chloe Pan, undergraduate student government external vice president, said during the new council's announcement she and other student leaders think the Westwood Neighborhood Council marginalizes student and renter voices, and imposes arbitrary conditions on new businesses that want to operate in Westwood.
Gabriella Mesa, the local relations director at the EVP office, said during the new council's announcement the Westwood Neighborhood Council tried preventing student stakeholders from voting for multiple representatives on the council.
In a May 2011 meeting, the Westwood Neighborhood Council considered a recommendation from the Bylaw Committee to restrict students and other stakeholders to only vote for council seats that correspond to the seat titles they would be eligible for. The committee was concerned students would mobilize and overshadow homeowners with their large numbers, according to official minutes from the meeting.
Westwood Forward decided to advocate for a new council to create a system that is more proportionally representative of the district and will support student needs, Skiles said. He added he thinks the new council would be more willing to support affordable housing projects and businesses than the Westwood Neighborhood Council.
Student leaders have criticized the council for being too picky about the business proposals it approves and said they think it depends too much on the Westwood Village Specific Plan, the Village's master planning document, which imposes limitations on bars, night clubs, fast food restaurants and other businesses.
Westwood Forward must collect between 200 and 500 signatures from stakeholders who live within the proposed council's boundaries for the city to consider their application, according to the neighborhood council system plan. If the Department of Neighborhood Empowerment approves the application, residents will be able to vote for a new council during an election sometime in the spring.
Changes to the Westwood Neighborhood Council
Over the past several months, students have been getting more involved in Westwood politics. Although the current council created an ad-hoc Student Advisory Committee in July to support student needs, such as affordable housing and more entertainment venues and transportation options, student leaders said they still do not think the council is listening to their concerns.
The proposed council will consist of 15 members. One seat each will be reserved for a UCLA administrator, a UCLA faculty member, an undergraduate student, a graduate student, a homeowner and a general resident. Renters, business owners and organizational groups, including non-profits, religious institutions, fraternities, sororities and neighborhood associations can run for two seats each. The council will also contain three at-large seats.
The general residential council member can also be a homeless individual, Skiles said.
Under this structure, students could potentially make up the majority of the council, but other Westwood residents could have a greater presence on the council if students are not as engaged in city politics and do not run for seats, Skiles said.
The Westwood Neighborhood Council, which consists of 19 members, has only one student seat, and designates four seats to homeowners and four seats to renters, according to the Westwood Neighborhood Council bylaws. Undergraduate and graduate students share a single designated seat on the council, but they can apply for other seats they qualify for. Currently, three students serve on the council.
Skiles also said the new council would hold its elected representatives accountable to stakeholders by enforcing limits of four consecutive terms and allowing stakeholders to recall council members. The Westwood Neighborhood Council does not have either item in its bylaws.
"We can recall (Los Angeles Councilmember Paul) Koretz," he said. "We can't recall anyone on the neighborhood council."
Skiles also said the Westwood Neighborhood Council has opposed introducing online voting, which he thinks would make it easier for students to vote during council elections that are often held during finals week in spring quarter.
The Westwood Neighborhood Council ruled against online voting in May, with members arguing it could result in voter fraud. Several members also said they will continue opposing online voting until Los Angeles officially adopts it in its own elections.
Pan said she thinks the Westwood Neighborhood Council is unprofessional during its meetings and added she thinks the council does not adequately represent community interests.
Students who attend council meetings often say they think the council treats them poorly, Pan said. She added councilmembers sometimes roll their eyes at students, interrupt them when they are speaking or accuse them of being selfish for telling the council about what they want to see in Westwood.
"We've had students attending every neighborhood council meeting since May," she said. "And every single meeting we have students report coming back they feel unsafe to the point of not wanting to go back to that space."
Joshua Baum, a graduate student of urban planning and a member of Westwood Forward, said he thinks the council does not listen to students' requests for Westwood for young people, or tells them they do not have the authority to bring in specific businesses to the area.
Students have long advocated for more entertainment options and venues that serve alcohol, but some said they feel the council dissuades them from coming to Westwood by imposing restrictions on certain aspects of businesses.
For example, the Westwood Neighborhood Council cannot grant alcohol permits but has considerable influence over whether the city approves those permits. It requires applicants who want to sell alcohol in Westwood to go through a lengthy review process and businesses must adhere to 32 sample conditions, including no happy hour specials and no dancing on the premises.
Baum said he thinks a new council would better represent student and renter interests, including nightlife.
"The majority of stakeholders in Westwood are renters and students and they are not represented well on the board. Even the students that are on the board, due to them being a minority, aren't able to bring up issues that affect students and renters," he said. "We hope that by creating a new neighborhood council, we will better represent our interests to city hall."
New council boundaries

 Some UCLA faculty helped student leaders work out the details of their plan to create the North Westwood Neighborhood Council.
Paavo Monkkonen, a UCLA associate professor of urban planning, helped student leaders draft the proposed council's boundaries. Monkkonen said he wanted to help students create a new neighborhood council after attending a public hearing in September where homeowners expressed opposition to UCLA's plan to build housing in Westwood.
He added Holmby Hills, one of Westwood's more affluent areas, fought against potential bus routes along Hilgard Avenue that would have allowed students increased access to transportation and other services.
The new council will contain stakeholders who live or conduct business between Sunset Boulevard and Wilshire Boulevard, from Veteran Avenue in the west to Hilgard Avenue in the east. There is also a section below Wilshire Boulevard that extends from Veteran Avenue to Westwood Boulevard and ends with a southern border at Ohio Avenue.
The new boundaries, which exclude some areas that contain single-family homes, are designed so most residents will be students, while homeowners and non-student residents will make up a minority of stakeholders and hold representative seats on the council, Monkkonen said. He added this should give students more of a say in land-use proposals, which determine the kind of business or facility that can occupy an area of Westwood.
"At minimum, students should have a voice over all the land use where they are the majority of residents," he said.
Skid Row neighborhood council
Los Angeles communities could not form breakaway community councils until City Council approved the subdivision ordinance in 2016. The Department of Neighborhood Empowerment allows new councils to form within a current council's boundaries through an application process, according to the ordinance.
After the city adopted the ordinance, several political groups came forward with their own plans for subdivided councils.
General Jeff Page organized a campaign to separate a Skid Row neighborhood council from the Downtown Los Angeles Neighborhood Council last year to better represent the interests of the Skid Row area. His application contained about 180 pages of supporting documents, including lawsuits, court injunctions and other articles that justified the proposed boundaries and name for the new council.
"Whatever we thought the opposition was going to be, we answered their questions in the application process," he said.
Page said he and his team did not focus on detailing the specifics of certain council seats because they wanted to get the council approved and then come back with a plan for what their council would look like. However, the Skid Row team did want homeless individuals to run for the council, he said.
The team submitted their application in December 2016 and held an election for Downtown residents in April, Page said. However, the proposal was defeated 826 votes to 764, a margin of about 60 votes.
Page said he thinks the Skid Row proposal was defeated because the city decided to approve an online voting option just 13 days before the official vote, but his team had focused campaign efforts on in-person voting for months. Although the subdivision election must take place inside the proposed boundaries for a new council, Page said the city also added pop-up polling locations, including in areas outside their proposed neighborhood council.
However, Page said he thinks online voting would encourage more students to vote because they have easy access to electronic devices and can be too busy with classes to visit polling locations. He added he thinks potential new neighborhood councils should create policies tailored to their respective communities.
Page and other organizers for the Skid Row neighborhood council dispute the election results and are suing the city to overturn them.
Next steps for the new council
The team of student leaders advocating for the North Westwood Neighborhood Council has until Dec. 15 to submit their application to the Department of Neighborhood Empowerment, Skiles said. Until then, the team will be working on gathering at least 2,000 signatures for the application's petition, said Marjan Kris Abubo, chief of staff under the office of the external vice president, at the meeting.
USAC President Arielle Yael Mokhtarzadeh said in an email statement student leaders have advocated for conducting an online petition. She added the petition will need to include members from a broad range of stakeholder groups, including homeowners, renters, business owners and UCLA staff and faculty.
If the department approves the application, students, residents and business owners who live and own businesses inside the proposed boundaries will be eligible to vote for the new council in the spring. Koretz, whose city council district includes Westwood, said he would support a new council if residents decide to create one.
"I am here for everyone and I will continue to serve all of my constituents in Council District 5," Koretz said in an email statement. "If the voters in March decide to have a new council, I will represent them and will work closely with them."
UCLA declined to comment on the new council at this time.
Skiles said students and other members of the community have never before come together to form their own governing body in Westwood.
"This is the first time we've had a coalition of graduate students, undergraduate students, faculty and staff and homeowners to … create a neighborhood council," he said.
Preal is the editor in chief of The Bruin. He was previously the assistant news editor for the city and crime beat and a news reporter for the city and crime beat.
Preal is the editor in chief of The Bruin. He was previously the assistant news editor for the city and crime beat and a news reporter for the city and crime beat.