William Zou: UCLA must subsidize costs of commercial software, technology projects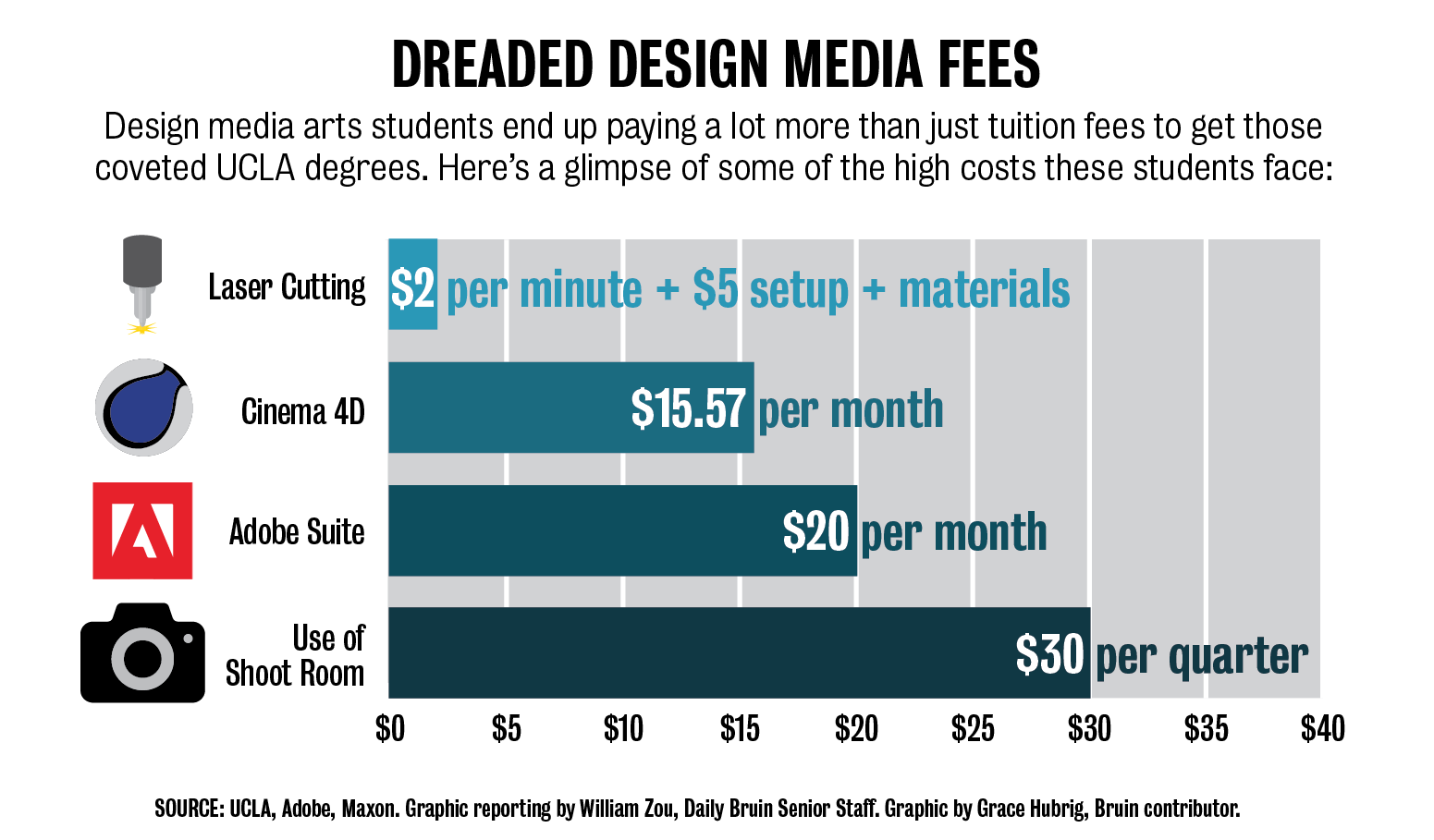 Many UCLA students struggle with the cost of tuition and housing fees, but design media arts students also have to worry about paying the materials needed to complete their coursework.
Most majors at UCLA typically require students to purchase textbooks that can cost hundreds of dollars. Design media arts students create multimedia projects as part of their coursework, and are expected to pay for computer software and other resources needed to complete their courses – an amount that can exceed $900 in an academic year.
Students shouldn't have to constantly worry about the financial burden of completing academic projects. The university should try to lower total expenditures for design media arts students by decreasing costs to match those of other departments and schools, or pushing forward a student technology fee referendum to help cover the costs of technological resources for all students.
With only a couple hundred students, design media arts is a competitive and prestigious department within UCLA's School of the Arts and Architecture, which has an 11 percent acceptance rate. Yet despite the program's small enrollment, the school does not cover most student expenditures.
One of the programs design media arts students end up using is the Adobe Creative Cloud suite, a software bundle used for graphic design, video editing and web development. This set of programs is the bread and butter for design students – much like how Microsoft Word is for other students – and is priced at $20 per month with the Adobe student discount.
UC Berkeley took the idea of supporting their students even further by offering the Adobe Creative Cloud suite at no direct cost to all students and faculty.
"We just don't get discounts for necessary programs," said Rosalind Chang, a fourth-year design media arts student. "While I don't face financial problems, it makes things more difficult for students who do."
Software required for specific classes can be even more costly. Some courses use Cinema 4D Studio R19, an animation application downloadable by students at a hefty $280.25 for an 18-month subscription.
Other resources also have price tags on them. Design media arts students have access to a single laser cutter on campus, priced at $2 a minute, on top of a $5 setup fee. Photoshoot rooms are $30 per quarter, while the use of the fabrication and electronics labs, a workshop equipped with electric saws, welders and other tools, comes with a $70 per quarter fee. The icing on top of this extortionate cake is that students have to pay for all materials they use for class projects.
"One quarter, I spent $200 to $400 on a book-making project," Chang said. "It is challenging to find a balance between producing a quality product, but at the same time reducing costs as much as possible."
But it's not like these costs are always necessary. Yujin Tsuruo, a third-year design media arts student, said the department charges higher prices for using resources that are less expensive elsewhere.
"Compared to design media arts, which charges $2 a minute for the laser cutter, laser cutters in the department of architecture are only 40 cents per minute," Tsuruo said. "I've had access to fine arts' (resources) and I've had access to architecture's resources and the prices (for design media arts facilities) are way higher."
There are notable concerns because of this. College costs are already a burden for many, and the high fees that come with the design media arts major only make it more difficult to handle.
This is where a fee referendum can come in. The Undergraduate Students Association Council has in the past voted to add fee referenda to spring election ballots. The council could do the same for a student technology fee referendum to help fund technology expenses for students. Berkeley passed a similar referendum in 2014 that applied an addition $51 per semester fee that funded student technology projects and commercial software licensing.
Representatives from the School of the Arts and Architecture could not be reached for comment.
The obvious drawback of such a referendum is the university would shift costs onto all students, even those who do not require design resources. However, UC Berkeley's technology fee does not just benefit a subset of students. A third of the fee goes towards financial aid, while the other two-thirds covers access to commercial software and student technology projects.
UCLA needs to lower the cost of participation in the design media arts program. And the department's faculty and students have to continue to fight for lower costs if they want the program to be as inclusive as possible.
Design media arts students shouldn't have to fork over exorbitant sums of money on top of tuition and housing fees to get their degrees.