Staff react to EPA announcement, say new rules favor energy industry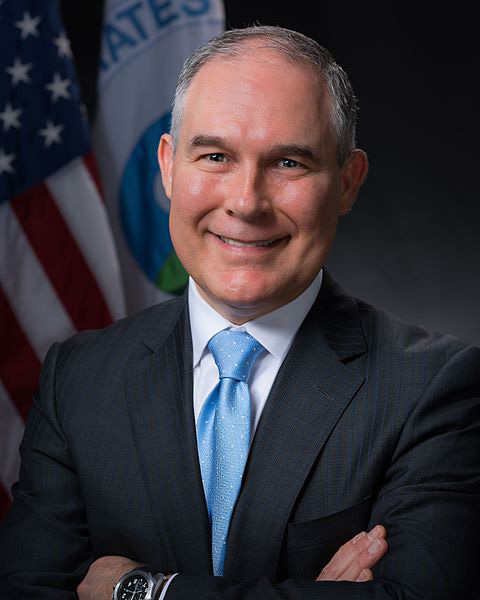 Scott Pruitt, administrator of the Environmental Protection Agency, announced last week the EPA would bar scientists who receive agency grants from serving on its advisory committees. (Public Domain photo by Eric Vance via United States Environmental Protection Agency)
UCLA environmental health researchers said they think the rules the Environmental Protection Agency announced last week will favor the interests of the energy industry.
EPA administrator Scott Pruitt said scientists who receive grants from the agency will no longer be allowed to serve on its federal scientific advisory committees. He said he believes scientists who receive money from the agency for research should not provide advice to the agency because they have conflicts of interest.
"(Those scientists) have to choose either the grant or service, but not both," Pruitt said.
Some UCLA professors said they think excluding scientists who receive EPA grants will not decrease conflicts of interest on advisory panels.
Beate Ritz, a professor of epidemiology who served in the EPA Clean Air Scientific Advisory Committee from 2008 to 2009, said scientists on EPA advisory boards help the agency review scientific literature so the agency can set restrictions on environmental pollutants.
For example, in order to set restrictions on car emissions, the EPA reviews scientific studies on air pollution and health, Ritz said. Based on the review, the EPA then concludes whether carbon monoxide past a certain level causes more asthma incidences, respiratory diseases or mortality.
Scientific advisors act as a peer review and identify information the EPA might have missed or misinterpreted, she said. Experts are also able to point out weaknesses in certain studies, and Ritz said she thinks the new EPA rules could allow poorly conducted studies to be used as evidence for environmental regulations.
"You're excluding the people who have the most knowledge," she said. "Those are really the people who know the field, the literature, the science the best, and the only reason why (they) know it is is because (they) had funding to do these kinds of research."
Ritz said she thinks scientists who receive grants do not have a conflict of interest because they are not involved in awarding grant money for research.
"You're reviewing documents that are there to improve public health," Ritz said. "In the end, the regulations that come out of it may be expensive for certain players."
Ritz said EPA regulations might require energy companies to renovate their chemical filters and use cleaner-burning fuel in their power plants. She added she thinks scientists who work for energy and car companies that serve on federal EPA scientific advisory panels have a greater conflict of interest.
"Now ask me where the conflict of interest is – me, being a public employee, maybe having gotten an EPA grant in the last decade, or the person who is employed by the energy company?" Ritz said.
John Froines, a professor of environmental health sciences who served as chair of the California EPA Scientific Review Panel on Toxic Air Contaminants from 1998 to 2013, said he believes the new EPA rules do not make sense for environmental policy because he thinks industry scientists generally want fewer regulations on unsafe chemicals.
"It's very bad science; it's very bad environmental health," Froines said. "It's ludicrous, to say the least."
Froines said the California EPA Scientific Review Panel on Toxic Air Contaminants does not have scientific advisors from the energy industry.
"Our committees were made up of academic scientists, 100 percent," Froines said. "There were no nonscientists on the scientific review panel."
California law requires members of the toxic air contaminants panel to be researchers or professors at a university in the state, said Melanie Turner, a spokesperson for the California Air Resources Board.
Froines added he thinks advisory committees work best when they do not have any outside influences. For example, the panel he chaired worked with state government officials in 1998 to designate diesel exhaust as a toxic air contaminant. The panel reviewed molecules in diesel exhaust and found evidence that diesel exhaust exposure is related to lung cancer and other adverse health effects.
"We didn't allow people who were not on the committee to participate in the decision making and the commentary," Froines said. "Obviously, the EPA's process is more complex."
Ritz said she thinks only academic experts who receive EPA funding can balance industry scientists' influence.
"I really don't see the value of (the new EPA rules) except to skew these boards toward industry experts," Ritz said.