New organization aims to create community for vegan students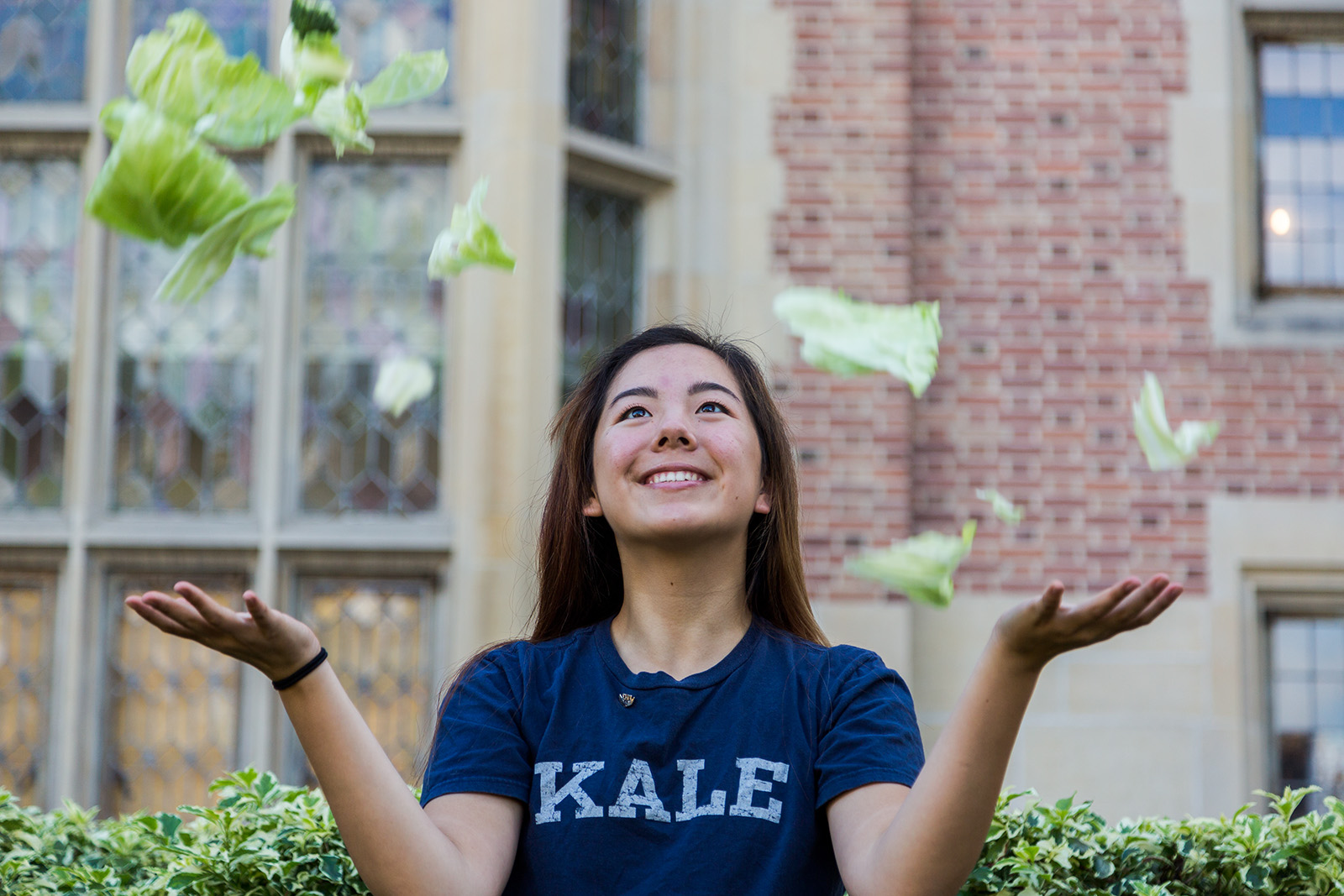 Joyce Shang, a third-year business economics student, founded Veg Bruins last spring to connect vegan students on campus after she noticed UCLA didn't have a club that was dedicated to supporting vegan students. (Kristie-Valerie Hoang/Assistant Photo editor)
When Joyce Shang decided to become a vegan, she was surprised to learn that her greatest challenge was not finding food to eat, but rather people to eat with.
"The hardest part was mostly going out to eat and going to friends' houses," she said.
Shang, a third-year business economics student, created Veg Bruins in spring quarter to foster a community for vegan students by hosting fairs, socials, informational talks and guest speakers. The club, which has added more than 100 students to its mailing list since its creation, is hosting its first Vegan Fair in Bruin Plaza on Nov. 14 to showcase various companies that sell vegan products.
Shang said she started Veg Bruins because she noticed UCLA did not have an organization solely dedicated to supporting vegan students.
"When I first came to UCLA, I was surprised there wasn't a vegan club," she said. "There is an animal rights club, so it's a similar idea, but I'm more interested in the food, culture and community, so I wanted to make something more centered around that."
Shang said she thinks students who first adopt a vegan diet often have difficulty finding people who share that goal.
"There are a lot of people who are vegan or vegetarian, so try and meet people who are like-minded," she said. "Make some friends, so it's not lonely."
Ysabel Chavez, co-founder of Veg Bruins and a third-year international development studies student, said she thinks it is important for vegan students to make friends with other vegans in order to sustain their diets.
"Eating is a very social thing," Chavez said. "So if your friends say 'Hey, do you want to go to (Korean barbecue)?' someone who's newly vegan often has difficulty with that."
Madison Feldman, undergraduate staff coordinator of the Healthy Campus Initiative, a UCLA organization that promotes health and sustainability programs, said she thinks groups like Veg Bruins provide a positive space for people who have a certain diet to connect over their common lifestyles and hold events together.
"It's great for people who have a certain dietary choice to come together and bond over that," she said.
Shang said she converted to a vegan diet after watching the documentary "Forks Over Knives," which she said taught her about the health and biological benefits of cutting out meat and dairy. She added the long-term benefits of a vegan diet include reduced risk of cancer and other diseases.
Chavez said she adopted a vegan diet after learning that raising animals for meat uses a lot of water and significantly increases an individual's carbon footprint.
"What helped me continue (being vegan) was that I educated myself in the summer and learned about the sustainability of (a vegan diet)," she said.
Shang said the club aims to educate vegan students on how to eat a balanced vegan diet. For example, new vegans often overeat junk food, which can leave them feeling tired and hungry, instead of increasing portion sizes of plant-based foods to meet calorie requirements. She said she hopes the club will balance social activities with programming to educate members on healthy veganism.
"Going vegan is doable; it's not that hard," she said. "But you really have to educate yourself about it and know what to eat."
Shang said the club plans to hold more socials and potlucks in the future to improve the club's social dynamics and help more students adapt to a vegan lifestyle.
"Right now, we have lots of speaker meetings in classrooms, and that's good, but for me the purpose (of Veg Bruins) was more to create community," Shang said. "I think moving forward I want that to be the focus."