UCLA swim and dive falls to Arizona, Arizona State in dual-meet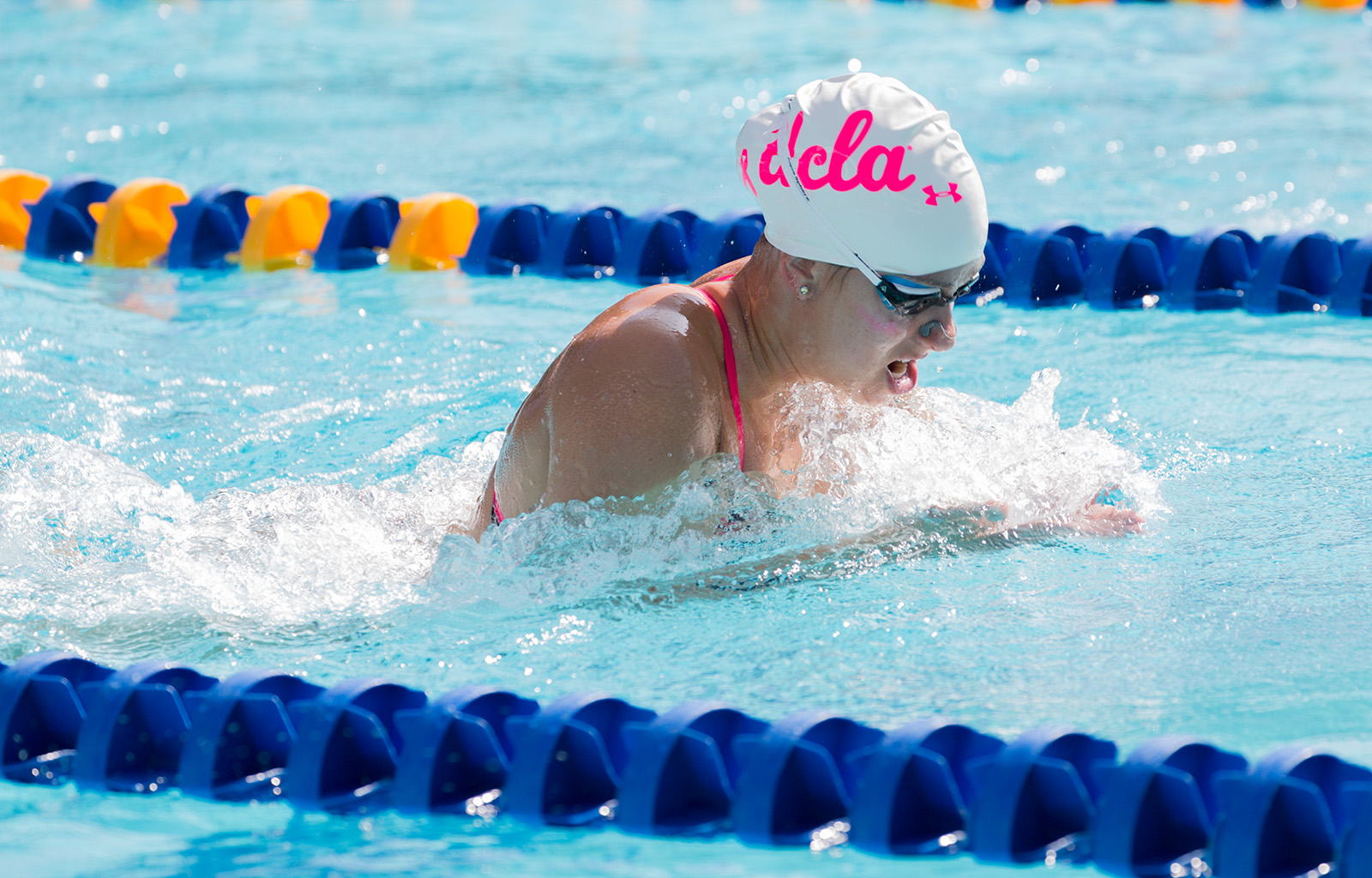 UCLA swim and dive fell to both Arizona and Arizona State this weekend. Coach Cyndi Gallagher said the team still has holes in breaststroke and distance freestyle. (Stella Huang/Daily Bruin)
UCLA swim and dive opened Pac-12 dual-meet competition with a weekend trip to Arizona.
UCLA (4-3, 1-2 Pac-12) visited Arizona (3-1, 3-1) on Friday and Arizona State (3-1, 2-1) on Saturday. The Bruins lost both matchups.
"We're a young team and we have some holes," said coach Cyndi Gallagher. "To win meets, pretty much everybody has to be running on all four cylinders."
UCLA lost by scores of 154.5-145.5 and 189-111 to Arizona and Arizona State, respectively.
Junior diver Eloise Belanger had first-place finishes in the 1- and 3-meter competitions against Arizona, as well as in the 1-meter competition against Arizona State. She placed third in the 3-meter against the Sun Devils.
"I made a mistake on one of my dives on the 3-meter, which cost me a lot of points, but I think that in general if I look at it as a bigger picture it was pretty good," Belanger said. "I think that we can see that the work we're doing is getting results, and that is going to get more results in the season."
Senior diver Ciara Monahan also saw success this weekend with second-place finishes in the 1- and 3-meter competitions against the Wildcats.
"I just think for them it's really about maintaining a certain level of focus in practice and the moment-to-moment repetition," said dive coach Tom Stebbins. "Not just diving to get through the workout, but really focusing on the changes that have to happen within each part of the workout and then within each part of the dive."
Senior swimmer Katie Grover competed outside of her usual events to swim against fast sprinters from both the Sun Devils and the Wildcats, Gallagher said.
Grover won the 50-yard freestyle against Arizona with a time of 23.35, but her failure to replicate her performance at Arizona State earned her third place in the event with a time of 23.64.
"(Sophomore swimmer Kenisha Liu and Grover) are there to compete and to do everything and anything they can, and we just had too many people that were off," Gallagher said. "We gave a full effort. It's where we're at: some are good and some aren't good."
Liu saw success against the Wildcats with a victory in the 200-yard individual medley with a time of 2:02.20 and the 200-yard freestyle with a time of 1:48.09. Though her time in the 200-yard freestyle was more than a second slower against the Sun Devils, it still earned her a first-place finish.
Arizona State took the top four spots in 500-yard freestyle.
"I was much happier against Arizona, and we could have easily turned that meet around because it was super close," Gallagher said. "But against Arizona State, they swam great – they were on fire, they just outswam us."