Lawyers and activists discuss prison health care at law school event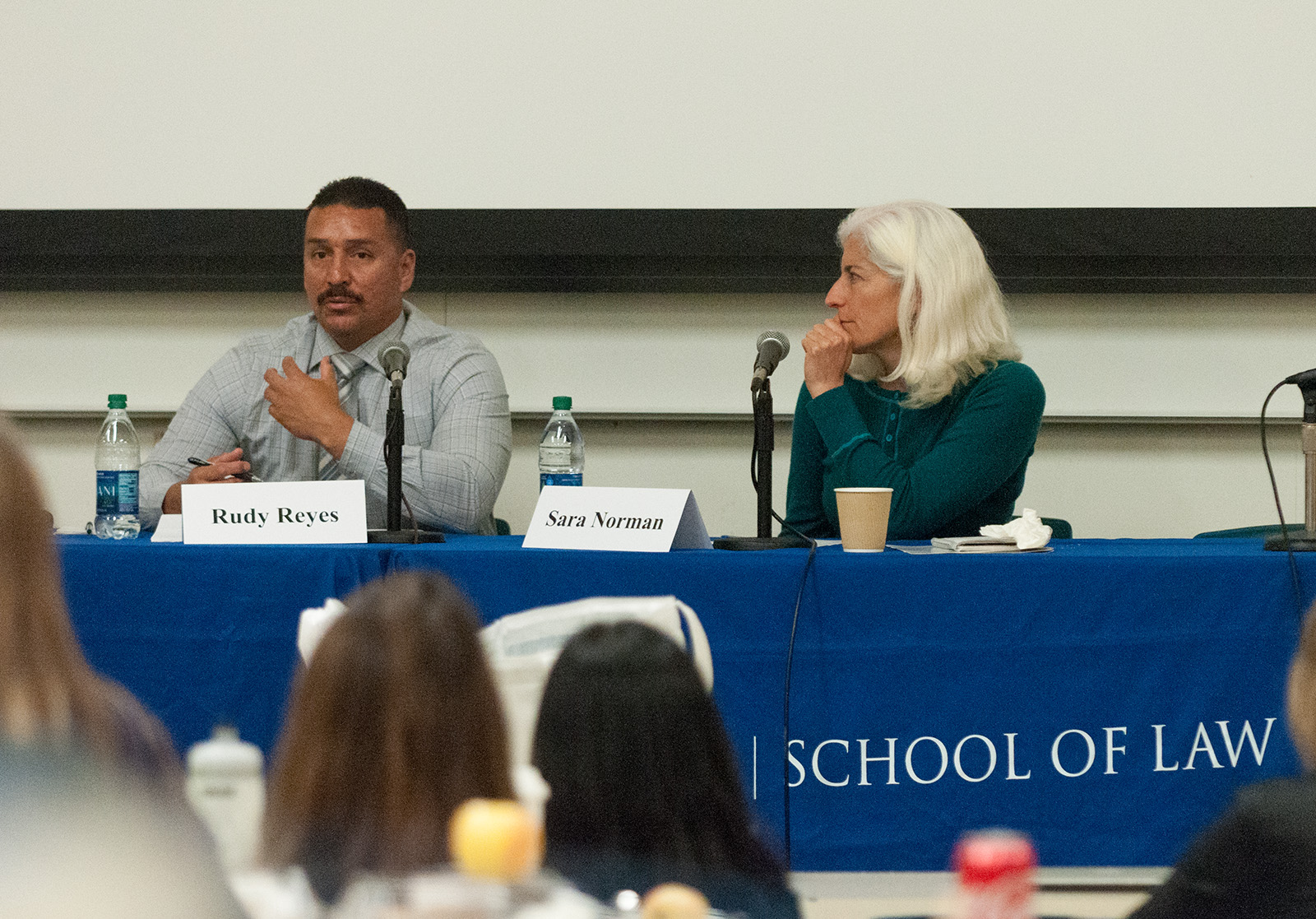 Rudy Reyes, a formerly-incarcerated individual who advocates for former prisoners, said at an event Friday he experienced anxiety, depression and lack of spatial awareness after spending 23 years in solitary confinement. (Pinkie Su/Daily Bruin)
Legal experts and activists said at a symposium Friday they think the United States needs to improve its prisons' mental and physical health care systems.
About a dozen lawyers, academics and activists attended UCLA Law Review Discourse's first symposium about health care issues in prisons and the long-term physical and psychological consequences of prison life on formerly incarcerated people. "Sick of the System: Health and Wellness in the Carceral State," which was held at the UCLA School of Law, featured keynote speaker Rudy Reyes, a formerly incarcerated individual who advocates for current and former prisoners.
Reyes said he experienced anxiety, depression and a lack of spatial awareness after spending 23 years in solitary confinement.
"I'd ask myself, 'Am I really alive? Am I really here?'" he said. "You just want to hear another voice."
The event also featured two panels that talked about ways to improve prison health care and overhaul the prison system.
Michael Kaufman, deputy director of advocacy and senior staff attorney at the American Civil Liberties Union of Southern California, said private prisons, with business models that maximize profit by cutting expenditure wherever possible, often have poor health care provisions.
Kaufman said one inmate in a private prison was refused treatment for Hepatitis C because he would not be staying in the prison for much longer.
Juvenile offenders often do not receive basic mental and physical health care, and are often treated inhumanely, said panelist Shimica Gaskins, executive director of the California office of the Children's Defense Fund, a national child advocacy organization. She said young girls in prison are often denied abortions, and some incarcerated youth lack clean underwear.
Panelists also discussed long-term strategies to reform health care in prisons.
Esther Lim, the deputy director of advocacy for ACLU of Southern California, said inmates' inability to advocate for themselves detrimentally affects their health care.
Lim said prison officials sometimes deny inmates nail clippers to cut their toenails. This can lead to infections forcing inmates to get their toenail surgically removed, which can cost thousands of dollars.
Robert Cohen, a former court-appointed monitor for medical care in prisons, said he thinks the government should reduce the number of individuals in prisons and use independent medical groups to provide health care to inmates.
"The responsibility of health care should be carried out by other people who aren't in the prison system," he said.
Mark-Anthony Johnson, a director at Dignity and Power Now, a group which assists formerly incarcerated individuals and their families, said he thinks the government should abolish the prison system.
"Public safety cannot happen in the prison-industrial complex," Johnson said. "You can't keep throwing cages at the problem."
Several attendees said they think the event gave them a better understanding of how individuals are treated in prisons.
Amanda Brown, a law student, said she attended the event because she wants to work in public interest law. Brown said she was interested in the symposium because it was co-sponsored by the Prison Law and Policy Program at the UCLA School of Law. The program specializes in addressing the legal needs of prisoners after their trial and conviction.
Gabriel Gomez, a former UCLA Extension student who hopes to work as an interpreter in California courts, said the event helped him better understand the individuals he hopes to work with.
Reyes, who has been out on parole since January, said he thinks community and spiritual support, not the prison system, helped reform him.
"(Solitary confinement) didn't rehabilitate me," Reyes said. "Not one day."