Editorial: UCLA should assess students' mental health needs, change CAPS accordingly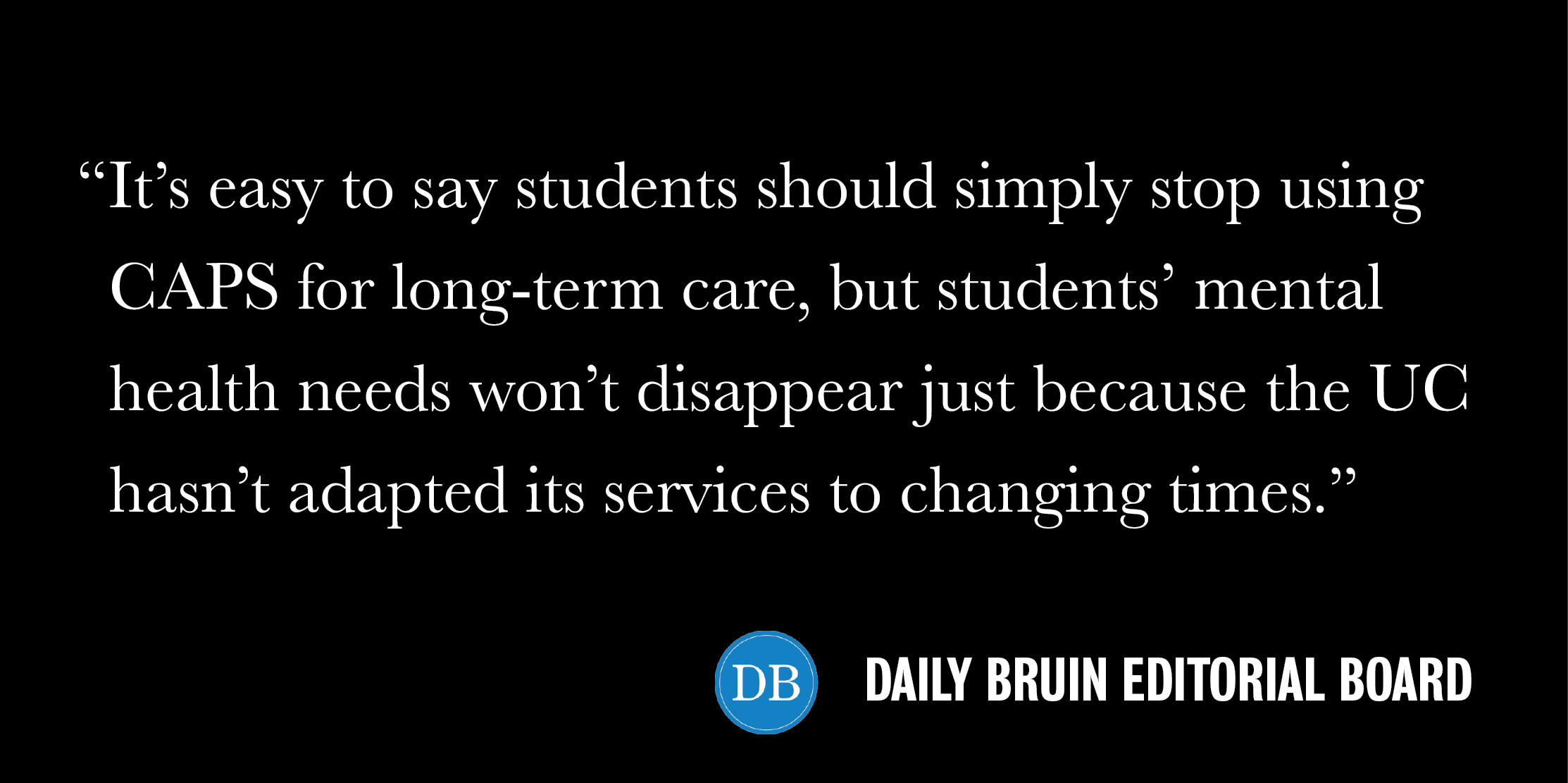 When your on-campus mental health center loses an average of one therapist a month, you know there's a big problem. Too bad UCLA and the University of California don't seem to have studied this problem.
There is no shortage of complaints about UCLA's Counseling and Psychological Services, from wait times that can reach nearly a month to the facility's shortage of staff and space. The conversation has recently turned toward a high turnover of counseling psychologists, which their union, the University Professional and Technical Employees, attributes to the UC underpaying and overworking employees.
The situation sheds light on CAPS' recurrent issues. The service was not built to serve the high amount of students now interested in counseling, nor to accommodate long-term care. Rather, CAPS was built to meet students' short-term mental health needs, despite students still going there in hopes of long-term treatment.
Student and administrative expectations for campus counseling services are clearly at odds, and the ramifications of that are troubling to say the least. The UC needs to survey students about what they expect from campus mental health services and work with campus administrators to restructure services like CAPS to meet those needs.
The UC periodically conducts surveys about student health and published a report on graduate student wellness in May. The last time it conducted a similar survey for undergraduates, however, was a mental health survey published in 2006.
A lot has changed in the last decade, though. Between 2007 and 2016, 54 percent more students began seeking help at UC counseling centers. Add in the ever-polarizing political climate, and it's clear the 2006 report is hardly a guiding document for how to structure campus counseling services.
Of course, the UC has been making it by through incremental funding increases, which the University intends to use to recruit more diverse clinicians. In 2015, the UC Board of Regents approved an increase in annual student services fees to support counseling services, which is projected to generate an additional $40 million to $58 million in the next year. And UCLA students approved the #UCLAWellness referendum in 2016, which charges students quarterly to provide funding for CAPS.
These are stopgap measures, though. The UC pays its counseling psychologists a few thousand dollars below the national average for their profession and tens of thousands below the state median. Assessing the working conditions of campus psychologists and why campus services continue to face difficulties cannot be done until the UC understands what students need from campus mental health services.
Gathering this kind of information through a systemwide undergraduate survey is essential not just for re-evaluating how CAPS is structured, but for understanding how much stress employees are under. High turnover does not make for the reliable and trusted relationships many students need to actually benefit from going to CAPS.
Of course, it's easy to say students should simply stop using CAPS for long-term care, but students' mental health needs won't disappear just because the UC hasn't adapted its services to changing times. It's impossible for the UC to determine how much its services differ from student expectations – or even how underfunded its campus services are – unless it studies students and its campus services.
The UC has a choice: It can either adapt to changing times or continue to let its campus counseling services hobble on.