Combatants for Peace speakers advocate for Israeli-Palestinian dialogue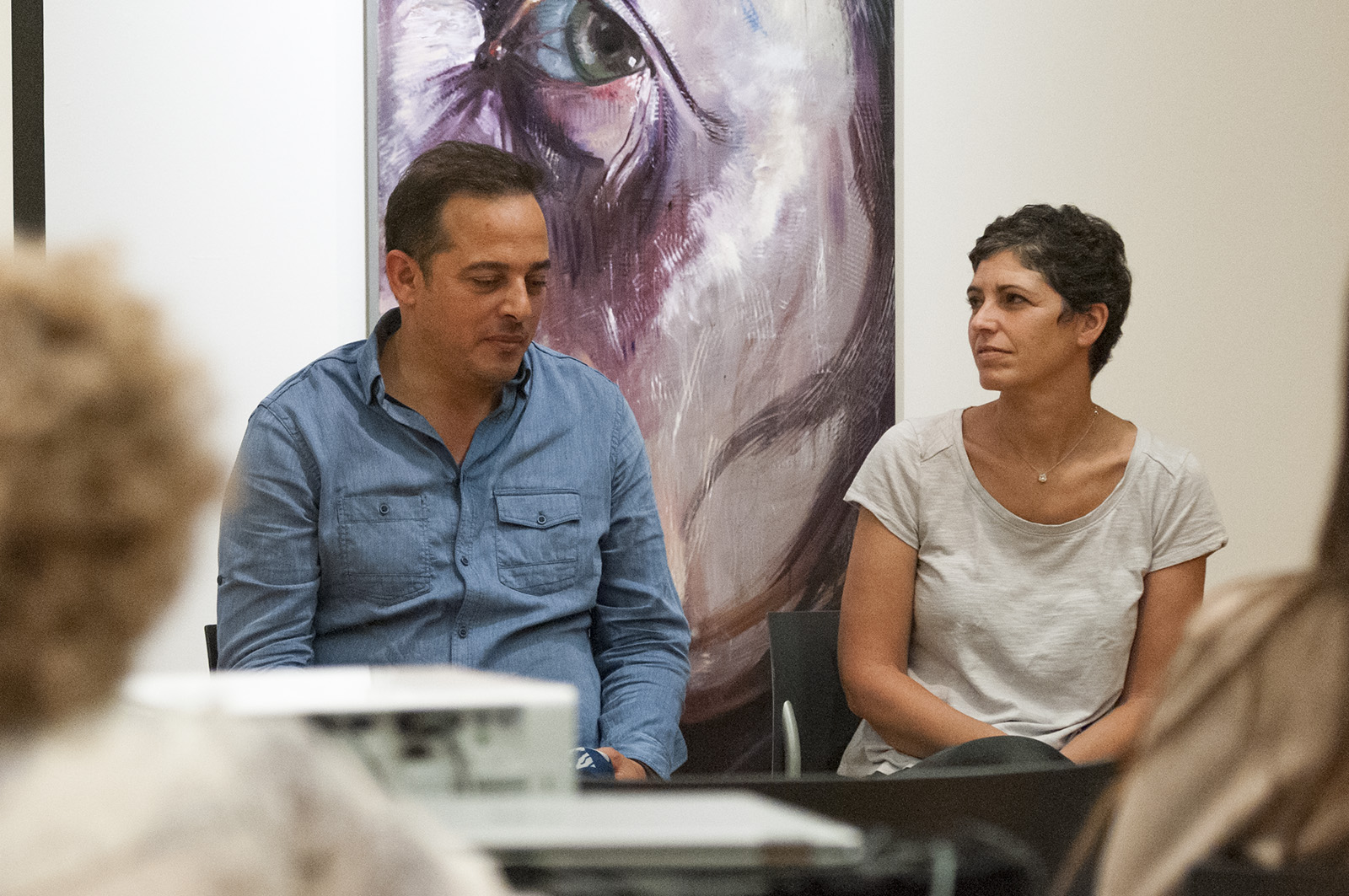 Mohamed Owedah, a Palestinian Combatants for Peace member, and Galia Galili, an Israeli Combatants for Peace member, shared their experiences living in the conflict zone and from their time in CFP. (Michael Zshornack/Photo editor)
Two speakers personally affected by the Israeli-Palestinian conflict said they believe peace in the region is possible through more dialogue and cooperation between the two groups at an event Wednesday.
J Street U at UCLA, a chapter of a nationwide student group advocating for peace between Israel and Palestine, hosted an event at UCLA Hillel featuring two speakers from Combatants for Peace, a binational organization established in 2006 that promotes dialogue between Israelis and Palestinians.
The event opened with a video of Israeli and Palestinian CFP members sharing their personal tragedies caused by the conflict. Following the video, Mohamed Owedah, a Palestinian CFP member, and Galia Galili, an Israeli CFP member, shared their experiences living in the conflict zone and from their time in CFP.
CFP is made up of nine regional groups as well as a binational women's group and a theatre troupe. The group organizes events such as the annual joint Israeli-Palestinian Memorial Day ceremony and monthly Freedom March along the West Bank. Owedah said the organization aims to help Israelis and Palestinians learn how to work together.
"There's a story of saying 'I' and there's a story of saying 'we," Owedah added. "We want to live like everybody – with freedom, with safety."
Rachel Sass, president of J Street U at UCLA and a third-year history and political science student, said the group reached out to CFP because they wanted students divided on the Israeli-Palestinian conflict to hear from individuals directly affected by the conflict.
"We wanted to bring people who have actual experience with this narrative and to show that if they can overcome (disagreements), students at UCLA can do the same," she said.
Owedah and Galili both said they joined CFP because they realized through firsthand experience that fighting and violence could not resolve the conflict.
He added he spent time in jail as a teenager for fighting against the Israeli military, and joined CFP because he realized that violence was not a solution for peace in the region. CFP advocates for a two-state solution, with Israel and Palestine living harmoniously side by side, Owedah said.
"Nobody heard our voice. At that point, I thought we should find a Jewish partner," he said. "We looked around and that was our first year of Combatants for Peace."
Galili said she spent time in the Israel Defense Forces' air force, where she rode planes that dropped leaflets over Gaza neighborhoods warning residents that the Israeli military was going to bomb where they lived. She said she thinks it was the army's nonviolent way of warning civilians about the harm it was about to cause to them.
She added she felt disillusioned with the Israeli government's violence against civilians after her time in the military, and joined CFP after seeing a group of protesters in a street in Israel.
"I wanted to be one of those five people protesting, not sitting on the sofa thinking the same thing but not doing any action," Galili said.
Hannah Berookhim, J Street U club member and fourth-year comparative literature and Iranian studies student, said she thinks the panel helped students gain perspectives on both sides of the conflict.
"Even if (the panel) doesn't change their opinion, at least they'll understand why the other thinks this way," she added. "You can be pro-Israel, pro-Palestine, pro-peace. You don't have to choose."