UCLA men's soccer edged out by No. 23 Washington in 1-0 loss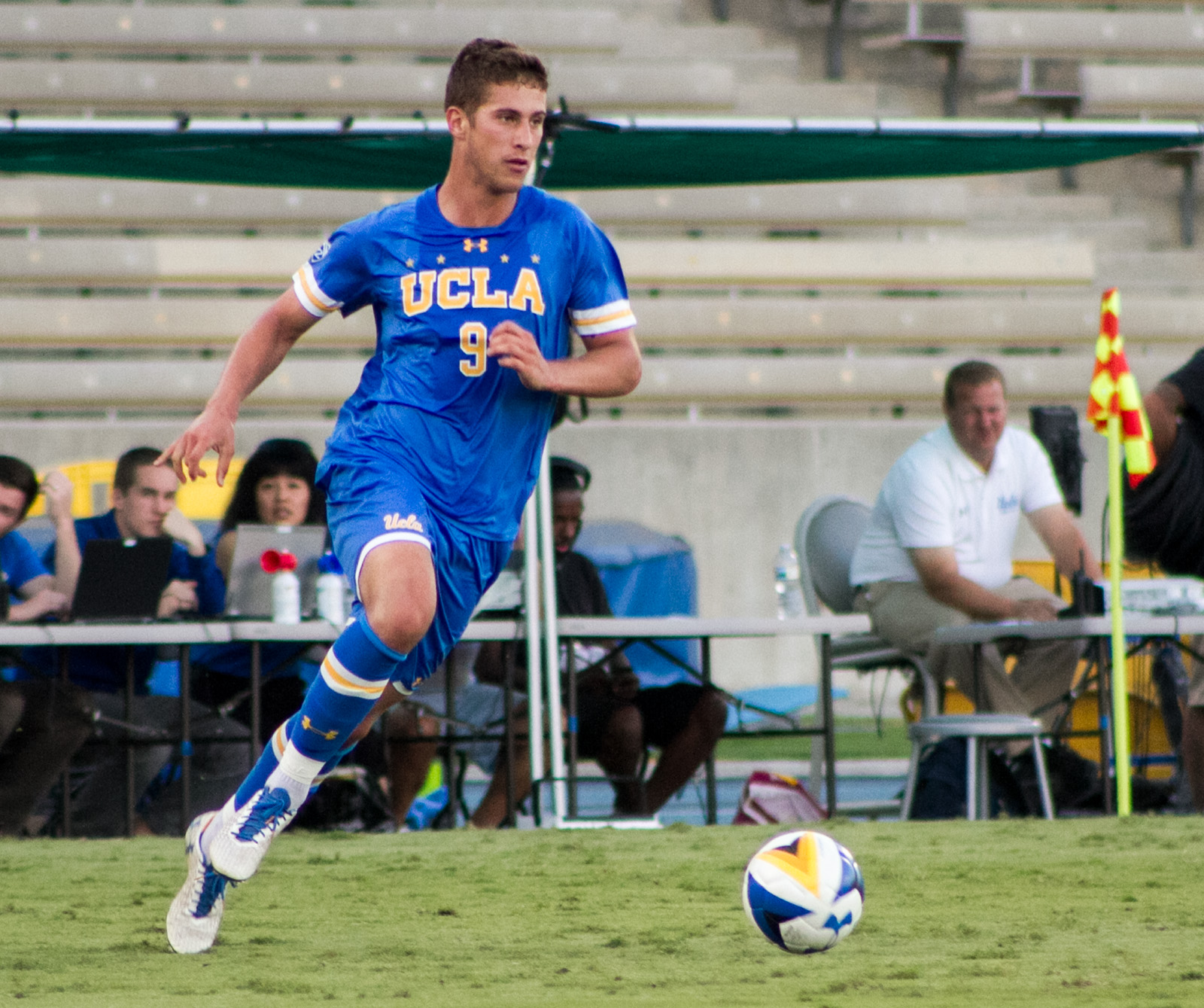 Freshman forward Santiago Herrera and the rest of the UCLA men's soccer team was unable to put up a goal on Sunday. The Bruins scored five goals in their game Thursday. (Habeba Mostafa/Daily Bruin)
The last time UCLA men's soccer faced Washington they came out on top 1-0.
On Sunday, the roles were reversed as the No. 23 Huskies (12-5-1, 5-3-1 Pac-12) took the match, defeating the Bruins (7-7-1, 4-3-0) with just one goal.
"The last game we started slow yet we stuck with the game plan," said redshirt senior midfielder Brian Iloski. "Here we stopped playing in the second half."
Washington opened up scoring with the night's only goal in the 65th minute. Husky midfielder Jaret Townsend shot near the top of the box to the right post, marking his first goal of the season.
"We gave the ball away because we were exposed and stretched in the back," coach Jorge Salcedo said. "And it is disappointing because we have to have a better understanding in those moments to not expose ourselves like we did."
http://embed.sendtonews.com/oembed/?SC=4Ak5FE4UCD-346941-8314&sound=off&format=json&offsetx=0&offsety=0&floatwidth=300&floatposition=bottom-right&float=on
The Huskies outshot the Bruins with 15 shots. UCLA answered back with 10, yet failed to score.
After the Huskies scored, the Bruins tried answering back with a pair of unsuccessful shots.
The first was by senior forward Christian Chavez in the 85th minute of play, but the shot was saved. The second was by header by junior midfielder Anderson Asiedu just two minutes later that was sent wide.
After the Huskies scored, they sent another seven shots toward the Bruins yet were unable to add to the scoreboard.
Both the Huskies and the Bruins were not able to score in the first half of the game. UCLA sent five shots in the first half of the game and the Washington sent four.
"In the first half we were not clean enough with our chances," Salcedo said.
The loss put a stop to the Bruins' four-game Pac-12 winning streak. UCLA shut out its last opponent, Oregon State, 5-0 in a match just three days prior to Sunday's game.
"We tried to take the momentum from last game into today's game but we didn't meet the results," Chavez said.
Sunday's match marked the last home game of the regular season for the Bruins.
UCLA will head north to face No. 5 Stanford on Thursday. The Bruins faced the Cardinal early in the regular season and were defeated 1-0.
Sered joined the Bruin as a junior in 2017 and contributed until she graduated in 2018. She spent time on the softball, men's volleyball and men's soccer beats
Sered joined the Bruin as a junior in 2017 and contributed until she graduated in 2018. She spent time on the softball, men's volleyball and men's soccer beats