Sandra Wenceslao: UCLA should implement multifunctional rooms for child care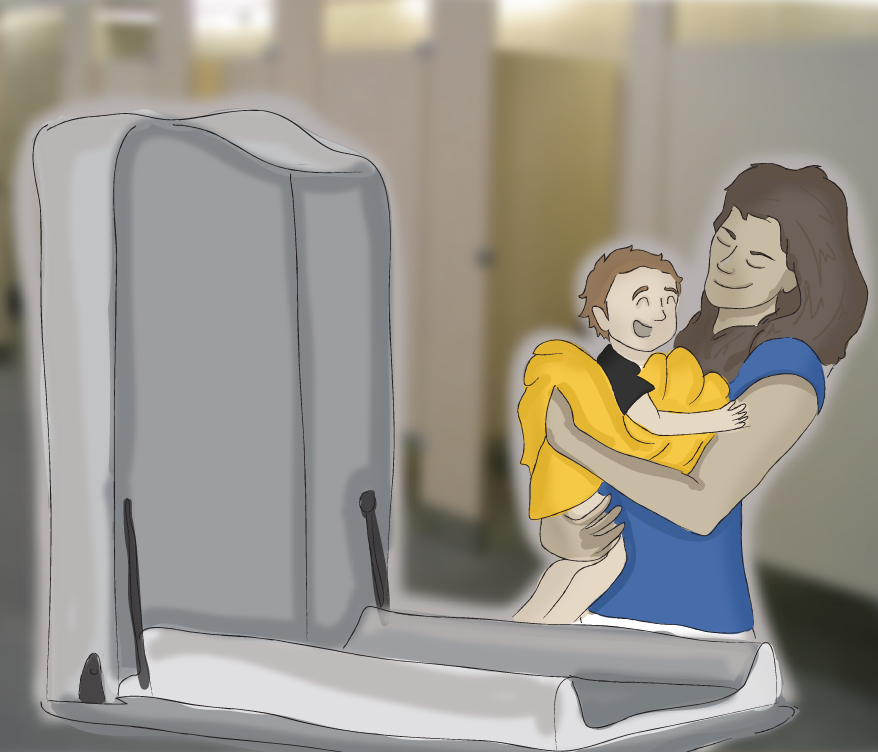 (Shreya Mantri/Daily Bruin)
If you're a parent looking for a clean and private place on campus to change your child's diapers, you're out of luck.
In October 2016, former-president Barack Obama passed the Bathrooms Accessible in Every Situation Act, which requires diaper-changing stations be installed in all public, federal restrooms. In September, Gov. Jerry Brown signed Assembly Bill 1127, which mandates at least one diaper-changing station be available in all restrooms in both local and state businesses in addition to public venues. The bill aims to improve the accessibility of diaper-changing stations, especially for men.
UCLA already meets this requirement by having diaper-changing stations in all men's, women's and gender neutral restrooms on campus. Additionally, the Students with Dependents Program, a part of the UCLA Bruin Resource Center that provides support for students who are caregivers, parents or guardians, said it is working to create a comprehensive map outlining where diaper-changing stations and lactation rooms, private spaces for nursing mothers to express milk, are located on campus.
However, UCLA is a crowded place, and students who want to take care of their children are forced to use diaper-changing tables in occupied restrooms – posing not just a privacy problem but also a sanitary one, since these restrooms are used by many. Installing more diaper-changing stations is a step in the right direction, but UCLA would better serve student parents and guardians on campus by creating rooms specifically for parents to tend to their children. These rooms should be multifunctional and provide spaces where parents can not only change diapers, but also feed and help their children go to sleep.
Creating these rooms will build a more welcoming environment for nontraditional students, as well as other guardians on campus, who may struggle to find a private space to meet their children's needs.
Romen Lopez, a fourth-year Chicana and Chicano studies student, said he struggled to locate changing stations for his child while he attended community college, oftentimes having to walk across campus to find one. He said he sees more diaper-changing stations at UCLA than at his community college.
But while UCLA does provide more frequent diaper-changing stations, parents and guardians are limited in where and when they can utilize these facilities.
For example, most UCLA parents have to tend to their children alone, since many of the diaper-changing stations are situated in single-gender restrooms. A majority of the more than 100 new, all-gender restrooms have changing tables, said Jean Libby, program director of Students with Dependents. However, a notable number of these gender-neutral restrooms are single-occupancy and still only allow one family member at a time to utilize the stations. A child care room, on the other hand, would allow multiple family members to take care of their children.
The university can also address parents' concerns of sanitation and health by creating multipurpose rooms that include diaper-changing facilities. A crowded restroom with people filtering in and out isn't the cleanest place to change a child's diaper. A lack of accessible changing stations within bathrooms can put the children and the people using the restrooms at a health risk. This is something even Congressman David Cicilline argued when advocating for the BABIES Act.
The multipurpose rooms could also function as accessible lactation rooms. Denise Smith, a parent and fourth-year English student, said while UCLA offers lactation rooms for nursing mothers, the rooms are not convenient to get to. Six of UCLA's lactation rooms are concentrated near UCLA's medical school, whereas only three can be found remotely near North campus – those three are near Franz Hall, Murphy Hall and the Student Activities Center.
Having child care rooms available that can meet families' multiple needs like lactation and feeding would be a lot more practical and beneficial. The multifunctional rooms would provide caregivers with resources to fulfill the needs of their children, while also allowing UCLA to more easily meet parents' and guardians' sanitary and privacy needs when tending to their children.
Some may argue that the diaper-changing stations available at restrooms across campus already meet the needs of parents and guardians. But there are a notable number of nontraditional students who would benefit from accessible, multifunction rooms that can help them take care of their children on campus.
In fact, Libby said UCLA has 255 undergraduate and 400 graduate students with dependents. This may not seem like a lot of students, but every Bruin should be valued. The university should meet the needs of all its students, and that includes striving to address sanitary and privacy concerns of parents and guardians on campus.
That way, UCLA can make student parents' lives a little bit easier.
Sandra Wenceslao is an Opinion columnist.
Sandra Wenceslao is an Opinion columnist.