UCLA improves facilities in Haines Hall, adds outside study areas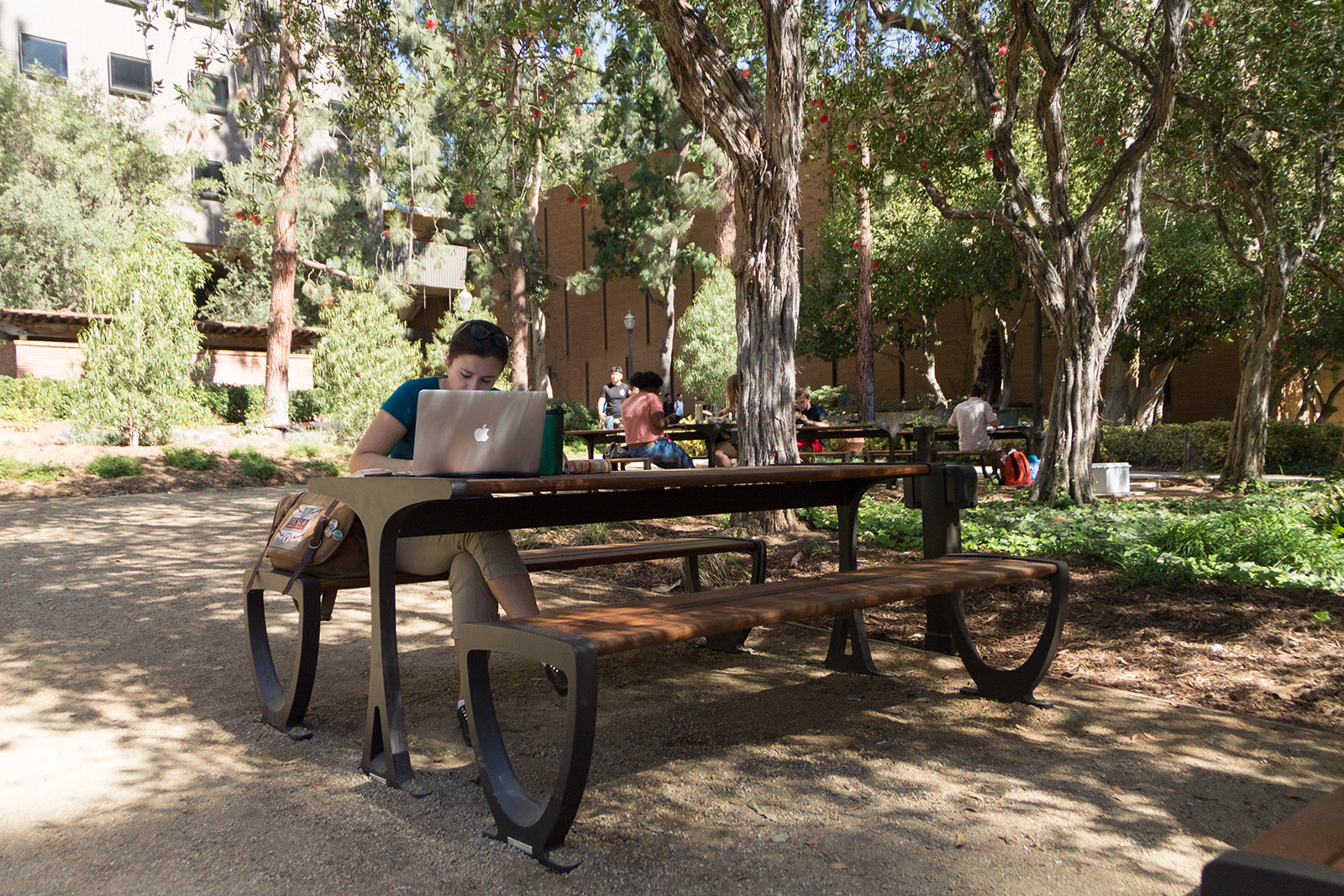 Students can study at outdoor tables outside Bunche Hall that was created over the summer as part of a renovation project by the UCLA Office of Instructional Development and Facilities Management. (Emma Skinner/Daily Bruin)
Student have access to more outside study spaces and improved classroom facilities following recent renovations on campus.
The UCLA Office of Instructional Development and the Facilities Management worked together over the summer to create new group study tables in front of Bunche Hall and improve classrooms in Haines Hall with new technology, said Rob Rodgers, a manager at the Office of Instructional Development.
Rodgers said they installed moveable seating and new projectors in classrooms in Haines Hall and group study spaces with outlets outside Bunche Hall.
Rodgers said he thinks UCLA needs more places where students can gather on campus and said the university plans to continue renovations next summer.
"Most of our study spaces are in the libraries or on the Hill," he said. "We can take advantage of our weather and have spaces outside."
Rodgers said the offices renovated one auditorium, two lecture halls and 12 classrooms in Haines Hall. He added they installed moveable seating in smaller classrooms and converted Haines A44 into an active learning classroom.
Haines A44 has five newly installed projectors – four of which are interactive, which allows students to actively participate with and contribute to the projected image, said Rodgers. He added they wanted the classroom to be student centric and not have the teacher restricted to the front of the room.
"I would say it's the most modern classroom that we built at UCLA," Rogers said.
In the Haines 39 auditorium, lecturers and professors now teach behind a large black counter with a  built-in touchscreen computer rather than a simple lectern, he added.
Katie Elliott, an assistant professor of philosophy who teaches a class in Haines 39, said she thinks the new equipment is helpful because it allows her to teach a larger class than she is used to.
"I was not planning on using the equipment but once I saw them and found how useful it was … this has actually been pretty sweet," she said.
Elliott added she often uses the room's document camera, which allows her to project printouts by directly pointing the camera on the document. She added she thinks the room's built-in computer is useful because it allows her to not have to plug in her own computer.
Rodgers said future renovation plans next summer include group study tables near the Mathematical Sciences building. He added the offices try to rotate projects between North and South campus.
The offices also plan to install more outlets in building hallways and furniture in hallways that are wide enough, he said. Rodgers added he got the idea after seeing students sitting around outlets in Campbell Hall outside of his office.
Some students said they think the renovations completed over the summer were useful.
Estelle Jung, a first-year biology student, said she thinks the group study tables are a convenient place to meet for group projects.
"I don't want to have to reserve a room and it's nice just to find a table and go there and sit down. The only downside is that it's a little more distracting," Jung said. "With nice weather (though), it's an easier place to meet."
Jung said she thinks the plan to install more outlets in the hallways would be beneficial for students who spend time in the hallways waiting for class to start.
"My phone dies pretty fast and I'm always looking for an outlet, so that would be super convenient," she said.
Danielle Kim, a second-year international development studies student, said that while more outlets in hallways would be useful, she thinks the furniture is unnecessary and would get in the way. She added she thinks other parts of campus, such as restrooms, are more in need of renovations.
Rodgers said he hopes students take advantage of the new spaces and added he welcomes recommendations from students for places on campus in need of renovation.
"We try to (renovate) a whole building each time. … back and forth between North and South campus," he said. "There are still a couple left."