CAPS union members call for wage increase to maintain quality of services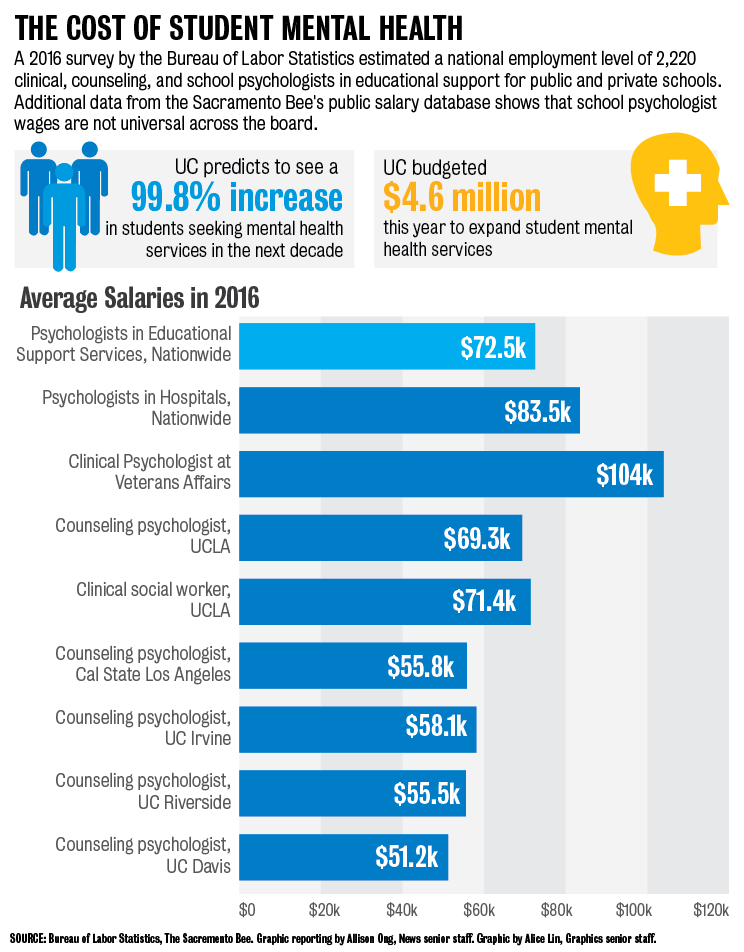 Correction: The original version of this article misspelled Ricardo Vazquez's name.
This post was updated July 28, 2020 at 4:17 p.m.
The University of California counseling psychologists are calling for wage increases, claiming low pay drives many of them to leave their positions and the students who depend on their services.
UCLA Counseling and Psychological Services provides on-campus mental health and wellness services in the form of individual and group therapy, among other programs. CAPS has lost an average of one therapist per month at UCLA since 2016, said Jamie McDole, vice president of the University Professional and Technical Employees, the union that represents UC counseling psychologists.
McDole said counseling psychologists first became unionized and represented by UPTE in January in order to enter an official contract. Counseling psychologists began negotiations with the UC in March, but have so far been unable to reach an agreement regarding wage increases, she said.
"(The UC) is still proposing wage scales significantly below market, and they're not at this point willing to move (their current ranges)," she said. "The UC administration doesn't want to recognize underpay as an issue."
McDole said she thinks low wages impact a school's ability to hire and retain clinicians with significant counseling experience. As of 2016, the average salary for counseling psychologists at UCLA is about $69,300 compared to the national average of $72,500 for psychologists working in educational support settings, according to the Department of Labor Bureau's of Labor Statistics.
UC spokesperson Ricardo Vazquez said the UC believes they have made progress in the negotiations, and would like to come to an agreement as soon as possible.
UCLA spokesperson Tod Tamberg said the university does not wish to discuss wage discussions and labor issues outside of the negotiating venue.

McDole said counseling psychologists are paid up to 20 percent less than other psychologists on the UCLA campus with similar job duties and qualifications, such as those at the David Geffen School of Medicine at UCLA, because the current pay scale categorizes CPs as a distinct position.
She added the union is pushing for a step-wise pay scale which, unlike the current system, would increase pay for counseling psychologists that have worked longer on campus or have more experience.
Each UC campus has served as a site for negotiations, and UCLA hosted the first negotiation in March, McDole said. All counseling psychologists can attend UPTE meetings and communicate their concerns to bargaining representatives at each campus.
One counseling psychologist who asked to speak to the Daily Bruin anonymously said that all they want are wages equal to those of higher-paid psychologists on campus,
"The issue is fairness. I think we hold a very important role on campus," the counseling psychologist said. "The fact that these negotiations are still going on makes us feel we're not valued."
The counseling psychologist said they think their low wages contribute to CAPS' high staff turnover, and because of this, students may be unable to quickly obtain follow-up appointments. For example, the CP said some students wait three to four weeks until their next visit.
Some students have had to see four different therapists during the course of their treatment because their providers keep leaving, the counseling psychologist added. This means students must build trust and relationships with new providers over and over again, they said.
Another CAPS counseling psychologist who spoke anonymously to the Daily Bruin said high staff turnover makes CPs' schedules even busier. When a CP leaves, CAPS distributes their patients among the other CPs, requiring them to work weekends and late evenings to fulfill their duties.
The counseling psychologist said they see six patients in an eight hour work day, in addition to administrative tasks such as filling out paperwork for emotional support animal letters, writing progress notes, putting together ADHD assessments and completing intake reports.
"With my second job – a private practice – I more or less work seven days a week," the counseling psychologist said. "That's not a life."
The counseling psychologist added they find it disheartening that their wages have not increased to match the rising cost of living in Los Angeles.
McDole said she thinks counseling psychologist pay is concerning because students need more mental health treatment. For example, the number of students entering college who use psychotropic drugs for mental health disorder treatment has increased in recent years, she said.
"UC talks about getting to the national recommendation of having two therapists for every 1000 to 1200 students by 2018, but … there is no way with (the wages) they're offering they could ever get there," she said.
One counseling psychologist said they think the UC does not prioritize funding for mental health services.
"Look at our athletics facilities and administrative buildings, then look at CAPS. We're not asking to make billions of dollars; we're asking for parity with other psychologists," the counseling psychologist said. "(The center) wants us busy, and we don't feel compensated."