Lollicup Fresh opens second location in Westwood Village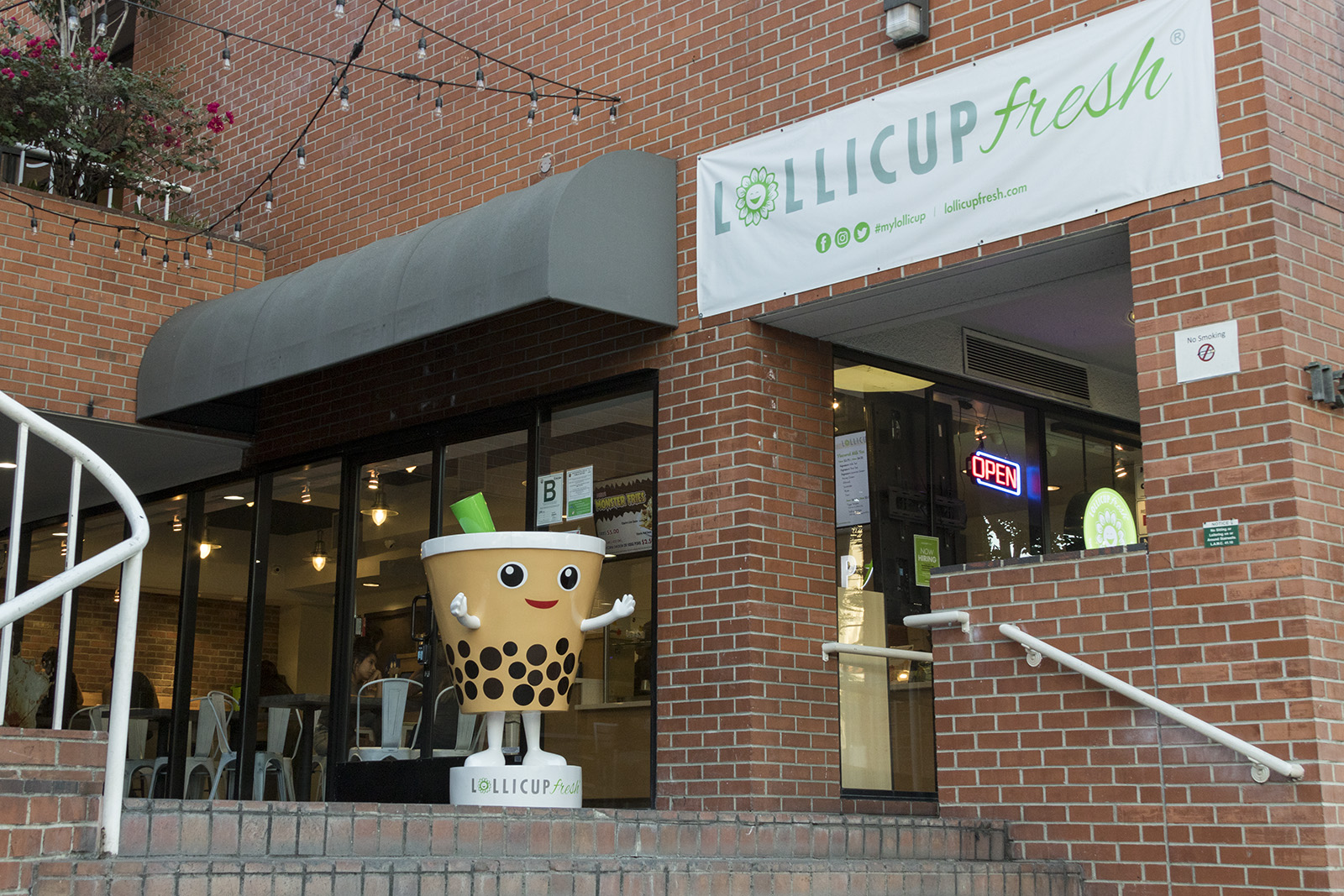 Lollicup Fresh, a boba restaurant with another location in Ackerman Union, opened a new location in the south end of Westwood Village.
Lollicup Fresh joins a number of other boba restaurants in Westwood. (Jacob Preal/Daily Bruin senior staff)
Students now have several boba options in the Westwood Village area and on campus.
Lollicup Fresh, a boba restaurant that currently has a location in Ackerman Union on campus, opened its Westwood Village location on Oct. 13 with minimal advertising while employees were still in training, said co-owner Andrew Lu. The business will formally open Thursday during a grand opening event, he added.
Boba, sometimes called bubble tea, is a Taiwanese drink with soft tapioca balls that has gained popularity in the United States in recent years.
Momo Moreno, the restaurant's assistant manager, said that although there are other boba shops in the Village, and another Lollicup Fresh on UCLA's campus, they are not worried about competing with similar businesses because there are no boba restaurants in its immediate vicinity.
"We don't see competition around here," he said. "We don't compete with Starbucks or Yogurtland."
The location is closer to the south end of the Village on Westwood Boulevard, farther away from UCLA's main campus. Other boba places, including Koala T Cafe and CoCo Fresh Tea and Juice, are located north of Weyburn Avenue, which is closer to UCLA.
Moreno said that despite limited hours and advertising, the location is already picking up business.
"The first two to three days was kind of slow because not too many people knew about us," he said. "But now the students are becoming regulars."
Kifishia Kawachi, the Westwood Village Improvement Association's board secretary and a local business owner, said she is glad vacancies in Westwood are filling up, but added she is skeptical about whether Lollicup Fresh can distinguish itself from nearby boba locations.
"(The number of boba locations) makes it so there isn't as much variety," she said. "At the same time, I'd rather have someone in there, not a vacancy."
Kawachi said she thinks the additional boba location in Westwood forces restaurants to stay competitive with each other.
"Competition makes all merchants stay on their toes, makes everyone make a better product," she said.
Kawachi said she would prefer more cafe-style restaurants in Westwood because they have a more family-oriented feel to them, as opposed to boba places' grab-and-go nature.
"If you're going for a beverage style, I'd rather see a face (to-face) style where you sit down and hang out, with ambiance," she said. "It has a more neighborhood feel."
Some residents said they think the new location is more accessible to them than boba locations further north in the Village.
Alix Fitch, a Westwood resident, said while the location is farther away from UCLA's campus, it is close to her office on Wilshire Boulevard. She added she is glad she can easily walk to the new Lollicup Fresh location.
Lu said he expects there to be about a thousand people in attendance at the grand opening event Thursday, where they will have a $1 boba sale on select flavors.