NIH recognizes UCLA professor's neuroscience research with award, grant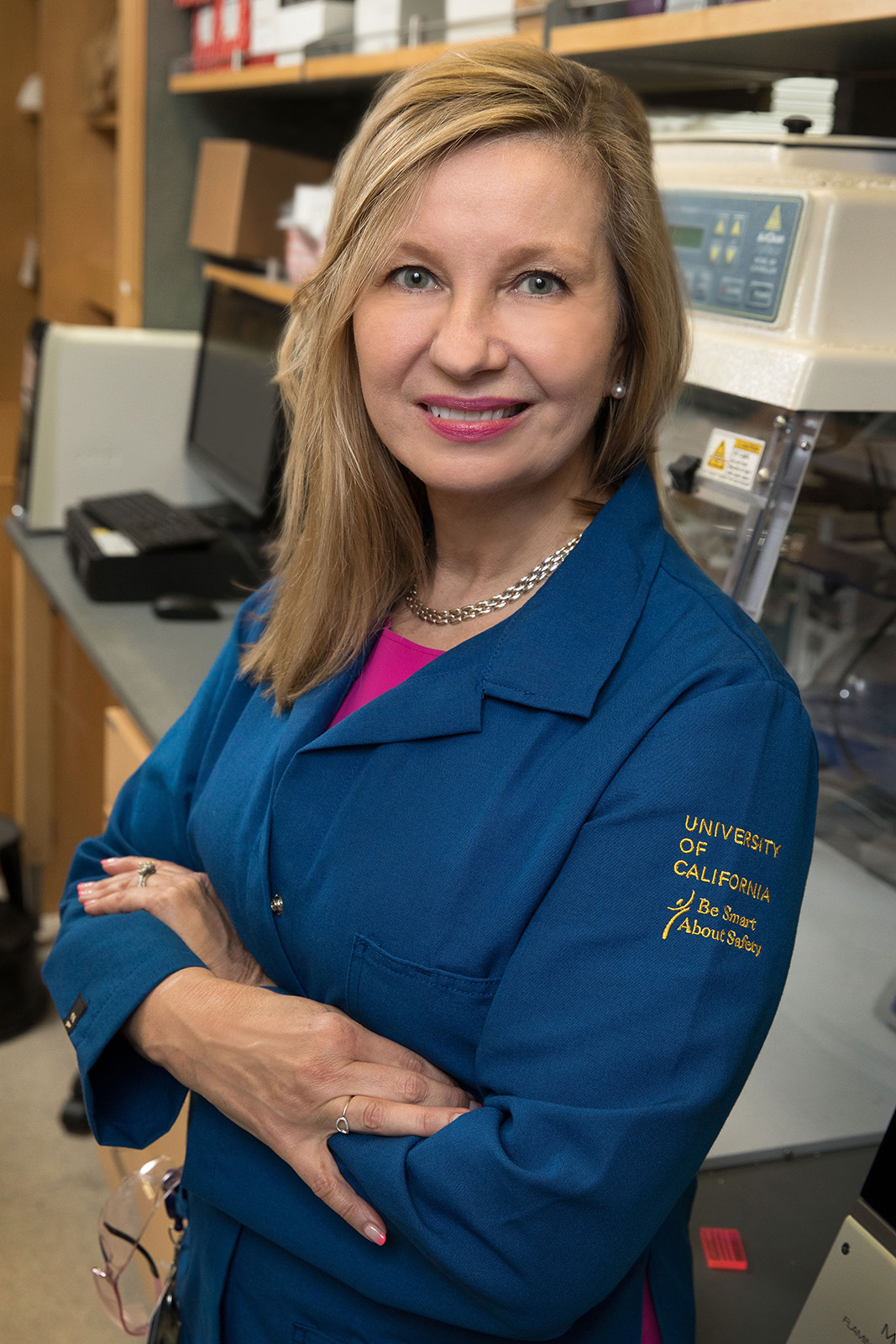 Anne Andrews, a professor of psychiatry and biobehavioral sciences, was recognized by
the National Institutes of Health last week for her work researching psychiatric diseases. (Courtesy of Reed Hutchinson)
A UCLA professor is developing a new microscopic sensor to monitor the chemical signaling of major neurotransmitters in the brain.
Anne Andrews, professor of psychiatry and biobehavioral sciences, received the National Institutes of Health's $6 million Transformative Research Award last week for her research, which aims to understand psychiatric and neurodegenerative diseases.
Andrews uses synthetic DNA receptors and semiconductor films to create sensors that provide a high temporal and spatial resolution of multiple neurotransmitters, such as serotonin, dopamine and dynorphin.
"By creating these sensors, we hope to understand at a much better level how information is encoded in chemical signaling in the brain," Andrews said.
Andrews said her team is working with pharmaceutical companies to determine if these sensors can be commercially distributed to treat patients with psychiatric disorders such as phenylketonuria, a hereditary disorder that increases the level of phenylalanine, a type of amino acid, in the blood.
Researchers plant the sensors on a medical device and insert it into the brain to collect data, Andrews said. So far, researchers have experimented with the sensors on animals to study neurotransmission – signaling activities between neurons. Andrews said she thinks there is a possibility researchers can use the devices to conduct deep brain simulation in humans.
Deep brain stimulation is a procedure where surgeons implant electrodes in the brain that send electrical impulses to specific regions, according to the National Institute of Mental Health. The procedure can be used to treat certain psychiatric disorders.
Andrews said the brain is highly concentrated with charged ions that impede the semiconductor films' ability to detect changes in electric fields. She added the procedure's receptors need to be small and close in distance to the semiconductors to work effectively.
To address these issues, Andrews and her research team worked with Milan Stojanovic, a professor of biomedical engineering at Columbia University, who manufactures biological receptors small enough for the semiconductor films to recognize neurotransmitters in the brain.
"The receptors are prestructured to bind tightly with small molecules (such as neurotransmitters)," Stojanovic said.
The receptors are also able to change shape once they recognize a specific neurotransmitter, said Paul Weiss, a professor of material science and engineering who works on the study.
Weiss said the receptors are constructed from synthetic DNA material, and DNA is formed from four bases.

"Since these receptors have one negative charge on each base, the neurotransmitter-induced binding moves the charged DNA, which is detected by the semiconductors," he said.
When the receptors bind to specific neurotransmitters and change shape, they cause a change in electric fields within the semiconductors. This way, the sensors are able to translate the chemical information to electrical information, Andrews said.
"The kind of sensors we are developing could be used in combination with psychiatric medicinal treatments in the future," Andrews said.
Andrews said it was difficult to obtain funding through the traditional peer-review process when her research began in the late 1990s. The Transformative Research grant focuses on rewarding innovative research that has the potential to greatly impact future research.
"We envision that the sensors we are making will be able to used on any neurotransmitter and used by any neuroscientist," she said.