Socialist Students UCLA holds event criticizing UC free speech trend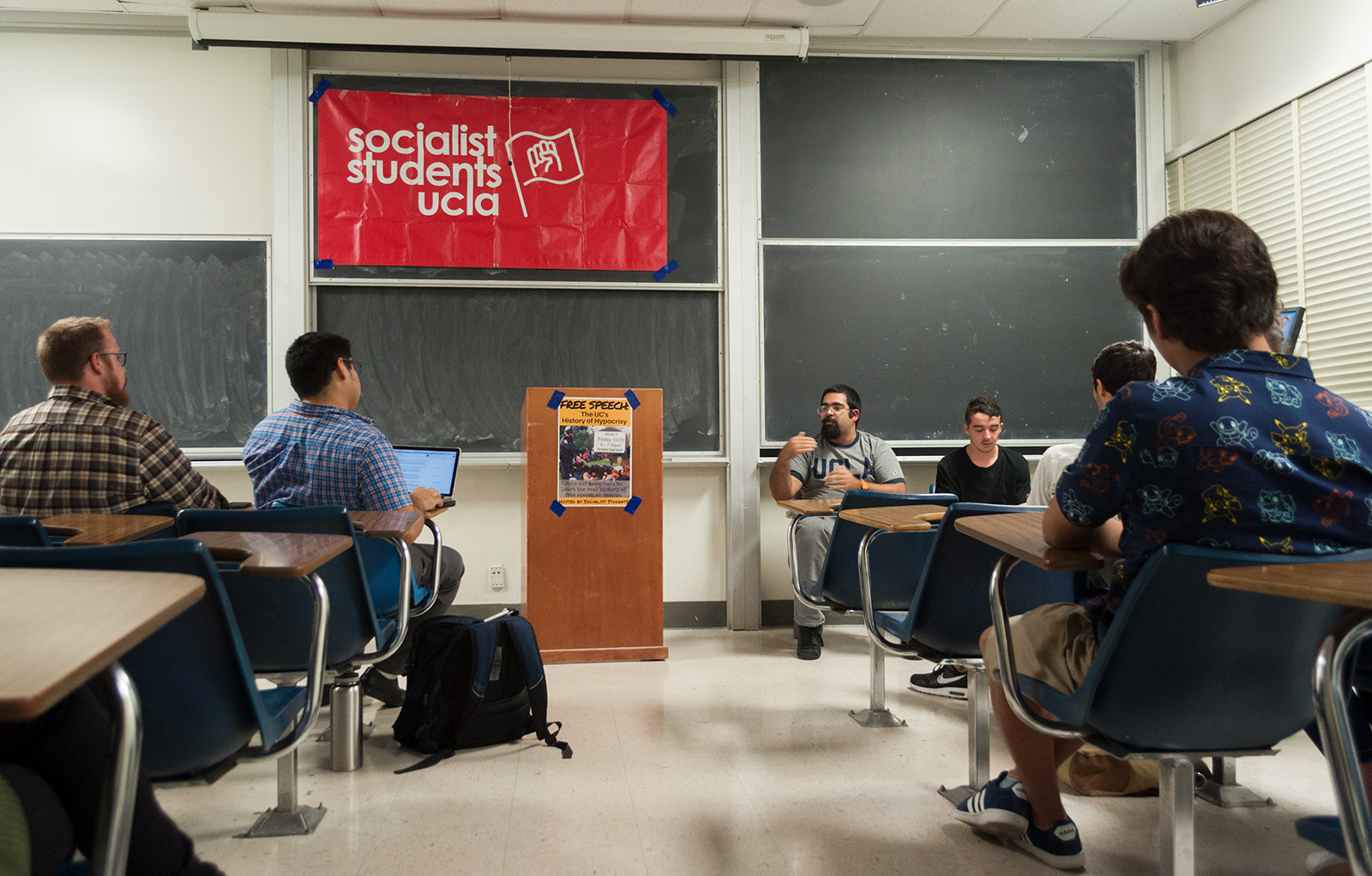 Socialist Students UCLA held "Free Speech:
The UC's History of Hypocrisy" in Boelter Hall on Friday in response to UCLA's free speech events last week. (Eda Gokcebay/Daily Bruin)
Correction: The original version of this article incorrectly stated police shot two UCLA students who were members of the Black Panther Party in Campbell Hall. In fact, it is unclear who shot the two students.
Students at a Friday event said they think the University of California has historically suppressed free speech and called on the university to help peacefully protest far-right speakers that visit campus.
More than a dozen students attended "Free Speech: The UC's History of Hypocrisy," held by Socialist Students UCLA at Boelter Hall. Henry DeGroot, an organizer with the group, said they held the event to provide an alternative viewpoint to UCLA's free speech events last week. The Office of Equity, Diversity and Inclusion hosted "Free Speech 101: UCLA's Week on Freedom of Speech" last week to present a variety of viewpoints on campus speech.
DeGroot, a fourth-year political science student, said he thinks the UC has a history of suppressing free speech and political protests. For example, he said the UC fired Angela Davis, a lecturer and political activist, from UCLA in 1970 because she was a member of the Communist Party.
"When it comes to left-wing free speech and students and workers fighting back to improve (things), the UC administration is not interested in allowing for the full expression of free speech," DeGroot said.
Parshan Khosravi, vice president of external affairs for the Graduate Students Association, said he thinks the university's free speech events did not address previous incidents when the UC suppressed free speech.
"They never talked about Black Panthers or Angela Davis. … You never hear UCLA talk about that," he said. "This university has a history of not protecting free speech rights as it should."
Khosravi said he thinks freedom of speech for people who call for action against certain groups should not be protected.
"We shouldn't organize a mass nonviolent disruption of Milo Yiannopoulos because I am offended, we do it because his speech is taking a form of action," he said. "Sharing on Twitter information of undocumented students is when speech comes into action."
Khosravi said he thinks freedom of speech includes the freedom to defend or argue against someone else's beliefs. He said he thinks individuals protesting against right-wing speakers are using their own free speech rights, not infringing on those speakers' freedom of speech.
DeGroot said he thinks the UC continues to suppress free speech by deploying a large amount of police officers to protests held by students and workers. For example, he said 10 to 15 police officers monitored a gathering of students and workers protesting for a sanctuary campus last year.
"(The UC) deployed a massive amount of police. Is that a limitation of free speech?" DeGroot said. "I think with undocumented students it absolutely is because it is intimidation – these people are scared of the police and won't want to come out to protests if (police) are there."
Gibson Duval, a fourth-year history student who attended the event, said he appreciated being able to freely express his opinions during the discussion. He added he thinks it is important to develop ways to oppose right-wing speakers effectively.
"We need to find out what is worth counter-protesting and what to focus our attention on," Duval said.