Offensive coordinator brings diverse personalities, expertise to UCLA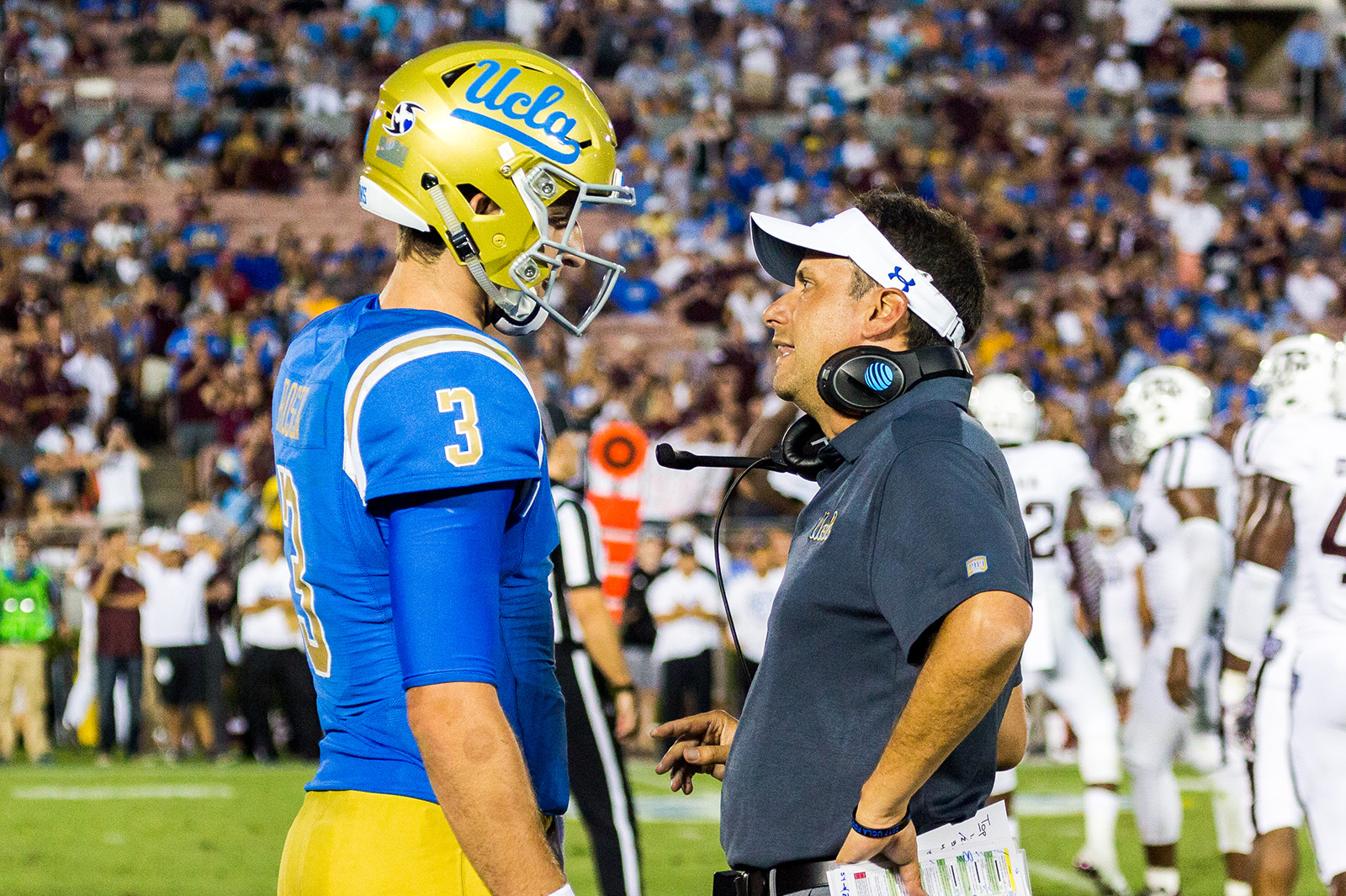 Offensive coordinator Jedd Fisch gives awards to players after games, including one for academics that is geared toward recognizing walk-ons as well as starters. (Kristie-Valerie Hoang/Assistant Photo editor)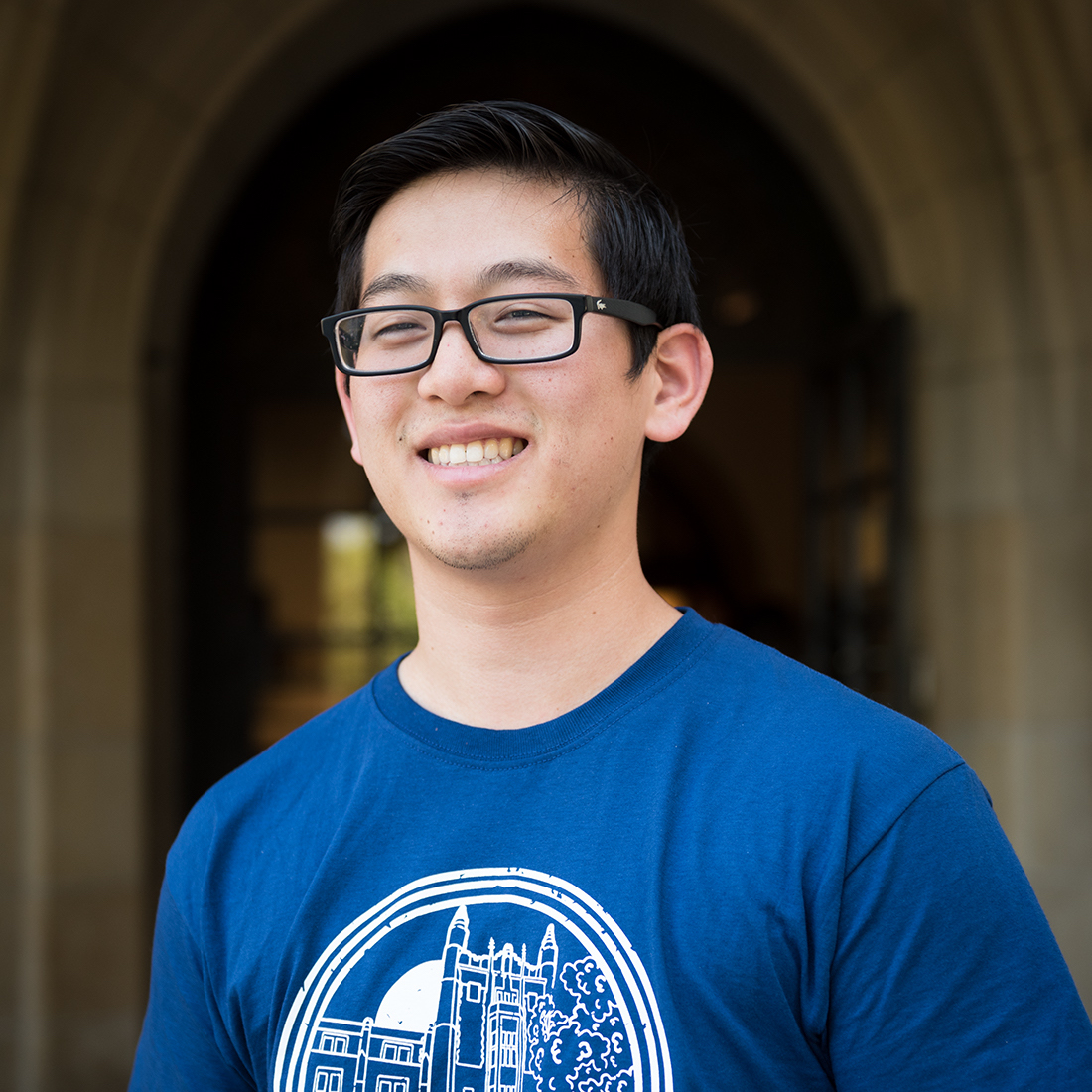 Do things right or you don't play.
Offensive coordinator Jedd Fisch obsesses over the details of his offense and demands his players practice exactly the way he wants them to.
Anything else, that player risks riding the bench Saturdays.
"It's just simple, self-explanatory – 'don't do your own thing if I tell you to do this,'" said redshirt senior wide receiver Darren Andrews. "You come out to practice and you tuck your shirt in like it's a workday, and you don't untuck it until after. If you don't tuck it and don't abide by his rules, then you're not going to play because it's showing that you're disobedient."
The players' workday isn't all business, though.
Fisch also knows when to reward his players and lighten their mood. He has a set of individual honors that he hands out after wins, including one geared toward walk-ons: an academic award.
And although most coaches wouldn't give out an award following a deflating offensive performance, Fisch went in the opposite direction and used it as an opportunity to play around with his players.
In Monday's offense team meeting following the loss to Arizona, he wrote sophomore wide receiver Ethan Fernea's name on the board as the winner of his academic award.
It was all for show, as Fisch crossed off Fernea's name and instead handed the award to redshirt junior wide receiver Brad Sochowski, prompting an uproar of laughter from the entire offense.
That slight of hand showed the other side of Fisch's relationship with his players. Almost always donning a visor, he brings a balance of professionalism, expertise and just the right amount of light-heartedness.
"At first I thought he was tough, hard-nosed and all that," said sophomore tight end Devin Asiasi, who, like Fisch, made the transition from Michigan to UCLA after last season. "But when you get comfortable around him, you get to that joking phase of the relationship."
Fisch has been described as tough-minded but jovial and detail-oriented, yet desiring more. What's clear is that the Bruins' first-year offensive coordinator is as close to a walking oxymoron as anyone else roaming the sidelines of the Rose Bowl Stadium or Wasserman Football Center.
He's a human conundrum who is not only the mind behind a top-20 scoring offense and a top-10 total yardage offense, but also someone with a competitive tennis background who has never played a snap of organized football.
After starting his coaching career 20 years ago at P.K. Yonge Developmental Research School, Fisch has made a combined 11 stops across all levels of football – the NFL, college football and even Arena Football League – before he signed a two-year contract to be UCLA's offensive coordinator in January.
All that experience and influence from vaunted NFL minds such as Brian Billick, Mike Shanahan and Dom Capers led to the conglomerate of ideas encapsulated in his playbook.
"His resume speaks for itself," Asiasi said. "He's a mastermind of the passing scheme – he comes up with a lot of his own schemes and concepts and he just applies it to the team and the field, and it works."
There might as well be an entire section of Fisch's resume dedicated to consistency.
Last season, Fisch was Michigan's passing coordinator and quarterbacks/wide receivers coach. His offense led the Big 10 in scoring, and tight end Jake Butt earned consensus All-American honors. The previous year, Jake Rudock became the second quarterback in Wolverine history to surpass 3,000 passing yards, and three receivers recorded at least 50 catches and 650 receiving yards.
Fisch also coached then-rookie quarterback Blake Bortles in Jacksonville, Florida, in 2014, when Allen Hurns and Allen Robinson were the first pair of rookie wide receivers on the same team in NFL history with at least 48 receptions each.
During a two-year stint as the offensive coordinator at Miami, his quarterbacks set multiple school records in total offense and completion percentage.
Yet, he was still relatively unknown around Westwood prior to this year.
"I actually didn't know anything about him," Andrews said, who leads the team in receiving yards and touchdowns. "I wasn't exactly sure who he was or what kind of offense he ran."
That changed once Fisch implemented his pro-style playbook in practice.
The concepts mostly remained the same – in an interview with The All-American, Fisch said the playbook, the reads and the drills in the NFL and NCAA are very similar. What was different was the terminology and the intensity he brought to UCLA.
"He just kind of reminded me of a Bill Belichick kind of way," Andrews said.
Whereas former Bruin offensive coordinator Noel Mazzone's scheme focused on spread shotgun formations, and Kennedy Polamalu – last year's offensive coordinator – tried and failed to implement a physical, downhill running offense, Fisch's offense combines a variety of different personnel packages and looks.
So far this season, the offense has started with a 11 package – one running back, one tight end – and 21 package – two running backs, one tight end – as well as a 01 package – no running backs, one tight end – while also heavily featuring two tight-end sets.
"He's the best play-caller and best offensive coordinator I've ever been around." Andrews said. "We haven't even run some plays yet and it just looks like it works on paper."
One play that worked both on paper and in real life was the go-ahead fake-spike touchdown pass against Texas A&M. The theory behind the play is that the defense will freeze, thinking the ball is dead. That's exactly what happened when junior quarterback Josh Rosen tossed a touchdown to redshirt junior receiver Jordan Lasley in the back of the end zone.
"That was all coach Fisch," Rosen said after the game. "Breaking into our offense – it took a bit of time to get the ball rolling, and it was a unique way to start it off with a new offensive coordinator, with a new relationship."
Now midway through the season, Fisch is heading UCLA's resurgence from a borderline top-100 scoring offense last year to the 17th-highest scoring team this season.
He also believes the Bruins can perform at a much higher level, giving the team statistics on how it can be No. 1 in every phase of the offensive game every week.
That desire to be the best shows up, win or lose.
After the win over Colorado, Fisch said that the offense had to be better than 95 yards on 35 carries. Following a loss to Arizona the next game, he praised the offense's running attack and the subsequent balance of run and pass plays, but also lamented the four turnovers and overthrown deep ball to a wide-open Lasley.
"When we win he makes sure everyone knows (what) they messed up on," Rosen said. "He briefly applauds people when they do well … but he just makes sure that you're not overlooking mistakes. And he can coach all 11 (offensive players)."
But in true Belichick-ian form, Fisch's focus is on the next game and how to improve his offense to challenge the next opposing defense.
"Do we have a chance to be good? Yeah, we have a chance," Fisch said. "But we have to really maintain improvement. This week has to be better than last week, and for the next five weeks it has to be better."
It all starts with doing things right.
Wang joined the Bruin as a freshman in 2015 and contributed until he graduated in 2019. He was an assistant Sports editor for the 2016-2017 academic year and spent time on the football, men's basketball, women's soccer, men's tennis and women's tennis beats.
Wang joined the Bruin as a freshman in 2015 and contributed until he graduated in 2019. He was an assistant Sports editor for the 2016-2017 academic year and spent time on the football, men's basketball, women's soccer, men's tennis and women's tennis beats.