Former lecturer Keith Fink criticizes UCLA's treatment of free speech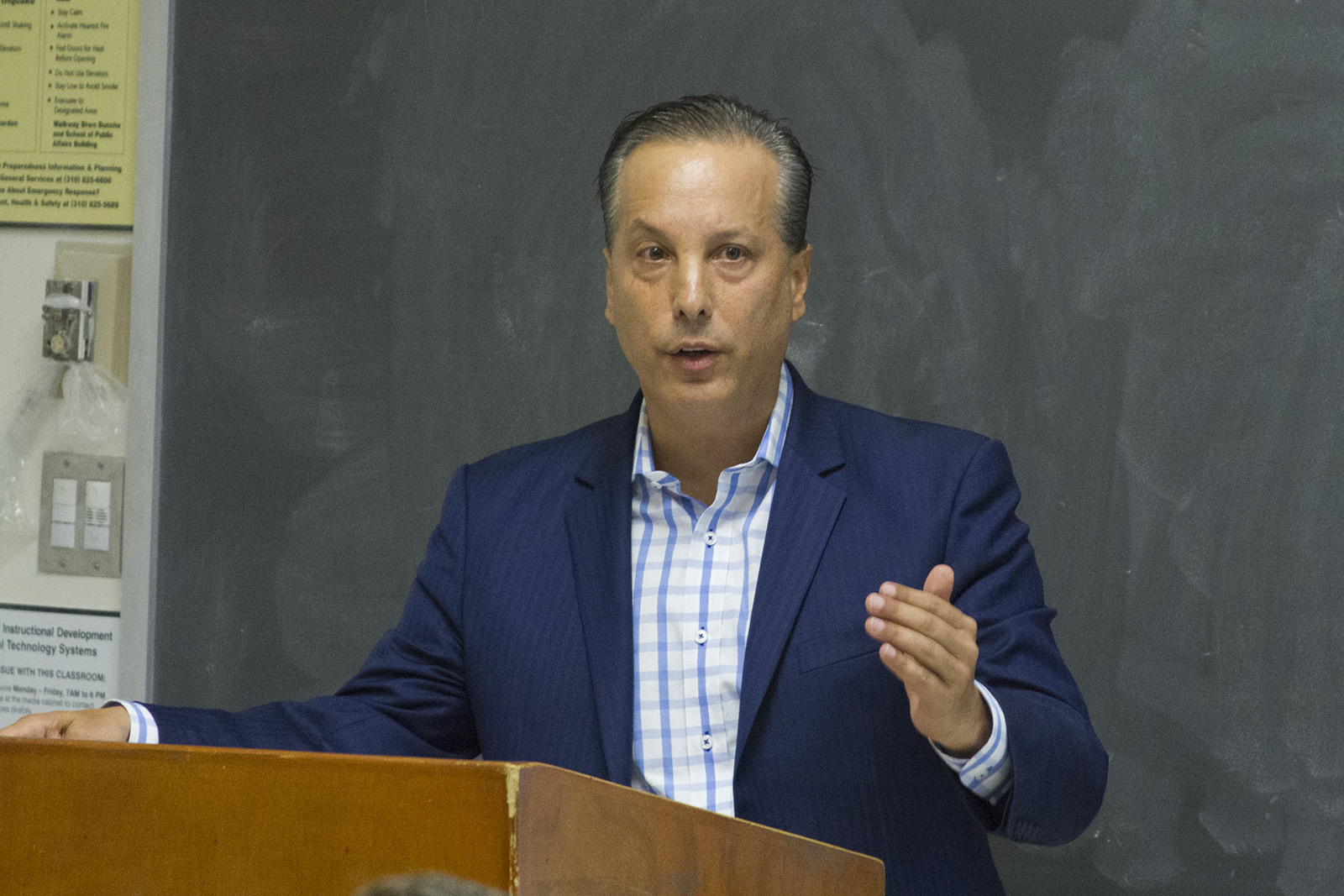 Former UCLA communication lecturer Keith Fink spoke about how he thinks UCLA limits free speech at an event hosted by Young Americans for Freedom. (Erin Rice/Daily Bruin)
Several dozen students attended a presentation Wednesday night given by Keith Fink, an attorney and a former lecturer in the Department of Communication whose appointment was terminated in June.
The event, titled "How UCLA Tramples on Students' Free Speech," was hosted by Young Americans for Freedom at UCLA, a nonpartisan conservative student group.
Fink discussed various controversies surrounding free speech that have surfaced on campus, including the cancelled talk by right-wing speaker Milo Yiannopoulos in January, posters put up last year by conservative writer David Horowitz that criticized Muslim and Palestinian student groups and a viral anti-Asian video a UCLA student posted online in 2013.
Fink criticized the UCLA administration's response to those free speech issues on campus and said he thinks the university only pays lip service to the First Amendment.
Arik Schneider, a first-year political science and economics student and a member of Young Americans for Freedom at UCLA, said the group asked Fink to speak partly because they think the university treated him unfairly for his conservative views.
"We hope (he) educates students about what free speech is, so they not only understand what their rights are but also are prepared to defend those rights," Schneider said.
Fink said he hopes students will be vigilant in making sure their rights to free speech and free expression are protected from interference from the administration.
"All the exceptions that the administration tosses around to diminish and water down (students') right to free expression are inapplicable, and not consistent with UCLA's own policies," he said.
Thea Dunlevie, a third-year political science student and member of Young Americans for Freedom at UCLA, said she thinks the university has a very narrow view of what kinds of free speech are considered acceptable and unacceptable on campus.
"We wanted to show administrators that students are invested in the fight for free speech, that we know our rights and we will express (them) in a very respectful and civil way," Dunlevie said.
In spring this year, a committee of communications department faculty conducted a standard review, something part-time lecturers undergo, of Fink to determine whether his contract will be extended or terminated.
When the committee that evaluated Fink tied its vote, Laura E. Gómez, then the interim dean of social sciences, made the final decision to terminate Fink's appointment June 30. The termination letter Gómez wrote claimed Fink's teaching did not meet academic standards.
Fink has said publicly he thinks the review committee was biased against him and wanted to fire him because of his criticism of UCLA administrators and politically conservative beliefs.
"(UCLA) got rid of me because I give students the knowledge to understand their rights, and I empower the students with the ability to fight the university when their rights have been transgressed," Fink said at the event. "They're afraid of me."
Garrett Dahn, a first-year environmental sciences student who attended the event, said he thinks it is important to have speakers representing different points of view talk to students on campus.
"Personally, I disagree with some of the things that (Fink) said, but that's what makes this … a marketplace of ideas," he said. "That's important to me, and why I came here in the first place."
Aileen Tang, a first-year economics student who attended the event, said she thinks Fink's talk made free speech seem too black and white.
"What about students with post-traumatic stress disorder or emotional issues?" Tang said. "College campuses have to provide a space for them, and (Fink's) lack of going into those complexities makes (his point) a little less strong, but I still think it's interesting."
Fink added he is starting a nonprofit to provide aid to UCLA students facing legal issues with the university.
"If (students) feel like their rights are being violated they can come to me," Fink said. "I will fight for them if their rights have been trampled."