Bruin goalie finds success away from home, paves path for players in Australia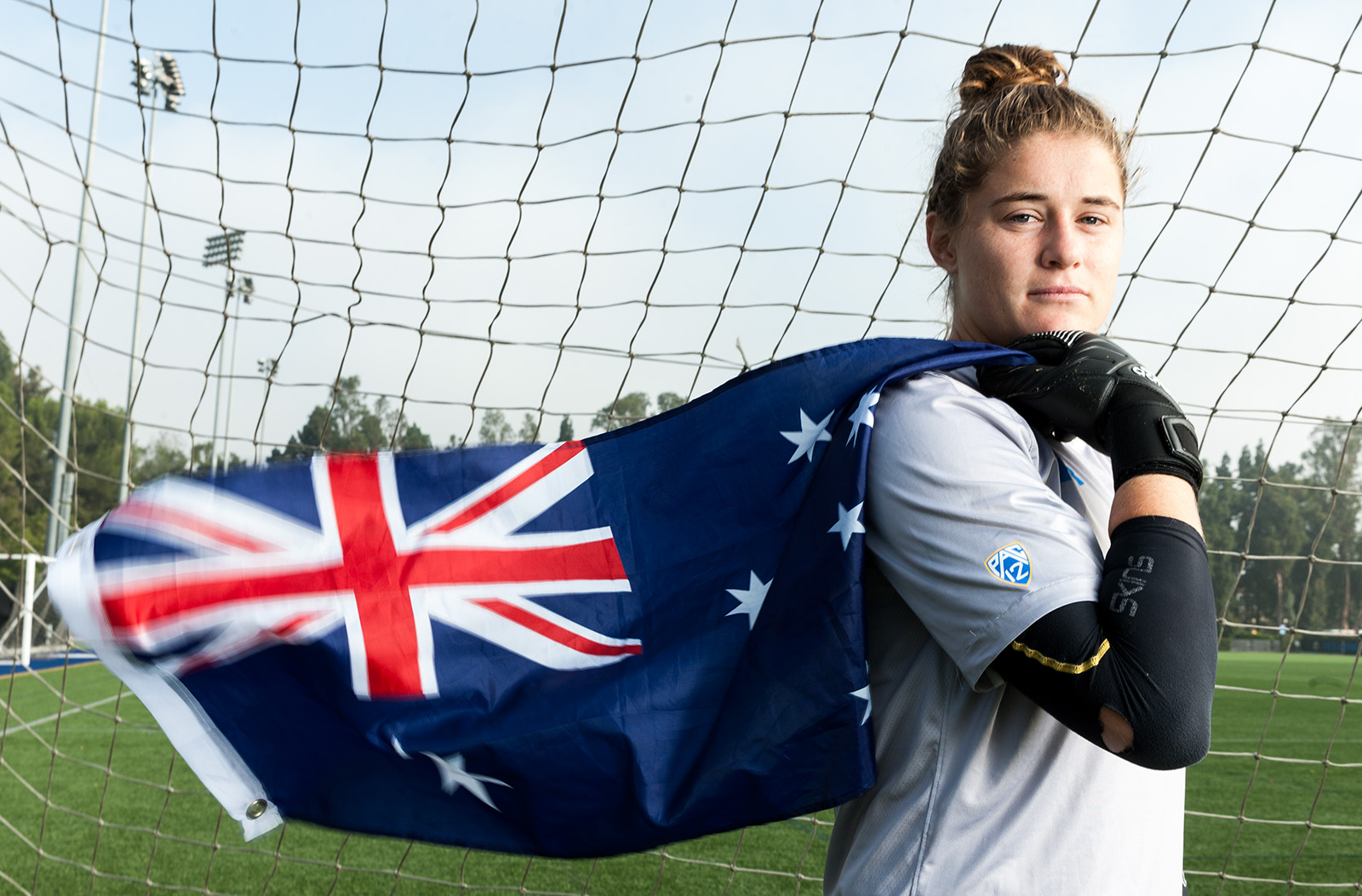 Sophomore goalkeeper Teagan Micah said she hopes to someday return to her native Australia to play for the national team once she graduates from UCLA. (Aubrey Yeo/Daily Bruin Senior Staff)
Teagan Micah has played in every minute of every game since she came to UCLA.
She didn't even know it was a big deal.
The Australian-native was UCLA women's soccer's first true freshman goalkeeper to start on opening day since Valerie Henderson in 2004, who now plays for the Western New York Flash. Micah was also named as the first team in the Top Drawer Soccer Freshman Best XI in 2016.
Since Australian universities lack the same class differentiation between freshmen and seniors in the U.S., Micah said she didn't realize it was significant to be a starter right away.
"I didn't even know I was a freshman, I didn't know what that meant … after a while, people kept on being like that's so cool, you're playing all the time," Micah said. "For me, I knew coming here that I wanted game time … so I didn't question it. I knew I had to perform every week."
Micah recorded 93 saves during her debut season in 2016, the second-most in UCLA history.
"You look at her ability to make the big saves in a big game – she always comes up and does that," said coach Amanda Cromwell. "If we give her a chance to make a save … putting pressure on the attacking player, giving her a better angle to read, we know she'll make the save."
But Micah almost didn't come to the United States.
She was initially reluctant to leave her home country, where she had been playing in the W-League, Australia's top-division women's league, and training with longtime coach John Gorza at the Goalkeeping Australia Academy.
Micah said there isn't a large trend among Australians to play collegiate soccer in the U.S., so she was hesitant when associate head coach and recruiting coordinator Joshua Walters reached out.
"When I was younger, I never really thought I was going to go to America," Micah said. "I knew it was a gamble. I think a lot of the people at home have doubted people that go over to American colleges."
The plan was to play in the W-League before eventually working her way up to the national team, but her teammates strongly encouraged her to give UCLA a chance. She came to Westwood for a visit later and was soon standing in front of the Bruins' goal.
Although Micah is the only Australian on the UCLA roster, she has one friend from back home who is going through the same experience. Former teammate Isobel Dalton came to the United States the same year as Micah and plays for the University of Colorado.
"Especially, being in the same conference … makes things a bit more relatable," Dalton said. "If I ever need help I know I have someone to go to. … It's always nice knowing you have that person that you've been through everything with."
Micah and her teammates hail from different countries, but that didn't pose an issue in forming friendships. Redshirt senior midfielder Claire Winter said Micah fit in with the team right away as a freshman.
"The girl shows up on the first day, and she was just so fun and easy to talk to," Winter said. "It really translates on to the field too because you don't think of (Micah) as a sophomore. She's such a huge leader on our team now."
Winter said she can hear Micah even when she's in the middle of the field.
"She has such a powerful voice and impact on the game," Winter said. "It's really helpful to have a goalie that talks a lot. In soccer, communication is so vital and if we have a goalie that's constantly communicating, that's one way we'll win a national championship."
A few things haven't translated entirely, however. Micah said her teammates have been confused by Australian slang but they have adopted some of it now. For example, she would refer to breakfast as "team brekkies."
Winter said she hasn't been able to enjoy Vegemite though, no matter how many attempts she makes.
"I've tried it three times and I'm like, '(Micah). It gets worse every time,'" Winter said.
When the Australian women's soccer national team came to Los Angeles for the 2017 Tournament of Nations, they called up Micah to their roster before going undefeated and winning the championship title. Micah said the experience made her want to work even harder to become a full-time member of their roster.
"I think she's a player that can do that," Cromwell said.
Micah leads the team in minutes played across these past two years and has already recorded five shutouts this season, as the 2017 Bruins continue to go undefeated.
"I expected it from the start," Dalton said. "I told her that all the way through that she would make such a big impact on college soccer in America … doing what she did is so helpful not just for her but for everybody else."
Dalton said a lot of Australian female soccer players are starting to realize that playing at a U.S. university is a good alternative to fighting for a spot within the W-League or the Australia national under-20 team.
"Once it hits that stage, you have to be one of the best of the best in Australia," Dalton said. "I think a lot of girls are starting to realize, why not take the opportunity to travel around America and get your education and enjoy life?"
Micah said she hopes more Australians consider coming to U.S. for soccer, after seeing her experience at UCLA.
"I definitely think me coming here and being one of the first Australians here opened the doors for (more) people," Micah said. "All my friends are contacting me now about how to get over there … I'm glad that I could be the first one to try it."
Zhang joined the Bruin as a sophomore in 2015 and contributed until she graduated in 2018. She was an assistant Sports editor for the 2017-2018 academic year and spent time on the women's water polo, women's soccer, women's volleyball, men's volleyball, and cross country beats.
Zhang joined the Bruin as a sophomore in 2015 and contributed until she graduated in 2018. She was an assistant Sports editor for the 2017-2018 academic year and spent time on the women's water polo, women's soccer, women's volleyball, men's volleyball, and cross country beats.