Panelists discuss constitutional rights in first Free Speech 101 event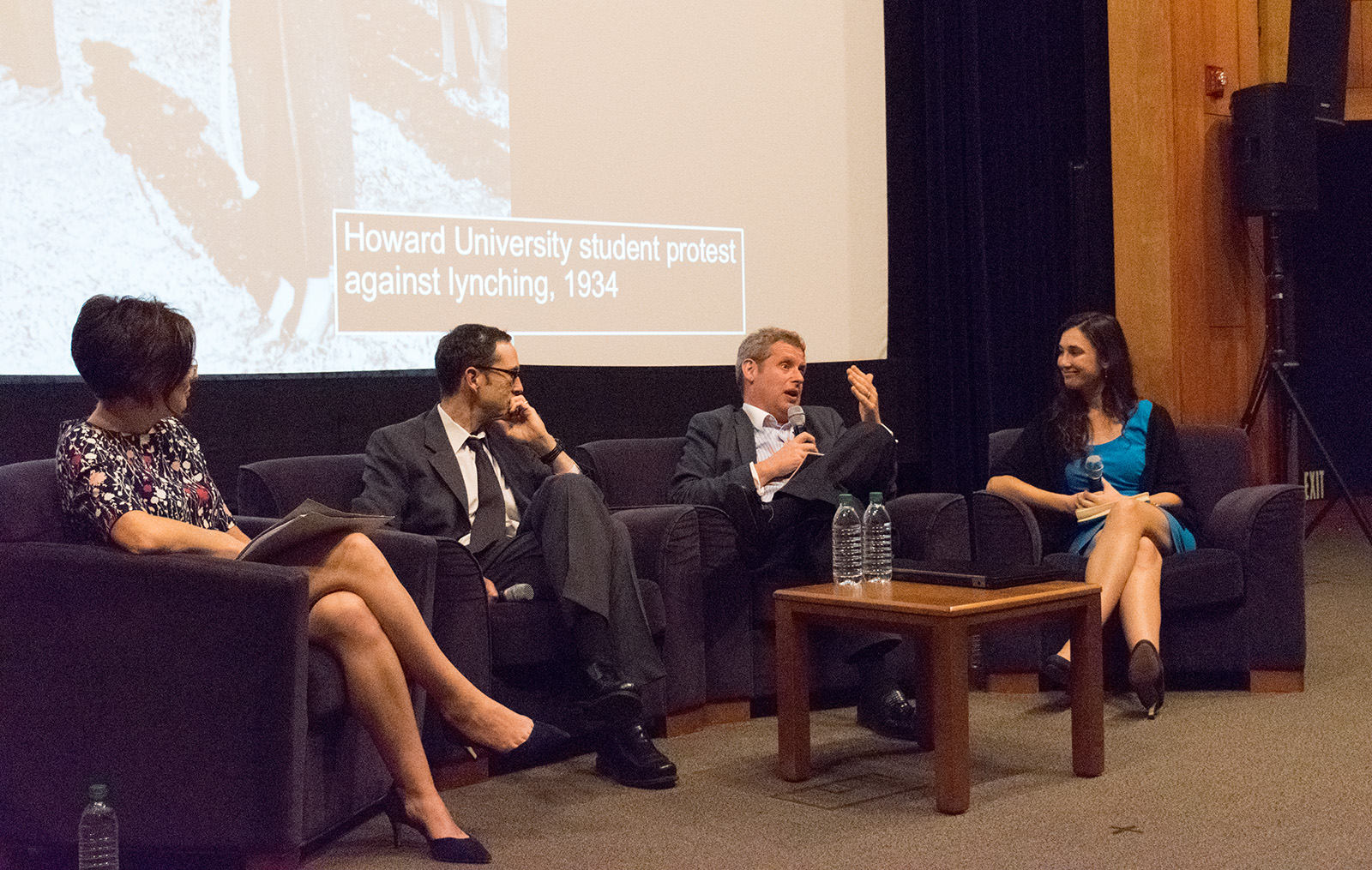 (Farida Saleh/Daily Bruin) As part of UCLA's week dedicated to discussing freedom of speech, panelists talked about individual constitutional rights and definitions of hate speech.
The United States Holocaust Memorial Museum hosted a panel about challenging hate speech at UCLA on Tuesday evening as part of the university's week dedicated to discussing freedom of speech.
UCLA distinguished professor of law Eugene Volokh, Los Angeles Times deputy editorial page editor Jon Healey and Over Zero Executive Director Rachel Brown participated in "What Is Civil Discourse? Challenging Hate Speech in a Free Society" in De Neve Commons Auditorium.
The panel, moderated by USHMM historian Edna Friedberg, talked about ways to address hate speech without infringing on individuals' constitutional rights, and discussed free speech in both democratic and authoritarian regimes.
The panel was the first in a series of events for Free Speech 101: UCLA's Week on Freedom of Speech, hosted by the Office of Equity, Diversity and Inclusion to present a variety of viewpoints on campus speech. This follows the cancellation of Free Speech Week at UC Berkeley, which was originally planned to take place in September.
Volokh began the panel by explaining that the First Amendment protects free speech, but excludes speech that threatens violence or incites crime.
"There is no exception for hate speech," Volokh said. "The First Amendment protects all ideas equally, whether they advocate racial equality or inequality, or religious freedom."
He added the United States provides much broader free speech protections than many other Western countries, such as Germany or France. Volokh noted Holocaust denial is illegal in Germany, and French courts criminally charged a history professor in 1995 for denying the 1915 Armenian genocide.
Volokh added he thinks recent incidents of protesters shouting down speakers send a message that opposing viewpoints are unwelcome and that yelling at an event is a successful way of silencing speech that one disagrees with. For example, he noted Black Lives Matter activists shouted down a speaker from the American Civil Liberties Union at the College of William and Mary and pro-Trump hecklers shouted down California Attorney General Xavier Becerra at Whittier College.
Brown discussed how her experience with Over Zero, a nonprofit that works to prevent violence in developing countries, helped her understand the importance of technology and social media in spreading hateful speech.
"Social media allows transnational narratives for people to point to something across the world to support their argument," Brown said. "It also allows extremists to find like-minded communities and affords them a certain level of anonymity, so online spaces open new possibilities to avoid positive social pressure."
She added dangerous speech, or speech that can lead societies toward violence, is not always hateful, because it often uses self-defense as a justification to paint another group as a threat.
"I don't think censorship works for that type of speech because it makes a martyr of a speaker," Brown said. "We need proactive speech rather than censorship."
Healey said he thinks the abundance of information available, confirmation bias and increasing tribal tendencies prevent people from wanting to know the truth and increase distrust of news organizations.
"Part of this is we haven't been super honest and transparent with letting readers know when a reporter is exercising judgment and when a reporter is expressing an opinion," Healey said. "The public wants to know that we, as disseminators of news, trust them with the raw information too."
Volokh said he thinks silencing criticisms, especially on college campuses, is a disservice to ideas that could fully develop if they were challenged in an open discourse.
"One way to rationally diminish the confidence of an idea is by forbidding criticism," Volokh said. "Then (unchallenged ideas) become quite rational for (believers), rather than doubting."
He added he finds it difficult to come up with an objective definition of hate speech because people cannot agree on which kinds of hate should be unprotected.
"Political-based hate can be just as devastating as racial- or religious-based hate," Volokh said. "The Nazis killed a lot of people, but so did communists like (Joseph) Stalin and Mao (Zedong), which was based on social class."
Protesters briefly disrupted the question-and-answer session, claiming the discussion's defense of free speech also defends fascism and white nationalism. Audience members tried to argue with protesters about keeping the discussion open before the event moved to the De Neve Plaza Room.
USHMM co-sponsored the event with UCLA Student Affairs and the Los Angeles Times with support from philanthropists Linda Rubin and Tony Rubin.