Mental health screenings, treatment services now free for all students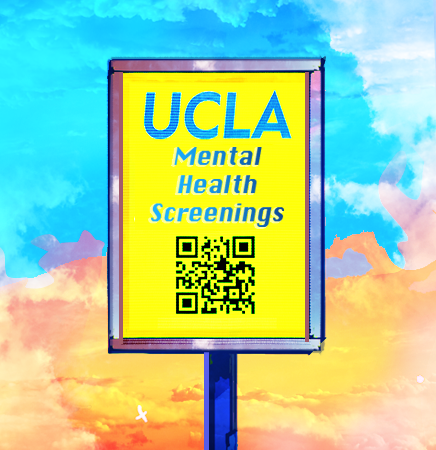 (Juliette Le Saint/Illustrations director)
October 15, 2017 10:54 pm
UCLA is reaching out to all students to provide free mental health screenings and treatment services this year.
The UCLA Grand Depression Challenge, a universitywide research initiative that aims to decrease the health and economic effects of depression, is expanding efforts to offer internet-based treatment and optional drop-in support groups, according to the UCLA Grand Depression Challenge.
Chancellor Gene Block announced in September the university is providing free mental health screenings for incoming students as part of the initiative.
All students will have access to a treatment program to learn about their conditions and improve their symptoms, said Elizabeth Gong-Guy, director of Campus and Student Resilience.
"The university is really trying to make it available for incoming students, where most of them live on the Hill," she said. "However, over the course of the year, it's an ongoing reminder to let students know that these services are open to any registered UCLA student."
UCLA will be promoting the check-in screening throughout the year by raffling prizes and gifts to students who take an online survey to check if they are at risk for anxiety and depression. The screenings will also be advertised on kiosks on campus and on social media, Gong-Guy said.
Students over the age of 18 can take the check-in survey and get immediate feedback about whether or not they can participate in the treatment, she said.
Gong-Guy added the survey draws questions through a computer-adaptive test, and students whose results classify them as having mild to moderate depression are eligible for the treatment.
Based on the results, students are given the option to participate in an eight-week internet-delivered treatment and attend weekly drop-in groups led by the Resilience Peer Network, a peer-to-peer counseling service, Gong-Guy said.
"If the student needs treatment beyond what the internet-based treatment offers, then we help them get the resources they need," she added.
The internet-based cognitive behavioral therapy offers six online animated lessons that illustrate the experiences of different characters suffering from depression as they learn ways to reduce their symptoms, Gong-Guy said.
"Students can complete the online treatment at their own pace and in an environment they are comfortable in," she said.
Gong-Guy added the drop-in sessions are located on the Hill and at the Weyburn Terrace apartments to make them more accessible for freshman, transfer and graduate students.
"The drop-in groups help students connect with other students, who are also participating in the (internet-delivered cognitive behavioral treatment) program and are led by certified Resilience Network Peers," she said. "They are designed in small numbers so they get to really know each other."
Resilience Peers go through a training program spanning three quarters to become eligible to lead drop-in support groups.
In the first quarter, Resilience Peers go through basic training, including the completion of the internet-delivered cognitive behavioral treatment programs and attending drop-in sessions. During the second quarter they participate in intensive role-play training and learn to facilitate the sessions. In the third quarter, the Peers are responsible for co-facilitating a drop-in session, according to the Resilience Peer Network's website.
Some Resilience Peers said they think the treatment program will increase accessibility to mental health resources on campus.
Melissa Ma, a certified Resilience Peer and fourth-year biology student, said she thinks this program is a viable alternative to expensive mental health care for low-income students.
"Mental health care can be really expensive, and our Counseling and Psychological Services facility at UCLA is great, but they are really busy and you can only have a limited session with them," Ma said. "Mental health is a common problem, but it's rarely openly discussed, so it's great that RPN helps create an open and accessible environment for those struggling with mental health issues."
Resilience Peer Yihan Xiong, a fourth-year psychobiology and linguistics student, said she thinks the RPN provides a friendly environment for students.
"We don't consider the group as actual therapy, but we are there as peers to help others around us," she said.
Some students said while they did not know about the new programs, they think it is a good addition to mental health services on campus.
"I haven't tried any UCLA mental health services, but if it's free, I would try it out," said Ramie Pham, a fourth-year sociology student. "I think the school needs more (mental health services), given that most students are prone to academic stress."
Kim is the assistant news editor for the campus politics beat. She was previously a contributor for the beat.
Kim is the assistant news editor for the campus politics beat. She was previously a contributor for the beat.