Alumna creates company to develop nonhormonal endometriosis treatment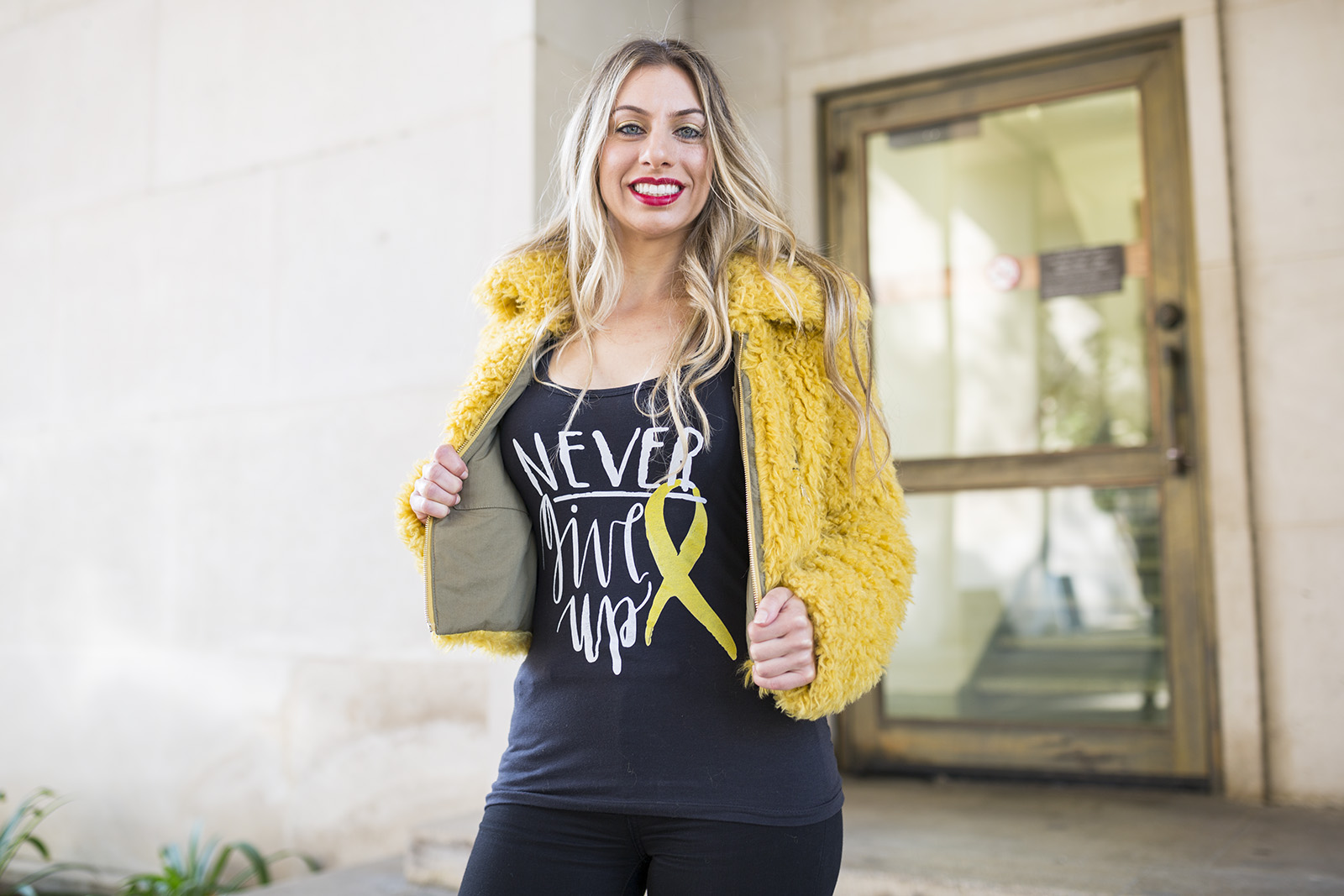 Alumna Tanya Petrossian created her own company to create nonhormonal treatments for endometriosis, a disease which affects about 10 percent of women worldwide. (Frank To/Daily Bruin)
Tanya Petrossian is fighting against an overlooked epidemic that affects more than 10 percent of girls and women worldwide.
Petrossian, who received her bachelor's and doctorate degrees at UCLA, founded EndoCyclic Therapeutics in 2017 to develop the world's first nonhormone therapeutic treatment for endometriosis, a chronic disease that Petrossian was diagnosed with in February.
"I like to say that endometriosis attacked the wrong girl, because we're fighting back," Petrossian said. "A disease that attacks 10 percent of our girls and women worldwide attacks all of us, so let's wipe it out."
Endometriosis is a disorder in which the tissue that normally lines the uterus begins to grow on other organs in the pelvis, causing lesions and scar tissues and provoking pain and a heightened immune response from the body, Petrossian said. It is the leading cause of infertility and disability in women ages 15 to 45, and is estimated to affect 176 million women globally.
Los Angeles Mayor Eric Garcetti selected Petrossian in September for this year's Entrepreneurs in Residence program, which helps successful entrepreneurs in Los Angeles connect with future business leaders and foster growth in their industries.
Garcetti said in a statement he chose Petrossian because she is a successful leader and entrepreneur in the biotechnology industry. He added Petrossian will focus on developing the growing biotech and health care sector in Los Angeles and lead initiatives to mentor girls and women interested in science, technology, engineering and mathematics careers.
Petrossian originally tested positive for ovarian cancer in 2016, but doctors later diagnosed her with endometriosis after she underwent surgery. She said she thinks she has suffered from the disease since she was a teenager.
"I've had pain ever since I was a teenager but would never admit it," Petrossian said. "I had at least three instances (when) I went into anaphylactic shock from my allergies, and that was my first indication that something was wrong."
Petrossian said endometriosis is the most overlooked women's health issue in the world, partly because it is currently only diagnosed by testing lesions removed through surgery.
"It's quite shocking that such a high percentage of girls and women are walking around with it and don't know," she said.
Petrossian started EndoCylic Therapeutics because she was frustrated that the only available treatments for endometriosis were invasive surgery and hormone options, which make many women violently ill, she said.
Instead, EndoCyclic Therapeutics is using small molecules that invade endometriosis disease cells directly, according to the company's website.
Petrossian said she had a passion in high school for science, and how math and chemistry can explain biological processes in the human body.
Tina Petrossian, Petrossian's mother, said her daughter frequently volunteered in hospitals in high school.
"I always believed she was going to cure cancer, or whatever she decided to focus on," Tina Petrossian said. "When she focuses on something there's absolutely nothing that can stand in her way."
While pursuing her Ph.D. in biochemistry and molecular biology at UCLA, Tanya Petrossian worked in the lab of biochemistry professor Steven Clarke.
Tanya Petrossian said while working in the lab, she identified more than 200 genes translated for methyltransferases, enzymes that control the expression of certain genes and may have implications for treating cancer, aging and neurological disorders.
Clarke said Tanya Petrossian was a driven student who was able to use genomic data to make correct mathematical predictions about the genes' activity.
"Her work opened the field up for others to make more discoveries," he said. "Being bright, hardworking and an outstanding communicator was a combination that was very successful for her."
Clarke added Tanya Petrossian's papers have become classics in the field and have been widely cited in scientific journals.
As an EIR for Garcetti, Tanya Petrossian said she plans to work with the mayor's office to create a network for female professionals, graduate students, undergraduates and grade school students to provide girls interested in STEM careers with guidance and mentorship.
"Out of 100 (undergraduate students), 12 will graduate with a STEM major and only three will continue to work in a STEM field 10 years later," Tanya Petrossian said. "I always point to my mom as my mentor, and other people I've (acquainted with) along the way, as one of the reasons I'm a successful businesswoman in the STEM field."
Tanya Petrossian added she wants to bring more nontraditional investors, who often invest in apps or tech devices, to the biotech and health care industries.
She also said she plans to be one of the clinical trial patients for the treatment EndoCyclic Therapeutics is developing.
"Girls and women who are suffering from endometriosis often feel like (they're) not heard," Tanya Petrossian said. "But we hear you, and we are working to get it addressed."