Weak scoring, finishing abilities mar UCLA men's soccer's aggressive play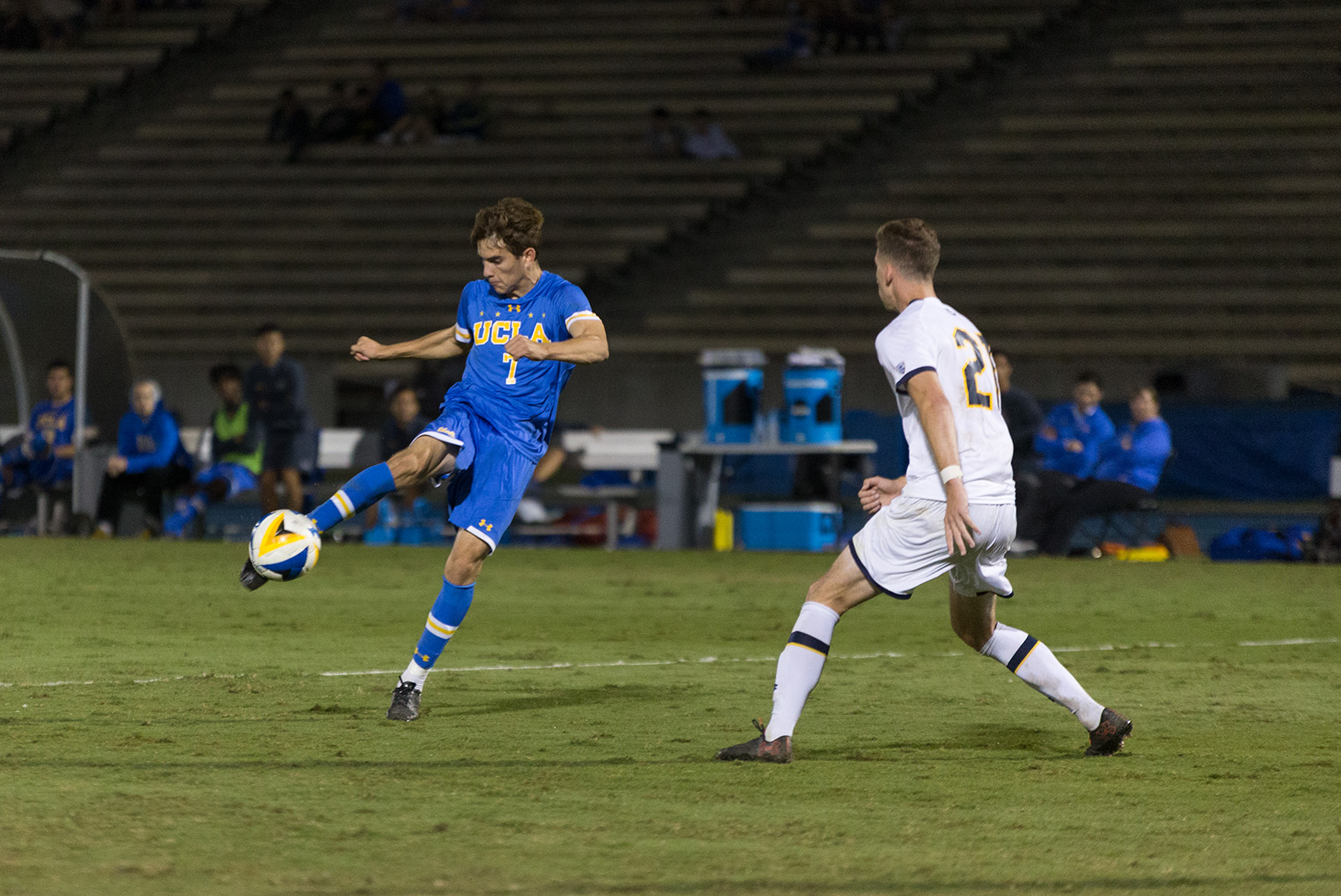 The Bruins' offense has been inconsistent in 2017. They have struggled to earn more than one goal per game on average, managing to score two or more just three times so far this year. When they have managed to outscore their opponent, they have done so by just one goal in all their victories except for one. (Aubrey Yeo/Daily Bruin senior staff)
Two big games. Two victories.
The UCLA men's soccer team (5-5, 2-2 Pac-12) is back to an even record after picking up a pair of wins in its third road trip of the season.
The Bruins defeated the Oregon State Beavers (4-7, 1-2) 1-0 and the No. 19 Washington Huskies (9-3, 2-1) by the same score.
Over the course of the week, two players tallied their inaugural goals of their respective seasons. On Thursday night, freshman forward Milan Iloski logged his goal against the Beavers with a strike from outside the 18-yard box late in the second half, giving UCLA a lead it would not relinquish.
Three nights later, the freshman striker would play another important role in a Bruin victory against the Huskies. Redshirt sophomore defender Matthew Powell scored the game-winning goal off Iloski's corner kick in the overtime period.
Although the team has been able to pull its record back to .500, there have been some inconsistencies that have plagued UCLA this season.
Firmly past the midway point of the 18-game season, the Bruins' identity is being shaped and marked by a lack of offensive proficiency, scoring an average of 1.2 goals per game, which ranks as 130th in the nation.
"Our conversion rate in the final third of the field," Powell said. "We've been getting a lot of opportunities, but we haven't been scoring a lot of goals."
However, the defense has been relatively stout, allowing only 1.4 scores per game, which ranks as 126th.
Furthermore, aside from its season opening 5-3 rout of the University of San Francisco Dons, the rest of the Bruins' victories have come by a slim one-goal margin.
Part of the team's offensive woes can be attributed to the lack of finishing ability, especially off set pieces. Powell's goal this past game was just UCLA's second goal out of 49 corner kicks on the season.
UCLA needs to address its goal-scoring issues if it seeks to make a legitimate national championship run, and both redshirt senior midfielder Brian Iloski and freshman midfielder Eric Iloski have said that a championship is their main focus.
"Guys need to be more comfortable in front of goal and in the final third," said Powell. "It's about finding that confidence."
In recent games, the team has shown signs of improvement, logging a season-high 21 total shots against Oregon State.
The Bruins have the ability to play aggressively. They showed their intensity in the Oregon State game after Milan Iloski's goal opened the rest of the offense up, and previously, after falling behind 2-0 to California at home earlier this season.
For UCLA, it is all about maintaining the same level of play consistently not just for 90 minutes, but continuously from game to game. Defensively, the communication and ability to limit mistakes have been key to keeping balls out of the back of the net.
After a rough start to conference play, UCLA has salvaged its road schedule, managing to stay in the hunt for a postseason berth and showing its ability to win games away from Drake Stadium.
"There's nothing we can do about all of the games we've played," said Powell. "It's about going 1-0 in the next game. We aren't focused on two or three games ahead."
Up next, the Bruins will be coming off a bye week before facing off against the San Diego State Aztecs at home Sunday night.
Kim joined the Bruin as a sophomore in 2017 and contributed until later in 2017. He spent time on the women's water polo and men's soccer beats.
Kim joined the Bruin as a sophomore in 2017 and contributed until later in 2017. He spent time on the women's water polo and men's soccer beats.