Valet workers transferred from UCLA fear insourcing, loss of benefits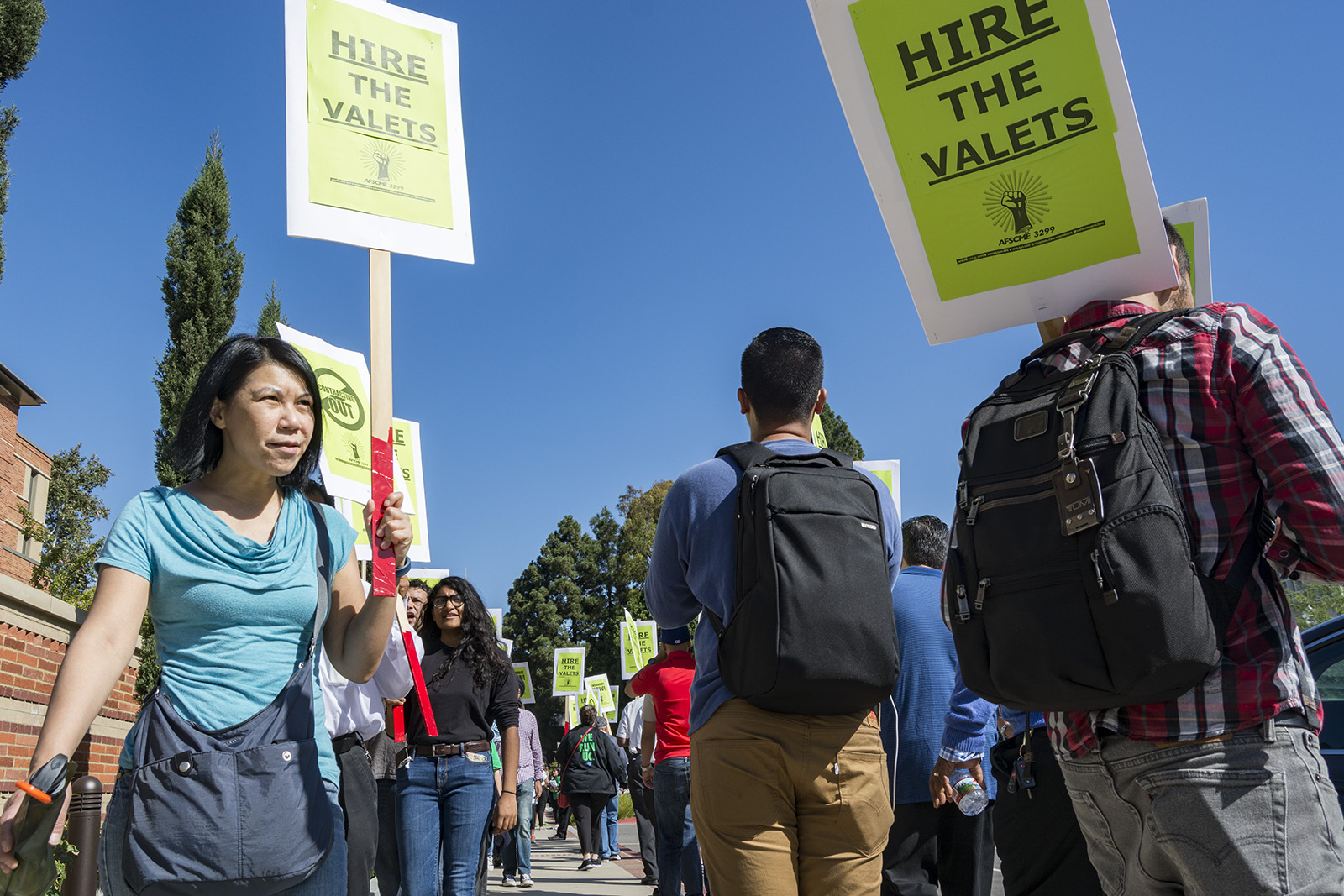 Valet contract workers for ABM have protested UCLA's in-sourcing alongside AFSCME at places including the Ronald Reagan UCLA Medical Center in July and at the inaugural UC public law conference in September. (MacKenzie Coffman/Daily Bruin)
Edwin Cifuentes, a contracted valet worker at the Ronald Reagan UCLA Medical Center, said many valet workers who are being transferred away from UCLA are worried their new jobs will not offer them the same wages or benefits UCLA provided.
"They have family with medical problems. Being at UCLA, they have health insurance," he said. "Moving out, they'll have to pay (for health insurance) and they may not have health insurance."
In August, UCLA ended its contract with ABM, a facility management company that employed valet workers like Cifuentes at the Ronald Reagan UCLA Medical Center. Although ABM had employed about 80 valet workers at the hospital, the university created about 35 in-house positions and has also hired part-time student workers.
Workers UCLA did not rehire are set to leave by Oct. 30, said Victoria Salgado, union organizer at American Federation of State, County and Municipal Employees Local 3299, the UC's largest union.
Several valet workers said they think UCLA ended the contract with ABM because it was no longer cost-effective to hire contracted workers after their wages were raised.
In 2015, the University of California introduced the Fair Wage/Fair Work Plan, which requires that employees who work at least 20 hours a week, including contracted workers, be paid at least $15 per hour. Valet workers at the hospital originally did not receive $15 an hour, but received retroactive pay in 2016 after AFSCME submitted surveys on their behalf to state auditors.
However, UCLA Administrative Vice Chancellor Michael Beck said in a submission to the Daily Bruin in August that UCLA insourced its valet services to keep jobs within the university. Beck added ABM said it will relocate employees to other locations.
UCLA spokespeople did not immediately respond to a request for comment.
Throughout the summer, ABM workers have protested the insourcing alongside AFSCME, including at the medical center in July and at the inaugural UC public law conference in September.
John de los Angeles, communications director for AFSCME, said when workers interviewed for the inhouse positions at UCLA, UCLA management discouraged workers from participating in union activities. In return, AFSCME issued a cease and desist letter in July.
"The issue here is that these workers were being shorted on wages – it was wage theft for nine months. That's not a small thing – that's labor violation," he said. "And when they spoke up about it, the UC decided to end their contract, though (it was) not a direct layoff."
Jose Luis Carrillo, a contracted valet worker, said he is worried about not being able to afford the cost of his and his wife's medical conditions after his company transfers him to another valet service in North Hollywood.
Carrillo also said he thinks student workers were given priority to work the daytime and evening shifts, so many of the contracted workers UCLA rehired were given late-night shifts.
"It's ridiculous to be told you're going to be out of a job, and for that (to) be prolonged, for you to not know where you're going to leave to and to work alongside the people who will be taking your job," Carrillo said. "It's a degrading situation."
He added it has been difficult to work alongside students because he said he thinks they lack experience.
"For students (this is) just a job (they are) passing through; for us it's a career, it's what we live off of," he said.
William Cortes, a fourth-year physics and applied math student, said he applied for a valet position because it paid $14.50 an hour, which he thinks is more than he would earn from other jobs on campus. However, he said he quit after finding out he was going to replace contracted workers.
"I just didn't feel good about that," he said.
Cifuentes said many of the workers would like to remain at UCLA because of the wages and benefits they received.
"They will be placed somewhere, but they won't be happy because they really wanted to work for UCLA," he said.
Zhen is an assistant news editor for the national and higher education beat. She was previously a contributor for the campus politics beat and an online contributor.
Zhen is an assistant news editor for the national and higher education beat. She was previously a contributor for the campus politics beat and an online contributor.