Survey finds education cost worries more than half of first-year students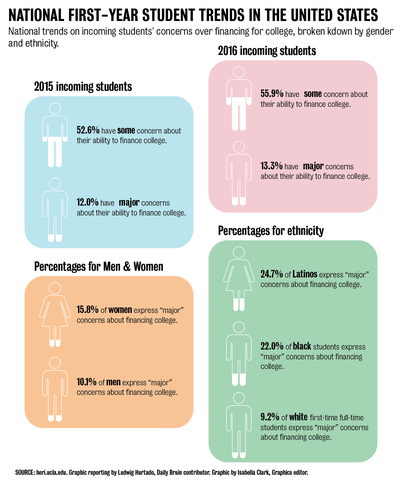 Incoming first-year undergraduate students are increasingly concerned with the cost of their education, a national survey found.
The Cooperative Institutional Research Program Freshman Survey found 55.9 percent of incoming first-year students are at least somewhat concerned with the cost of their education and 13.3 percent have major concerns about financing their education.
Each year, the Higher Education Research Institute surveys incoming first-time full-time first-year students from around the U.S. The 2016 report is based on responses from 137,456 first-year students starting school at 184 colleges and universities around the country.
The report says rising tuition costs explain students' increasing concerns about financing their higher education.
Ellen Bara Stolzenberg, assistant director for research at HERI, said she thinks institutions should address tuition concerns by holding more informational sessions on financial aid and scholarships, as well as reminding students to fill out forms such as the Free Application for Federal Student Aid.
"Anecdotally, students (often say they) didn't know they were eligible for this or that, but the institution can help," she said. "Being transparent about processes and resources available … I think that's one thing that (universities) can certainly do regardless of the students' financial need or merit."
Aaron Boudaie, UCLA Undergraduate Students Association Council Financial Supports commissioner, said his office is working on advocating against tuition hikes in the University of California.
"Every year college is becoming less and less affordable. … Cost of living continues to rise (and) little things add up," he said. "You could spend more on textbooks than you could on everything else combined at community colleges."
Stolzenberg added other key findings from the CIRP Freshman Survey includes that former foster care youth students use different strategies to pay for college.
"One of the things we have found (is that) students in foster care (are usually from) different financial backgrounds than traditional students, so they are often more financially independent," she said.
Stolzenberg added in the months leading up to the 2016 presidential election, students were more politically polarized than in the past.
Stolzenberg said she thinks the findings should not be generalized across universities, because each school is diverse and different in its own way.
"Even small colleges shouldn't assume that all of their students are the same. I think it's important for schools to consider all of the aspects of the student when they come to the campus," she said. "As we ask different types of questions and look at data in different ways it's revealing how complex students are."
Several student leaders said that in light of students' concerns over rising costs of education, they are working to help make college more affordable.
Jamie Kennerk, state board chair for the California Public Interest Research Group and a third-year political science student, said CALPIRG is running a textbook campaign to help make college more affordable by urging professors to use open-source textbooks.
"We definitely know over the last few years people have become more conscious of how much college is costing," she said. "If you've ever had a class where a textbook had a PDF online, it's probably an open-sourced textbook."
More than half of surveyed students said they plan to seek employment during school as a way to help pay for school, according to the survey.
Boudaie said his office is working to make job opportunities on and off campus more accessible. He added UCLA hosts job fairs on campus during the year.
He said his office is also helping support students balance both their education and employment by advocating for students to receive parking spots.
"A lot of supporting these students is not just about helping them find a job but also helping (them) sustain those jobs," he said. "If you have to commute to your off-campus job, parking is important, and it's important to secure that."

Contributing reports from Sharon Zhen, national and higher education editor.