ASUCLA expects to lose more than $1M, plans to open more restaurants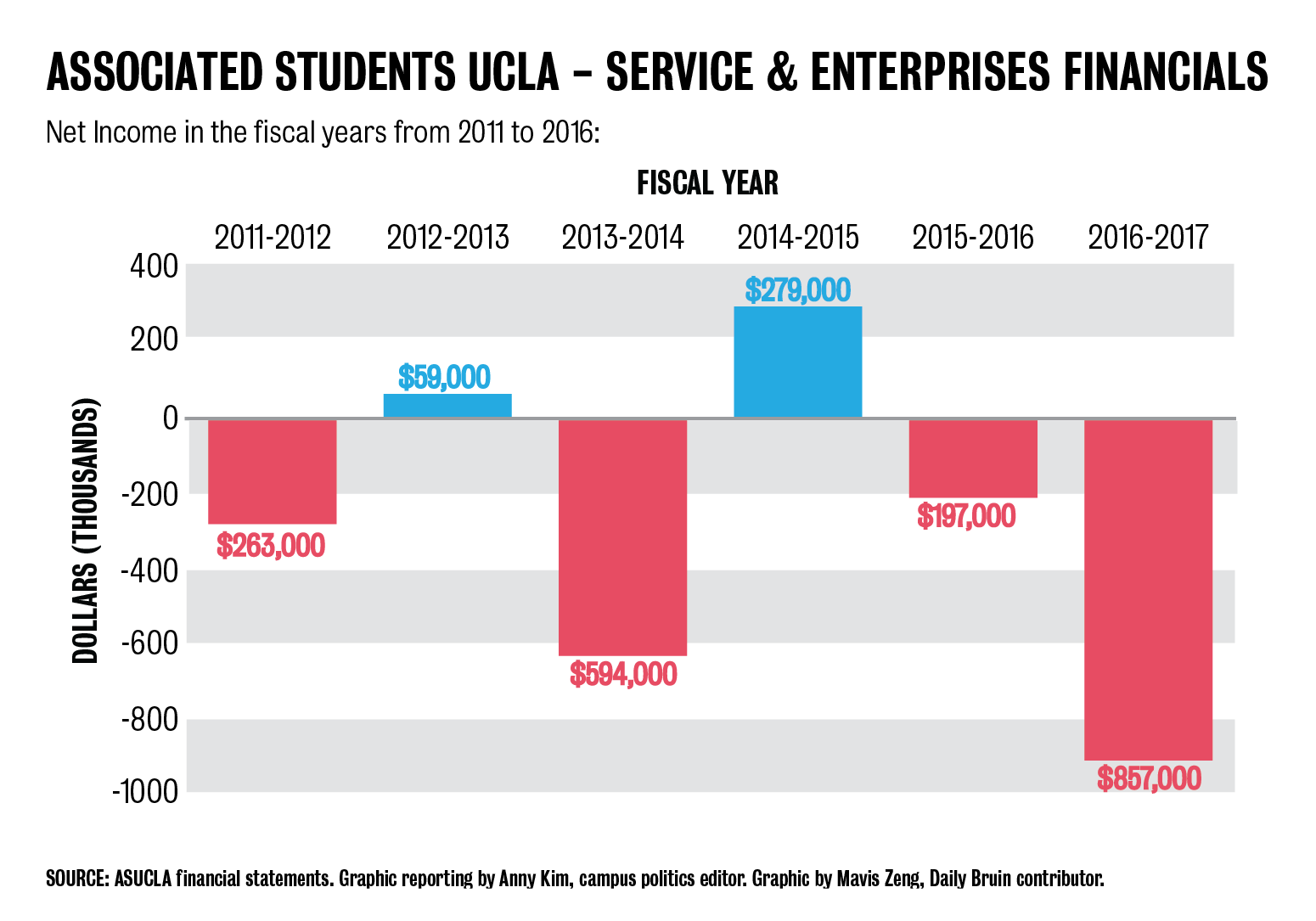 This article was updated Oct. 6 at 11:05 a.m.
The Associated Students UCLA is expected to lose more than $1 million this year.
Robert Williams, ASUCLA's executive director, said the organization has budgeted a $1,298,000 loss for ASUCLA's Services and Enterprises entity this fiscal year because of decreasing textbook sales and growing labor costs.
ASUCLA is a student-run organization comprised of four entities, including the undergraduate and graduate student associations, Student Media and Services and Enterprises. ASUCLA Services and Enterprises commercial operations help maintain and run campus services and the student union.
Williams said Services and Enterprises generates income through the sale of goods and services at its restaurants and the UCLA Store to cover the expenses used to operate various services and facilities.
"It's not like the food stores don't make money," he said. "But we have a lot of other expenses we need to pay for to operate over 320,000 square feet of facilities on campus."
The association experiences financial losses when these expenses exceed commercial sales, he said. Williams added one of the reasons ASUCLA expects to continue losing money in the future is because of the increase in the minimum wage. He added the minimum wage is projected to add $697,000 in wage costs this year.
"For many years, the increase in benefit costs, health costs … were the biggest factors," he said. "But currently, the increase in minimum wage is presenting the greatest challenge."
Williams added that one of the biggest factors contributing to the association's decreasing sales is less demand for textbooks.
"Probably 20 years ago, we made between $3.5 million to $4 million selling books. Although we didn't make much per book, we sold a lot," Williams said. "However, the increase in online textbook markets has greatly impacted us."
In response to declining commercial sales, ASUCLA has reduced management costs and has added new restaurants throughout the years, Williams said.
"In the past 13 to 14 years, we've reduced management costs considerably, such as cutting a lot of layers of managers," he said. "We also put in a lot of money to improve food service operations, such as bringing Rubios, Panda Express and Jamba Juice to make more money, which has been helpful."
Williams added Services and Enterprises will work to alleviate its budgeted loss by investing in different restaurants.
ASUCLA Food Service Director Cindy Bolton said ASUCLA's food service division plans to open Blaze Pizza at the Court of Sciences by the end of December or winter quarter and Veggie Grill at Ackerman Union.
Bolton added she thinks the two restaurants would be a good addition to the food options available on campus.
"We looked at different pizza vendors and decided to go with the one where pizzas were made to order, and at the end we opted to go with Blaze Pizza," she said. "And Veggie Grill is dedicated to the vegetarian market, because we didn't really have anything like that."
Williams said ASUCLA also plans to expand its e-commerce sales through social media and expand its domestic and international product licensing.
"We do about $1.5 million in e-commerce sales of merchandise, and we would like to see that grow as we reach out to alumni and customers that can't get to the stores," Williams said. "We will also continue to expand in the licensing area, because we want products with UCLA's names to go out in the marketplace, especially in areas where we can't serve those customers."
ASUCLA Finance Director Donna Baker said the UCLA Store will continue to look at product assortment and other ways to maximize cost efficiency.
"We will also scrutinize our expenditures and capital, to control our cash," she said.
Williams said the association has around $12 million in cash reserves. He added ASUCLA will begin implementing several capital projects, including remodeling Ackerman Union's dining room and constructing new restaurants, to improve facilities on campus this year.
Kim is the assistant news editor for the campus politics beat. She was previously a contributor for the beat.
Kim is the assistant news editor for the campus politics beat. She was previously a contributor for the beat.