UCLA community discuss potential impact of an earlier California primary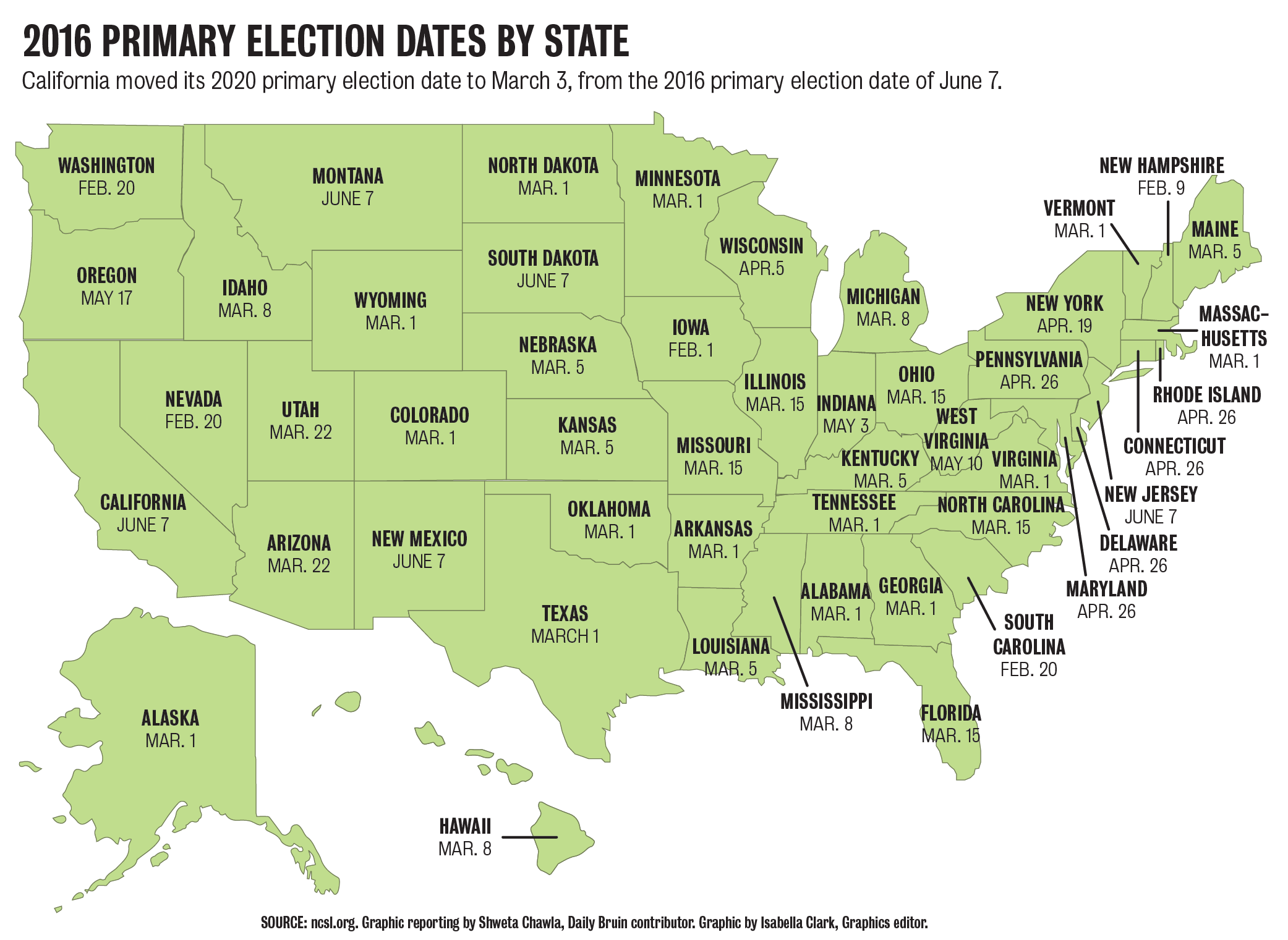 Political experts and students considered whether California will play a larger role in the presidential election following the state's decision to move up the presidential primary date in 2020.
Gov. Jerry Brown signed a bill last week moving California's presidential primary election in 2020 from June to March. California's primary election will be held on Super Tuesday, when seven other states also hold their primaries. Its primary will only follow those held in Iowa, New Hampshire, Nevada and South Carolina.
Primary elections either narrow the field of candidates for an elected office or determine a political party's nominee for a given race.
Nasir Ahmed, a second-year neuroscience major and the marketing director of Bruin Democrats at UCLA, said he thinks more state residents will register to vote because he believes Californian votes will be more important in an earlier primary election.
"(This is) influence that we hope will make candidates address issues that affect the most people, rather than banking on the pork-barrel politics of the first few primary states and then riding the momentum to the nomination," he said.
Some experts said they think the earlier primary date will have little effect on the presidential election.
Chris Tausanovitch, an assistant professor in political science, said he thinks California may have more of an impact on the election in a close race, but added he thinks the state is otherwise unlikely to have a large impact.
"It depends on how many states keep their later primary dates, but California is still not likely to be a pivotal state given that it has become an increasingly safe bet for the Democrats," he said.
David Karol, an associate professor in political science at the University of Maryland and a former UCLA graduate student, said Californians will have more candidates to choose from if they vote in an earlier primary because candidates are less likely to drop out early in the race.
Karol added he thinks candidates will still campaign more in the smaller states that will hold elections before California because they will be heavily covered in the news despite being less populous.
"Since candidates know it is cheaper to also campaign in these states and that meeting the voters goes a long way, they will also maintain their focus on these states," he said. "Furthermore, candidates who have flopped in the early states in the past have dropped out of the race."
Karol said two Californians may potentially run for office, so the chances of candidates campaigning in California are probably even lower.
"There are a couple of Californians being discussed as potential (presidential) candidates on the Democratic side – (including) Sen. Kamala Harris and Los Angeles Mayor Eric Garcetti," he said. "But candidates don't get much of a boost from winning their home state, and to the extent they appear likely to (win) it just encourages other candidates to focus their attention elsewhere."
Karol said he thinks previous elections have shown that changing the primary date will have little effect on the election.
"If history is a guide, the few states before California will still have a greater impact, keeping candidates from giving California the focus that this bill is aiming for," Karol said.