Former podcast network employee sues UC regent for coercion, retaliation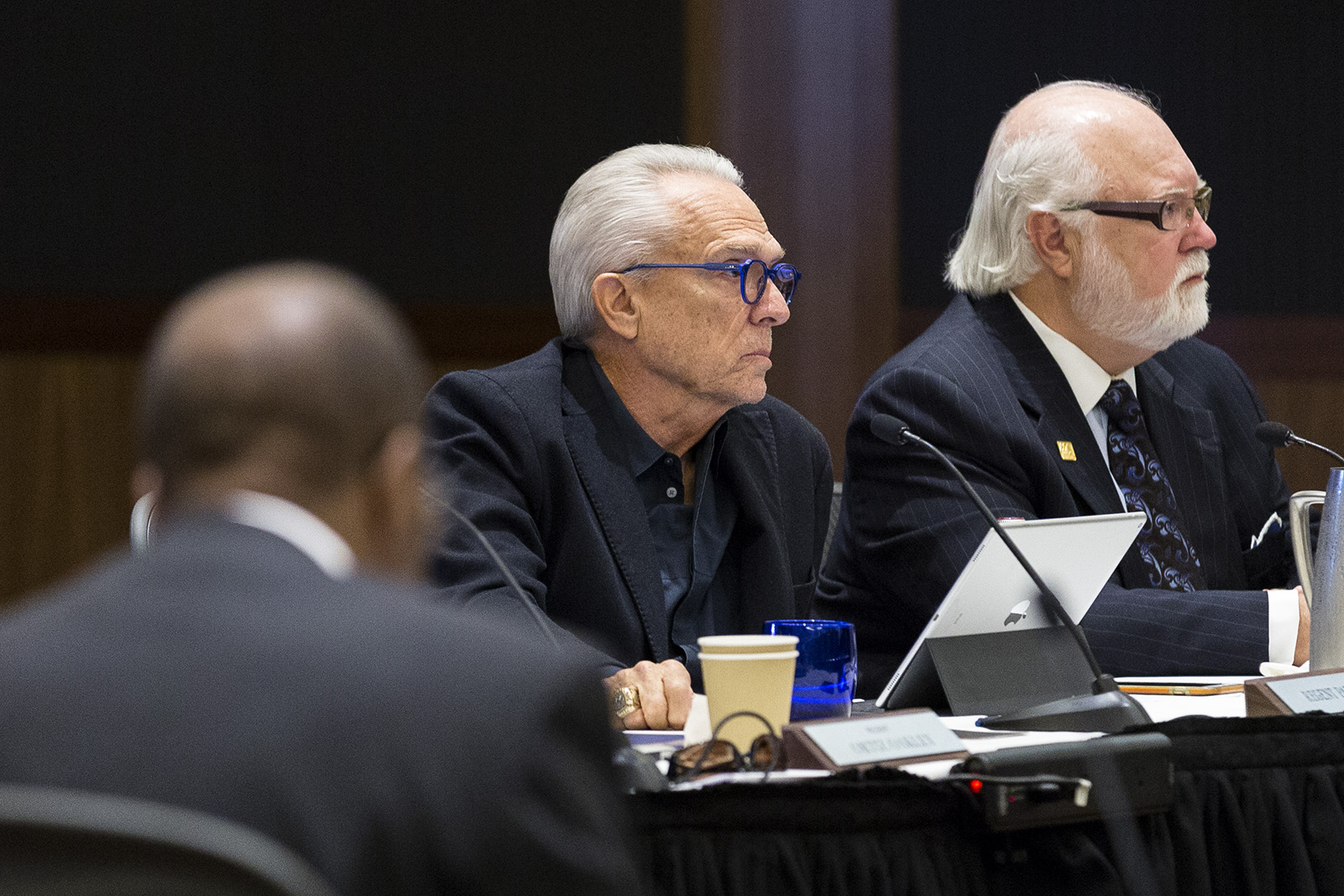 Former podcast employee Raymond Hernandez filed a lawsuit at the Los Angeles Superior Court against UC Regent Norman Pattiz saying he brandished a loaded firearm at him and told him to falsify podcast data. (Daily Bruin file photo)
A former employee of a podcast network is suing a University of California regent for brandishing weapons to compel him to falsify advertising data.
In September, Raymond Hernandez, a former employee of podcast network PodcastOne, filed a lawsuit at the Los Angeles Superior Court against UC Regent Norman Pattiz and other defendants. Pattiz is the former CEO of PodcastOne and a reserve officer with the Los Angeles County Sheriff's Department.
Hernandez is suing Pattiz for eight counts of allegations, including assault and retaliation. According to the lawsuit, Hernandez alleged Pattiz pointed a gun at him, and also told him to falsify the number of downloads of particular podcasts to increase advertisement sponsorship.
Marvin Putnam, an attorney for Pattiz, said in a statement Pattiz is going to sue Hernandez for allegedly stealing intellectual property from PodcastOne.
In response, Hernandez's attorney Robert Reichman said Hernandez has not yet received any lawsuit accusing him of stealing intellectual property.
"We've not been served with anything (and) we have not seen a complaint file," Reichman said. "(Pattiz's lawsuit) is just theoretical and a threat at this point, and I consider that continued terrorizing and bullying of Mr. Hernandez and nothing more."
However, Reichman added Pattiz allegedly bullied Hernandez at PodcastOne and alleged that Pattiz would often brandish a loaded firearm in the workplace.
"(Pattiz) is a volunteer Los Angeles county deputy sheriff with a county permit," he said. "Particularly to my client (he would) … set the gun down with the barrel pointing at my client."
Reichman said he thinks part of the reason Hernandez was fired from his new employer was because Pattiz and PodcastOne think Hernandez was involved in releasing a recording of Pattiz making lewd comments about Heather McDonald, another employee at PodcastOne.
"PodcastOne continued to hunt (Hernandez) at his new job and cost him that new job," he said. "They had executives at PodcastOne in communication with Mr. Hernandez's boss, they sent emails, they expressed disapproval of him, they caused problems that didn't really exist."
However, Pattiz's attorney said he does not know why Hernandez was fired from his latest employer.
Pattiz said in a statement he has never met with Hernandez alone and denied the allegations against him.
"This guy must be crazy. I've never met alone with him. I didn't hire him or fire him. I barely know who he is," Pattiz said in the statement. "I didn't and would never act in the manner that's been described."
However, Rob Greenlee, who used to work at PodcastOne as the chief technology officer, said employees regularly interacted with Pattiz.
"(Pattiz) would spend time with the talents; every Tuesday morning they have staff meeting where all the employees in the company are in (Pattiz's) office for a company meeting," he said. "I don't know if it's entirely accurate that (Pattiz) did not know (Hernandez)."
Greenlee added that while Pattiz has shown him a firearm while he was employed at PodcastOne, he said he did not feel intimidated.
"It wasn't like (Pattiz) was pointing the gun at me or making a conversation that was linked up to a power relationship with a gun right there," Greenlee said. "It was a really nice antique kind of handgun, the kind of thing that you would show a friend as a collector."
However, Greenlee said he thinks people often feel intimidated by high-profile employers.
"I can only speculate that people are fearful of (Pattiz) because of his power and money and influence in the medium he works in," he said. "(Pattiz) is a product of the Hollywood culture than can be cutthroat and rough … that was my brief experience."
Zhen is an assistant news editor for the national and higher education beat. She was previously a contributor for the campus politics beat and an online contributor.
Zhen is an assistant news editor for the national and higher education beat. She was previously a contributor for the campus politics beat and an online contributor.