Editorial: Housing for UCLA students should be prioritized over Village aesthetic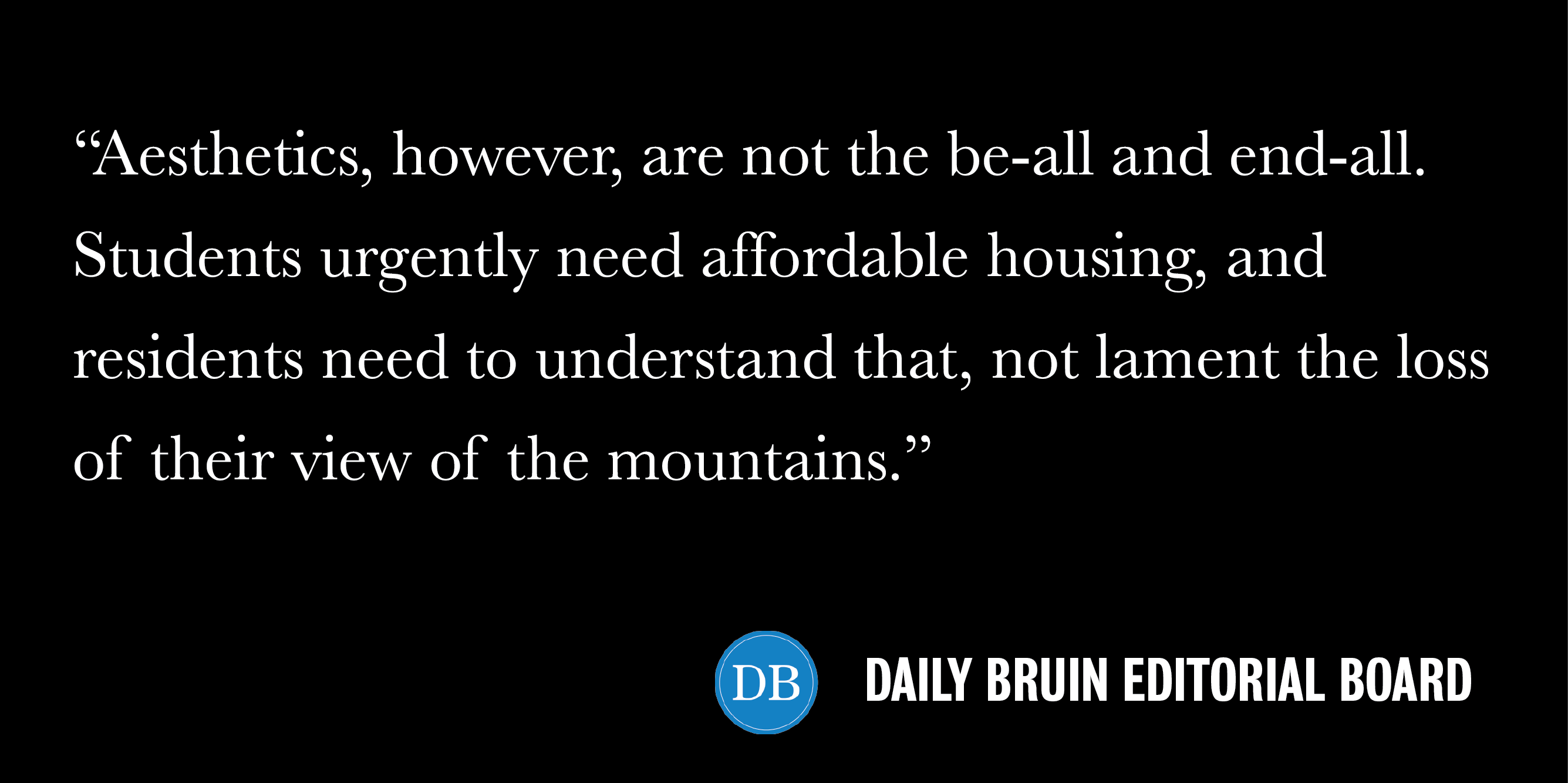 It seems Westwood residents care more about their view of the Santa Monica Mountains than whether students can afford housing near UCLA.
Last week, UCLA held a public hearing, as required by the California Environmental Quality Act, for its planned undergraduate housing projects that would add about 6,900 beds to five sites throughout Westwood by 2021. The plan includes constructing three residence halls and two apartments, one of which is a proposed 20-story apartment to replace the existing University Extension building on the intersection of Le Conte, Gayley and Levering avenues.
Westwood residents and property owners at the meeting were noticeably unhappy about the proposed 20-story building. Some argued it would block the view of the Santa Monica Mountains and called on UCLA to respect Westwood Village's low-height aesthetic and reallocate beds to the other planned construction sites. One resident even urged the university to ditch the plan to construct two buildings on Lot 15 on the Hill and instead build a community playground and garden.
Affordable housing, however, is no joke. UCLA's planned housing projects are more crucial than ever because of Los Angeles' sky-high rent prices and mounting pressure from the state government for greater enrollment at University of California campuses. Residents must recognize how these endeavors help UCLA serve the community by revitalizing the Village and carrying out its role as a public university.
We needn't look far to see the perils of limited student housing in Westwood. North Village apartments easily fill up each spring quarter because of high demand for housing near campus. Consequently, Westwood has the second most expensive rental neighborhood in Los Angeles, forcing some students to search for housing miles away from campus, which leads to more traffic congestion as students commute to and from UCLA.
And the situation doesn't seem to be improving anytime soon. The state government has repeatedly forced the UC to enroll thousands of additional California residents, further straining UCLA's three-year guarantee for undergraduate housing on the Hill.
But UCLA's planned housing can address these concerns. The proposed apartment buildings would provide housing for 3,500 students, and the planned residence halls would allow the university to provide 3,400 more students with dorm housing and potentially increase housing guarantees for students. These projects take great strides in providing students with more housing options.
Moreover, the planned apartments would also help revitalize the Village. As Andrew Thomas, executive director of the Westwood Village Improvement Association, said when the projects were announced, housing more students near Westwood makes them more likely to patronize Village businesses – a rare win-win for community officials and students.
This isn't to say that residents' concerns about aesthetic are unfounded; UCLA has a responsibility to respect the Village's character when constructing its buildings. But it's not as though the university is proposing a 20-story building in Westwood just to spite residents. These projects are intended to achieve functional housing goals, and UCLA is more than capable of constructing these units in a way that maintains the neighborhood's style.
Aesthetics, however, are not the be-all and end-all. Students urgently need affordable housing, and residents need to understand that, not lament the loss of their view of the mountains.