UCLA students, local residents argue over proposal to increase housing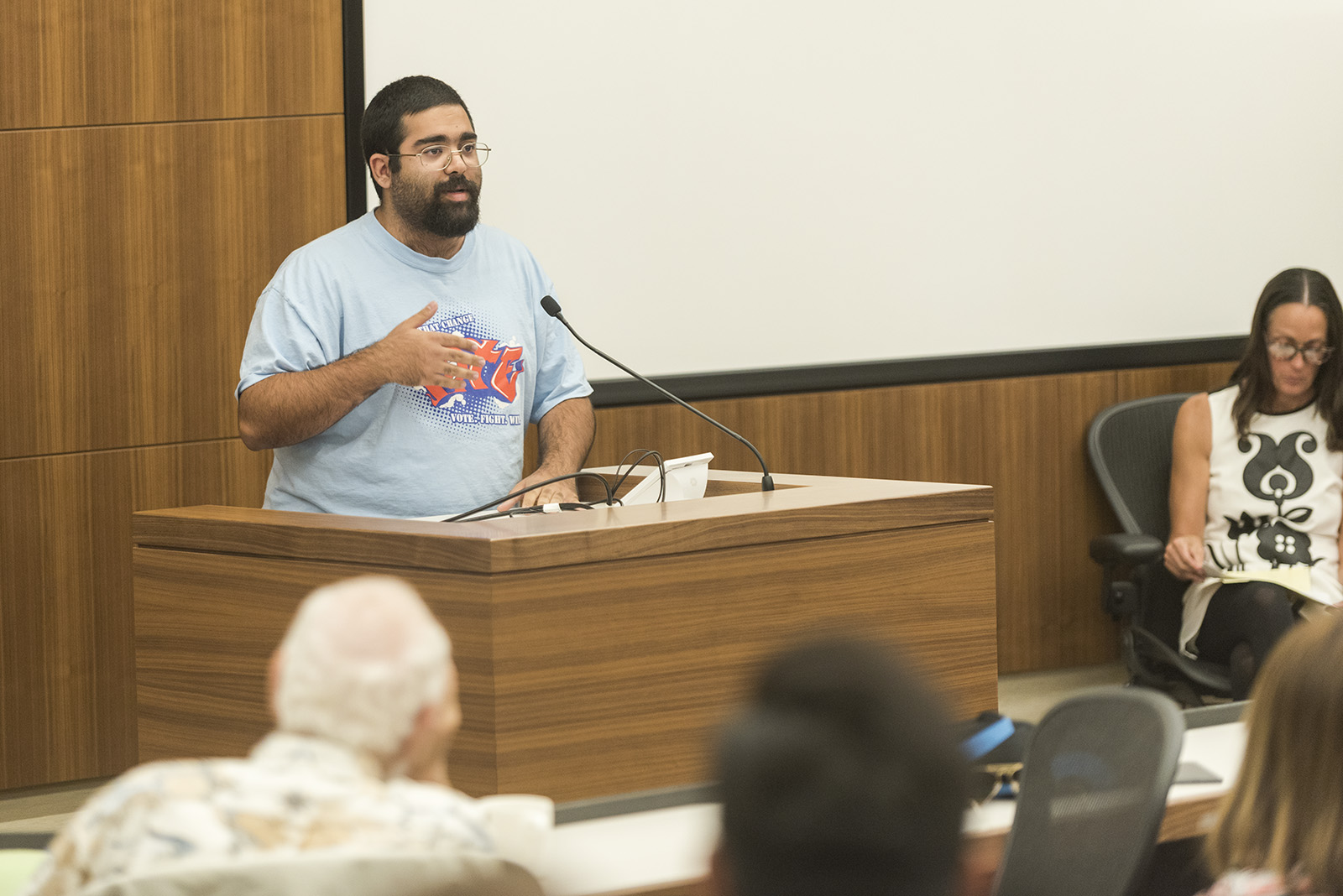 Westwood residents voiced their concerns about a UCLA proposal to build new campus housing in Westwood Village. Many students, including members of Undergraduate Students Association Council and Graduate Students Association, said the Village should not prioritize building aesthetic over student needs. (Michael Zshornack/Photo editor)
Westwood residents and students clashed over UCLA's planned housing projects at a public hearing Tuesday evening.
While students advocated for the projects to increase student housing, local residents said they think the projects would interfere with Westwood Village's aesthetic and intrude into their living space.
UCLA plans to add 6,900 beds to five sites throughout Westwood by 2021 to accommodate greater enrollment, and increase housing guarantees for undergraduate students from three to four years and for transfer students from one to two years.
The hearing, required by the California Environmental Quality Act, took place so the public could voice concerns about the project's draft environmental impact report. Per CEQA guidelines, project planners and UCLA administrators did not answer questions at the hearing but will address them in the finalized report.
Many Westwood residents and property owners at the meeting opposed the proposed 20-story building on Le Conte and Gayley avenues and two buildings on Lot 15 on the Hill.
Some said they think the 20-story building would interfere with Westwood Village's character, as it would block the view of the Regency Village Theatre and the Santa Monica Mountains.
"I worry about the aesthetic appeal of Westwood Village," said John Heidt, a Westwood resident and property owner.
Another Westwood resident, Ann Hayman, said she thinks the planned building on Le Conte Avenue should be no taller than the current building on the site.
"We recognize there is a housing shortage for students," Hayman said. "My suggestion is keep the Le Conte site the height of the current building … and reallocate those beds to the other four sites."
Lisa Chapman, president of the Westwood Neighborhood Council, said while she is sympathetic to student housing needs, she thinks UCLA can find other places for tall buildings, including on campus.
In addition, several Westwood Hills Property Owners Association members said at the meeting the proposed Lot 15 buildings violate an agreement UCLA made with the association to not build new residence halls that would be intrusive to homes west of the Hill.
Amy Lu, a Westwood resident, said she thinks that instead of constructing residence halls on Lot 15, UCLA should build a playground and community garden with street access to Veteran Avenue.
However, more than two dozen students attended the hearing to show support for UCLA's plan to build more housing sites.
Chloe Pan, external vice president of Undergraduate Students Association Council, said she thinks the Village should not prioritize aesthetic over the low income students that need affordable housing.
"It is a privilege to be more concerned about the aesthetics of Westwood than it is to be concerned about the functionality of the buildings," Pan said. "A lot of students do not have the luxury of worrying about whether they have good views of Westwood."
Parshan Khosravi, vice president of external affairs for the Graduate Students Association, said he thinks changes to the buildings' designs to reallocate beds among the five sites may cause the project to be more expensive.
"We can't have this conversation without thinking about the cost of (creating new housing)," Khosravi said.
Paavo Monkkonen, a UCLA associate professor of urban planning, said he thinks it is practical for UCLA to increase housing density near campus because it reduces the number of cars in the area.
"Building tall towers without parking near campus is exactly what all of the urban planning experts say we need to do," he said. "We need more of these types of projects, not less."
Monkkonen added he is concerned about seeing some of his students not being able to afford housing or having a place to live.
Thomas Abbot, a graduate student in urban and regional planning, said he thinks the 20-story building will bring rent down in Westwood because it will increase the supply of housing to keep up with demand. He added he thinks the building will be environmentally friendly as it will house a lot of students in a dense and walkable neighborhood.
"It's difficult to find housing at a price that is reasonable on graduate student loans, so I support any project that increases the supply of housing," Abbot said.
The meeting ended with some residents and property owners saying they may file a lawsuit against the project proposal.
Students or Westwood residents concerned about the project's environmental impact report can ask questions or give feedback about the proposal by emailing UCLA senior planner Tracy Dudman by Oct. 9 at [email protected].
Roberto Luna Jr. is currently a senior staffer covering Westwood, crime and transportation. He was previously an assistant News editor from 2015-2016 and a News contributor from 2014-2015.
Roberto Luna Jr. is currently a senior staffer covering Westwood, crime and transportation. He was previously an assistant News editor from 2015-2016 and a News contributor from 2014-2015.