Inaugural UC public law conference encourages discussion and protests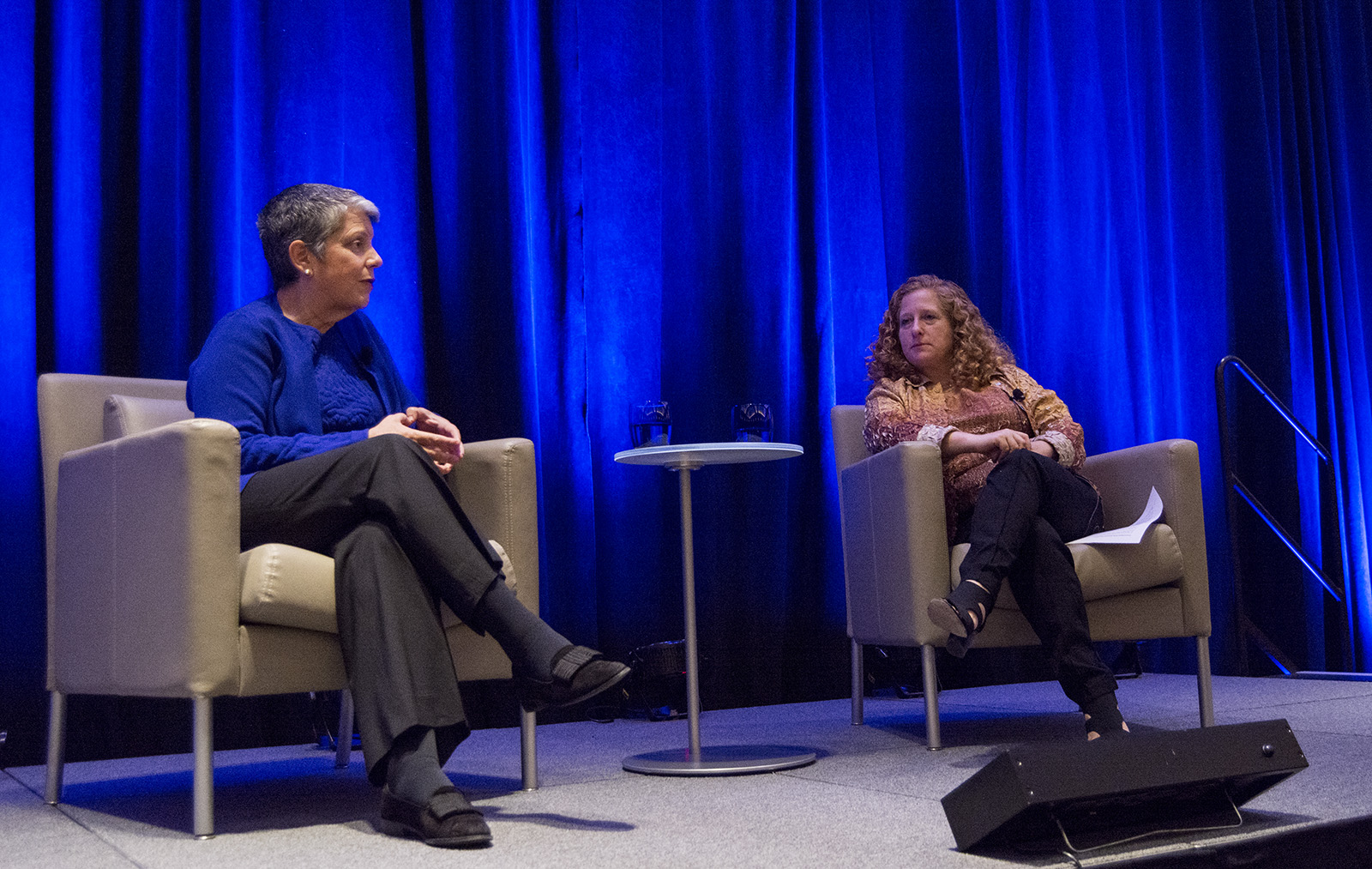 University of California President Janet Napolitano opened the conference with a keynote address Saturday. (MacKenzie Coffman/Daily Bruin)
September 24, 2017 2:08 pm
More than 500 law students, faculty and attorneys discussed how lawyers can use their skills to address civil rights issues at a conference this weekend.
The University of California held its first Public Service Law Conference at the Meyer and Renee Luskin Conference Center from Saturday to Sunday. The conference, which opened with a keynote speech by UC President Janet Napolitano, was overshadowed by UCLA students and staff protesting Ronald Reagan UCLA Medical Center's treatment of contracted valet workers Saturday.
About 20 protesters stood outside the Luskin Conference Center on Saturday, holding signs and chanting "hire the valets" and "what do we want, in-source."
Yismaw Teshome, a valet worker at the Ronald Reagan Hospital, said he and many other valet workers at the hospital will soon be laid off because UCLA ended its contract with ABM, a facility management company that contracts out valet workers, last month. He added he wants Napolitano to require UCLA to hire the laid off workers.
"We have families to support," he said. "If we lose our jobs, our families will be abandoned."
Parshan Khosravi, vice president of external affairs at the Graduate Students Association, who participated in the protest, said he thinks it is hypocritical for the UC to hold a conference on public service because he thinks the University does not properly treat its workers.
"This (conference) is just for the (UC) to pat itself on the back," he said. "They talk the talk, but they don't walk the walk."
Protesters also briefly interrupted Napolitano during an onstage discussion with UCLA School of Law Dean Jennifer Mnookin, calling on Napolitano to resign because she oversaw the deportation of millions of undocumented individuals during her former role as secretary of the Department of Homeland Security.
In her keynote speech, Napolitano said she thinks there is a need for many law graduates to work on civil rights issues such as immigration, racial discrimination and health care access. She added the university has awarded $4.5 million to support students interested in public-interest legal careers as part of the UC's Public Service Law Fellowship program, which launched last year.
"Today, our nation grapples with serious cultural clashes, political divisiveness and difficult questions about our national identity," she said. "Through that turmoil, we have witnessed … a growing role for people with legal training who are devoted to public service."
Napolitano added that many UC law students and alumni have fought for the rights of marginalized individuals. For example, she noted that UCLA School of Law's Criminal Defense Clinic helped a individual convicted of life in prison for a nonviolent drug offense get his sentence commuted by former President Barack Obama.
"It is incumbent upon us to use our expertise and skills as lawyers to take meaningful action to stop injustice in its tracks, to protect the most vulnerable and to serve our communities when they need us the most," she said.
The conference also featured various panels discussing topics such as racial justice and lesbian, gay, bisexual and transgender rights. At several panels, the speakers talked about the public litigation cases they worked on and gave advice to law students on the career opportunities available for them in public service.
For example, at the LGBTQ Rights panel, Kris Hayashi, the executive director of the Transgender Law Center, said his organization has helped transgender individuals fight against employment discrimination and harassment. He added the center also advocates against state bills that prohibit transgender individuals from using the bathroom corresponding with their gender identity.
Many speakers also talked about immigration rights in light of President Donald Trump's travel ban earlier this year, which restricted immigration from several Muslim-majority countries, and his decision to end Deferred Action for Childhood Arrivals. DACA, which former President Barack Obama enacted in 2012, deferred deportation for undocumented individuals brought to the United States as children.
At a panel on the UC's legal services for undocumented students, Vivek Mittal, a managing attorney at the UC Immigrant Legal Services Center, said the center has seen a large increase in the number of students seeking legal services after Trump took office and DACA ended.
"(The end of DACA) has created a lot of anxiety and stress and questioning among a lot of students," he said.
Jacqueline Dan, who is also an attorney at the center, said it also provides legal services for students' family members who are undocumented. She said she helped one student at UC Irvine fight against her mother's deportation in immigration court.
"It was tough and messy but we were able to help (the student's mother)," she said. "The key is to get to know your client and build trust."
Several law students who attended the conference said they thought it helped them have a better understanding of career paths in public service after graduation.
Rodney Leggett, a law student at UC Irvine, said she was able to network with lawyers who advocate for workers' rights, a field she is interested in.
"It's been a great chance to meet people who I might work with in the future," she said.
Diana Liu, a law student at UC Berkeley, said she thinks the conference helped her better understand the legal theories she learned in her classes.
"Instead of just reading a textbook, it really helps to hear how things are done by people in the field," she said.
Bharanidaran is the News editor. He was previously a news reporter for the campus politics beat, covering student government and the UCLA administration.
Bharanidaran is the News editor. He was previously a news reporter for the campus politics beat, covering student government and the UCLA administration.