UCLA admission rate hits record low, student concerns on diversity arise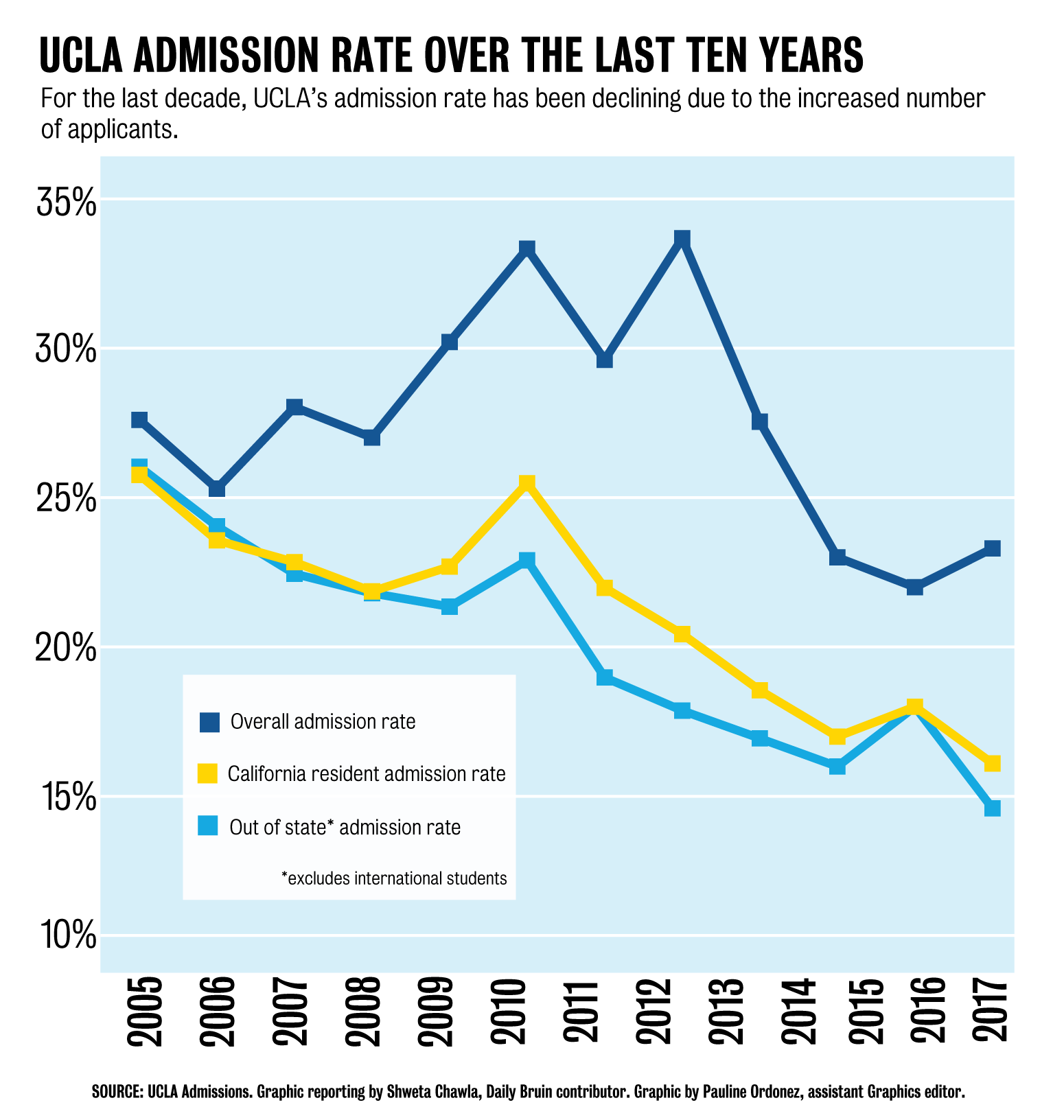 Photo credit: Pauline Ordonez
Sept. 22, 2017 10:07 a.m.
UCLA's admission rate reached 16.1 percent this year, its lowest level ever.
The university also admitted a higher percentage of out-of-state students than in-state students and increased the percentage of students it admitted from underrepresented minority groups.
Youlonda Copeland-Morgan, vice provost of enrollment management, said the admission rate was low because the university received a large amount of applications. She added that despite the low admission rate, the university still took in a larger class size than last year.
This year, UCLA received 102,000 applications from high school seniors, making UCLA the most applied-to university in the country for the 13th year in a row.
Copeland-Morgan said she thinks the increase in applications reflects prospective students' excitement to be a part of UCLA.
"The growth you see in the (applications) is a reflection of the excellence of UCLA," she said. "There's something really special about the intellectual and collaborative environment."
Copeland-Morgan said UCLA admitted a greater percentage of out-of-state students than in-state students because fewer out-of-state students actually enroll in the university once accepted. She said UCLA's higher out-of-state tuition and the travel costs of going home throughout college often deter out-of-state students from attending.
"We can get upwards of 50 percent of matriculation from (in-state students) once the students have been accepted, but only about 16 percent in out-of-state or international (students)," she said.
Copeland-Morgan said after Gene Block became chancellor, he worked with the admissions office to maintain or expand class sizes, even during university budget cuts.
"We have never cut the number of students admitted, not even through the 2008 financial crisis," she said.
Copeland-Morgan said in the last three years, student enrollment in University of California grew by 10,000 under UC President Janet Napolitano and Gov. Jerry Brown. The University admitted its largest freshman class in history during the last two years, she added.
UCLA also takes steps to increase the diversity of the student body, Copeland-Morgan said.
"Whenever we can expand enrollment, we will accept from diverse communities (such as) from rural and low-income communities, and minorities," she said.
Copeland-Morgan added UCLA provides counseling to high school students in lower-income communities on how to navigate the college admissions process.
Some student leaders said they think the lower admission rate could make UCLA more inaccessible.
Divya Sharma, undergraduate student government Academic Affairs commissioner, said he thinks lowering the admission rate will make it more difficult for students from marginalized communities to attend UCLA.
"We don't see a very diverse population," he said. "If we cut the numbers down to who is actually here … a lower admission rate won't be affecting the common applicant, but those from the most marginalized communities."
However, he added he thinks the lower admission rate may be necessary because he thinks the university does not have enough facilities to accommodate the students it already has.
"Student advocacy programs are making the school what it is now," Sharma said. "We wouldn't have (the Community Programs Office) or (the Bruin Resource Center) if it weren't for students; while the university has money for such things, they aren't using it."
Sharma said he thinks the recent UC cap on the number of international students the University can admit will lower the diversity of the student body.
"We claim that there are many, many diverse students, but we can't just accept from California," Sharma said.
He added he thinks the university admits a larger percentage of out-of-state students because they pay more in tuition.
"We need to make sure that those students are not just accepted because of money," he said. "It's not just UCLA that has the problem, but we should hold institutions responsible for who they accept and for what reasons."
Kayla He, undergraduate student government general representative 2, said she thinks the university should admit more students from various backgrounds, including in-state and out-of-state students, because she thinks both groups contribute to the university's diversity.
"The process will be harder with a lower admission process, the nature of the admission rate (being) that more people are applying," she said. "I would love to see UCLA expand the facilities to accommodate more students."