Student DACA recipients voice concerns over past obstacles, future fears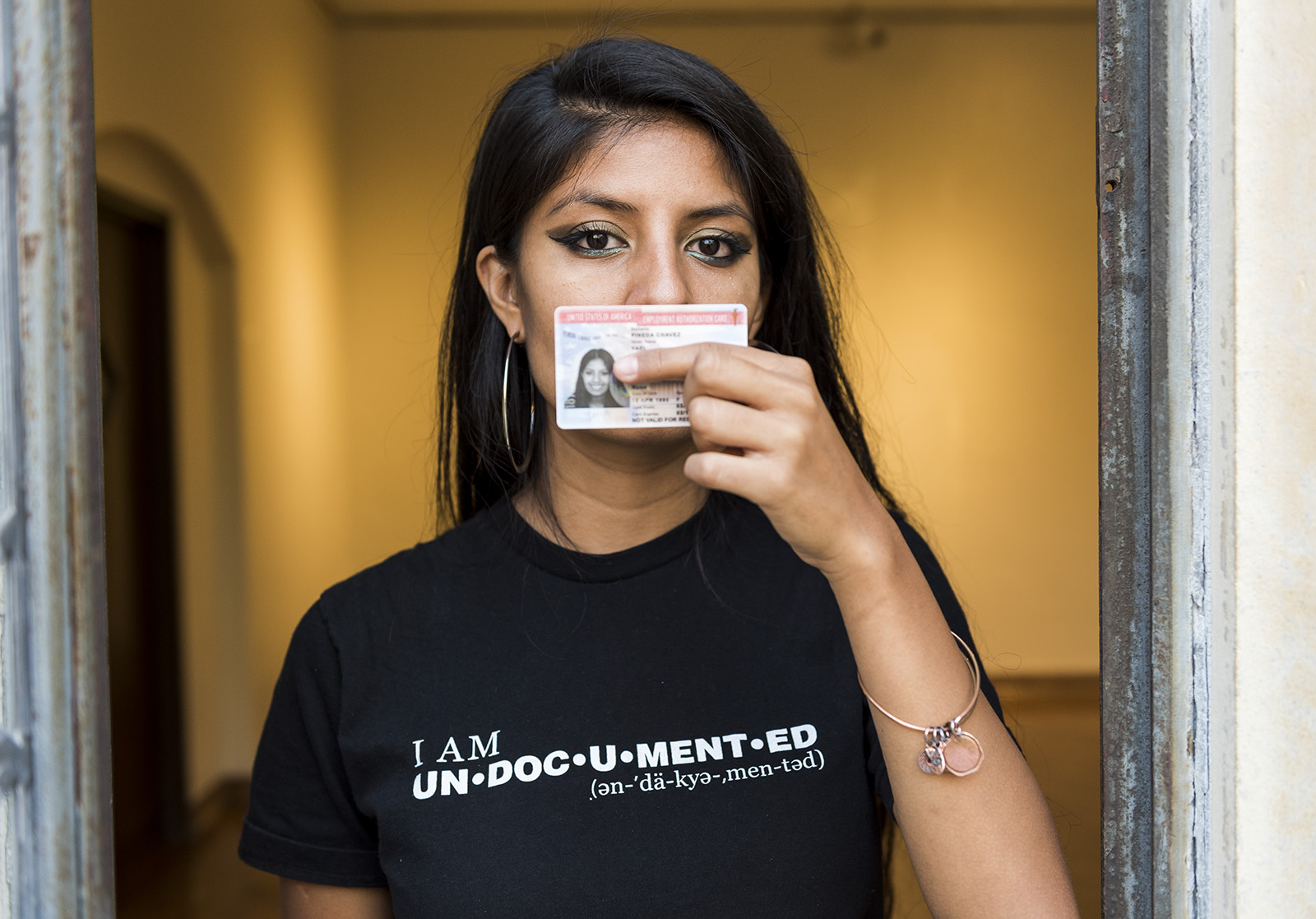 Yael Pineda, a Deferred Action for Childhood Arrivals recipient who graduated in the spring, spoke to the Daily Bruin about her concerns for the future after President Donald Trump ended the program. (Axel Lopez/Daily Bruin)
As a child, Karen Coronilla would get upset when her father would come home after a day's work in construction or gardening without any pay.
"He'd say, 'Well I didn't get paid today, I'm undocumented so there's nothing I can do,'" Coronilla said.
Coronilla, a third-year Chicana/o studies student who is a recipient of the Deferred Action for Childhood Arrivals program, said she was grateful DACA prevented her from experiencing the same problems her father did working under the table. However, with the program now coming to an end, Coronilla said she is no longer certain of her plans for the future.
Earlier this month, President Donald Trump announced his administration is ending DACA, a program enacted by former President Barack Obama in 2012 that deferred deportation for undocumented individuals brought to the United States as children. The program also helped undocumented individuals procure work permits and receive driver's' licenses in certain states.
Coronilla, who came to the United States from Mexico at age 5, said she knew she and her parents were undocumented ever since she was a young child.
"It never suddenly hit me," she said. "I knew what being undocumented meant for me … I grew up hearing that it would be hard for me to get an education, for me to get a job."
When Coronilla's family came to the United States, they had to move around because it was difficult to find affordable housing, she said. They eventually settled in Fontana, California, but the city's increasing housing prices have made it difficult for her family to pay rent.
"Because we are undocumented, we don't get that help other people who were born here may get," she said. "There's this misconception that we're coming to take benefits, but we're not eligible for things like food stamps or cash benefits."
Coronilla said she began to see college as an option after the Obama administration created DACA while she was a high school student. One of her high school teachers pushed her to take Advancement Placement and honors classes, which she said helped her get into and attend UCLA.
"I was thinking I would just attend a school near home, but when I got (into UCLA) I realized 'Wow, I can do this,'" she said. "I really thought I could do anything I set my mind to."
Coronilla said she received a financial aid package from UCLA, and has been able to work at the UCLA Bruin Resource Center because of DACA. She added this meant she did not have to burden her parents with her college expenses, and was confident she could pay back her student loans.
Now that the program is over, Coronilla said she thinks DACA gave undocumented individuals a false sense of hope.
"When (DACA) was around many of us advocating (for undocumented individuals) became complacent," she said. "But now reality has hit."
She added she thinks that while many Americans support DACA recipients, they need to advocate more for undocumented individuals like her parents, who have no protection from deportation.
"We have to move away from this Dreamer narrative," she said. "We shouldn't just be advocating for this small group of 'deserving immigrants' – we should be advocating for something so much more comprehensive or inclusive."
Coronilla, whose DACA protection expires in 2019, said in spite of the program ending, she plans to continue pursuing her dream of working as a social worker and helping workers like her father receive fair pay.
"The future's uncertain, but it's always been uncertain as an undocumented person," she said.
The first time Yael Pineda told someone outside of her family that she was undocumented was during her first day of freshman orientation at UCLA.
As the students in her orientation group went around introducing themselves, Pineda decided to tell her peers about her immigration status for the first time.
"(Being undocumented) had always brought a lot of shame to me," she said. "I hadn't really been able to say it out loud for a long time."
Pineda, who graduated in the spring, said before she started college, she would say she was from Washington state whenever someone asked where she was from.
Washington passed a law in 1993 allowing undocumented individuals to receive driver's licenses, so although her family lived in California, her parents got their driver's licenses in Washington.
"I always lied," she said. "When you think of someone undocumented, you think of negative stereotypes … growing up with that rhetoric I always had this sense of worthlessness."
After receiving DACA in her final year of high school, Pineda said she felt like she was living a normal life, free from having to worry about her immigration status.
"I guess (DACA) helped me feel included within American life – I think it gave me a sense of belonging to the country," she said.
Pineda added DACA allowed her to work on-campus jobs and take a study abroad trip to the Netherlands – her first trip outside the country since she came to the United States.
"(The trip) gave me the opportunity to once again feel like a normal teenager and not have this stigmatized part of my identity," she said. "In Europe, I was not an undocumented person living in the United States."
However, now that the program has ended, Pineda said she is afraid because she does not know what to expect after her DACA protection expires in 2019.
"I've lived my entire adult life with DACA and with the legal authorization," she said. "My future plans are very blurred – there's this very real fear that this degree may have been for nothing."
Pineda said she thinks those who support the mass deportation of undocumented individuals should learn to empathize and understand that undocumented individuals come to the United States for opportunities to work and provide for their families.
"They need to stop seeing this as an act of criminality, but as an act of love," she said.
She added she thinks both Democratic and Republican politicians misuse undocumented individuals for political gain.
"We're like pawns in a chess game – they keep proving to us that our lives don't matter to them," she said. "They keep playing with our lives."
Pineda works at the UCLA Labor Center's Dream Resource Center, which conducts research on immigration issues, and said she plans to continue her position there and advocate for the rights of other undocumented individuals.
"DACA does not define us," she said. "We need to keep pushing forward, we need to never let this fear stop us or push us back into the shadows – we need to keep fighting."
Bharanidaran was the News editor from 2017-2018. He was previously a news reporter for the campus politics beat, covering student government and the UCLA administration.
Bharanidaran was the News editor from 2017-2018. He was previously a news reporter for the campus politics beat, covering student government and the UCLA administration.