Little-known Westwood policies frequently impact students, Village life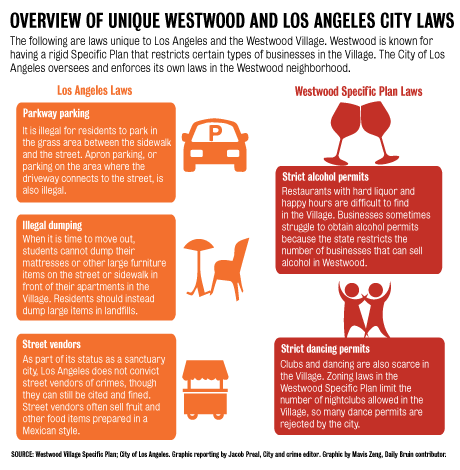 Sept. 22, 2017 10:13 a.m.
Students are subject to various laws in Westwood Village and the greater Los Angeles area. As a neighborhood in Los Angeles, Westwood enforces laws passed by the city, in addition to its own unique zoning and planning rules. The following is a compilation of rules and regulations that commonly affect students.
Parking regulations
Certain parking practices in the Village, including parkway parking and apron parking, can be ticketed, said Sgt. Toni Bowie of the Los Angeles Department of Transportation. Parkway parking, or parking in the grass area between the sidewalk and the street, will result in a $68 ticket. Apron parking, or parking in the space between the street and a driveway, will result in a similar fine.
Although parking enforcement officers constantly patrol and enforce parking violations, Bowie said they will usually ask individuals to move their vehicles off the parkway if the individuals are present, rather than immediately ticketing them.
In August, the Los Angeles City Council renewed the parkway parking law, which had been suspended in 2011. Bowie said the council resumed enforcement because cars that are parkway parked often cover sidewalks or protrude into the street, which violates state law.
Bowie added these types of parking violations are most commonly found in highly populated areas with limited parking, like the areas surrounding UCLA's campus. When the council renewed the parkway parking law, Donald Shoup, a UCLA professor of urban planning and an expert on parking, said a large amount of parkway parking occurs in the North Village, where many undergraduate students live.
Illegal Dumping
Many students living off campus may dump unwanted furniture on the streets after moving into their apartments.
However, illegally dumping items like mattresses, couches or other large furniture items on the street can result in a $10,000 fine or in the seizure of a vehicle used in the dumping, according to the Los Angeles County Department of Public Works.
Elena Stern, a spokesperson for the Los Angeles County Department of Public Works, said students at universities throughout the city move in and out of apartments frequently, and often illegally dump furniture items.
Stern said LA Sanitation will collect large furniture items if residents schedule an appointment in advance. Residents can schedule appointments by calling 1-800-773-2489 or by filing a service request online.
Earlier in the year, the office of Los Angeles City Council District 5 said it would host illegal dumping workshops to educate students. LA Sanitation recommends residents recycle their unwanted furniture items at thrift stores and charitable organizations, according to its website.
Westwood Specific Plan Rules
Students who frequent Westwood Village may notice few bars and dance clubs because of the Village's Specific Plan.
The Westwood Village Specific Plan, the Village's master planning and zoning document, requires nightclubs and other businesses that would have music and dancing to carry an entertainment permit. For a business to serve alcohol, it must have an additional conditional-use permit.
Andrew Thomas, executive director of the Westwood Village Improvement Association, said while there is no Villagewide ban on alcohol and dancing, there are many obstacles for businesses to obtain permits to serve alcohol.
For example, a business looking to sell alcohol on its premises will first need to get a liquor license through the California Department of Alcoholic Beverage Control, Thomas said. They will then need to confirm their business adheres to the Specific Plan and is able to serve alcohol based on zoning laws and the on business' general location.
The Los Angeles City Planning Commission ultimately has the final say on whether a business can sell alcohol in Westwood, but the Westwood Neighborhood Council must first approve the business proposal, Thomas said. While the planning commission does not need to heed the neighborhood council's recommendation, the recommendation does carry weight, he added.
Thomas added business owners may have their proposal appealed or completely rejected at nearly every step of the process. He said he thinks most businesses do not want to invest the time and money necessary to get a bar or nightclub approved.
Other restrictions in the Specific Plan limit modifications to buildings deemed culturally significant, Thomas said. This means if the owners of a new nightclub wanted to change a building's facade to be more appropriate for their business, they would likely face objections from the neighborhood council.
Preal is the editor in chief of The Bruin. He was previously the assistant news editor for the city and crime beat and a news reporter for the city and crime beat.
Preal is the editor in chief of The Bruin. He was previously the assistant news editor for the city and crime beat and a news reporter for the city and crime beat.