Associate professor explores history, reality of Moroccan Jewish community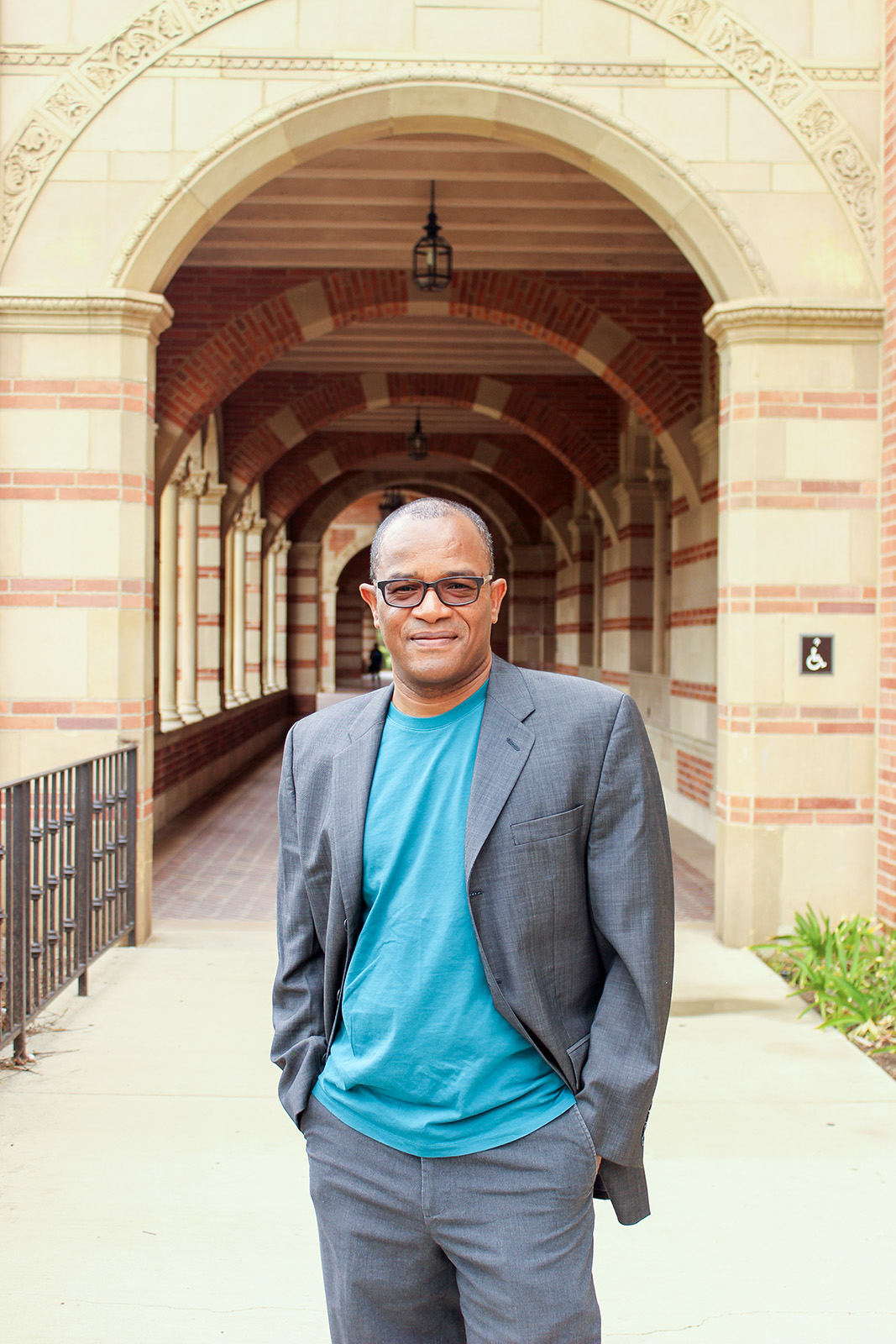 Associate professor Aomar Boum conducts research on Jewish history in his native country of Morocco, providing insight into today's Moroccan Jewish communities around the world. (Pablo Munoz/Daily Bruin)
Aomar Boum said his research on Jewish history in his home country of Morocco brings local attention to that history and helps people reconnect with their historic roots.
However, Boum said because he is Muslim, his background affects how people perceive his research.
"If I think about identity politics (in the United States), being black, being Muslim, being Arab, being Moroccan – it puts (me) in a vulnerable position in different contexts, whether in Morocco or here," he said.
Boum, an associate professor of anthropology, researches the Jewish population in Morocco, once one of the largest in the Arab world. He said his research into the Moroccan Jewish community explores how Muslims view the Jewish community and what it means to be of Moroccan Jewish descent in other parts of the world.
Boum began studying the community where he grew up, in the oasis of Mhamid, Morocco, before branching out and building upon existing scholarly thought.
"What drives me through research, through my books in different languages, is hopefully giving voice to the vulnerable," Boum said.
Boum was born and raised in southern Morocco. Because his village did not provide education beyond elementary school or ready access to books, he attended middle and high school in larger towns and assisted his family with farming during summers home.
One of the greatest challenges Boum faced while in school was the transition from high school classes conducted in French to university classes conducted in English.
But Boum said his pursuit of a bachelor's degree in English and English Literature increased the employment opportunities available for him in Morocco.
"There was a saturation of students trained in history or geography," Boum said. "If I had done my training in that, I would probably be on a different path."
Boum worked in the film industry in Morocco for less than a year, then enrolled in a master's program in a local university before moving to the United States.
This summer, Boum returned to Morocco with a colleague from the UC Berkeley Center for Middle Eastern Studies and a group of 15 elementary and high school teachers from Northern California. The trip was designed to expose the educators to the history and diversity of Morocco and help them design teaching material related to diversity for their classes back home.
"The formula to at least allow a future generation to at least respect diversity and difference is training and education, from the bottom up," Boum said.
Boum added he thinks his partnerships with individuals in his home country and with researchers at UCLA are a model for teaching and fostering student initiative and involvement.
Boum said his research on the Moroccan Jewish community examines a history not widely discussed outside Morocco for centuries, and at the same time looks at how the group views itself in the present.
There are approximately 4,000 people who identify as Moroccan Jews living in Morocco today, compared with almost 10,000 Moroccan Jews in Los Angeles, Boum said.
He added he thinks the recent termination of the Deferred Action for Childhood Arrivals program highlighted the dual presence minorities feel between their current places of residence and their ancestral heritage.
"The hyphenated identity is a question always being debated, especially with all the debates about (immigration) now," he added.
Boum is collaborating with a young Moroccan artist to develop a comic book that tells a story of a young Jewish boy who fled Berlin during World War II and was taken in by a Muslim and Jewish family in Casablanca, Morocco, until the end of the war.
The book will address the situation of refugees around the world, including individuals displaced in Myanmar, Latin America and sub-Saharan Africa, Boum said.
Sarah Abrevaya Stein, a history professor, who is co-editing a book with Boum titled "The Holocaust and North Africa," said their work focuses on topics that are often not covered in a single department.
Stein said their upcoming book is partially inspired by a conference they organized at UCLA in 2015 focused on interactions between Jews and Christians in North Africa during World War II. She said she has observed increased interest in interactions between Muslims and Jews in the Middle East.
"An appreciation for the complexities of these encounters is often left out of popular accounts," Stein said.
She said their forthcoming work aims to compile a complete history of the region using both of their expertise.
"He is an amazing scholar and brilliant colleague," Stein said.
"UCLA is incredibly fortunate to have him, as is the community of Jewish scholars, especially because his particular expertise and experiences are incredibly unusual and significant."
Boum said he hopes to continue forming academic partnerships to further explore his other passions, including Islam and anthropology.
"I am also happy that my work has been translated into Arabic to maximize the circulation of the stories that people that interviewed over the years have graciously communicated to me," Boum said.
He believes his works have helped Muslims understand the history of their Jewish neighbors through the points of view of previous generations.
"People have to be familiar with the questions and realities before we can think about the politics," Boum said.