Alumnus' site helps filmmakers of all creeds find shoot locations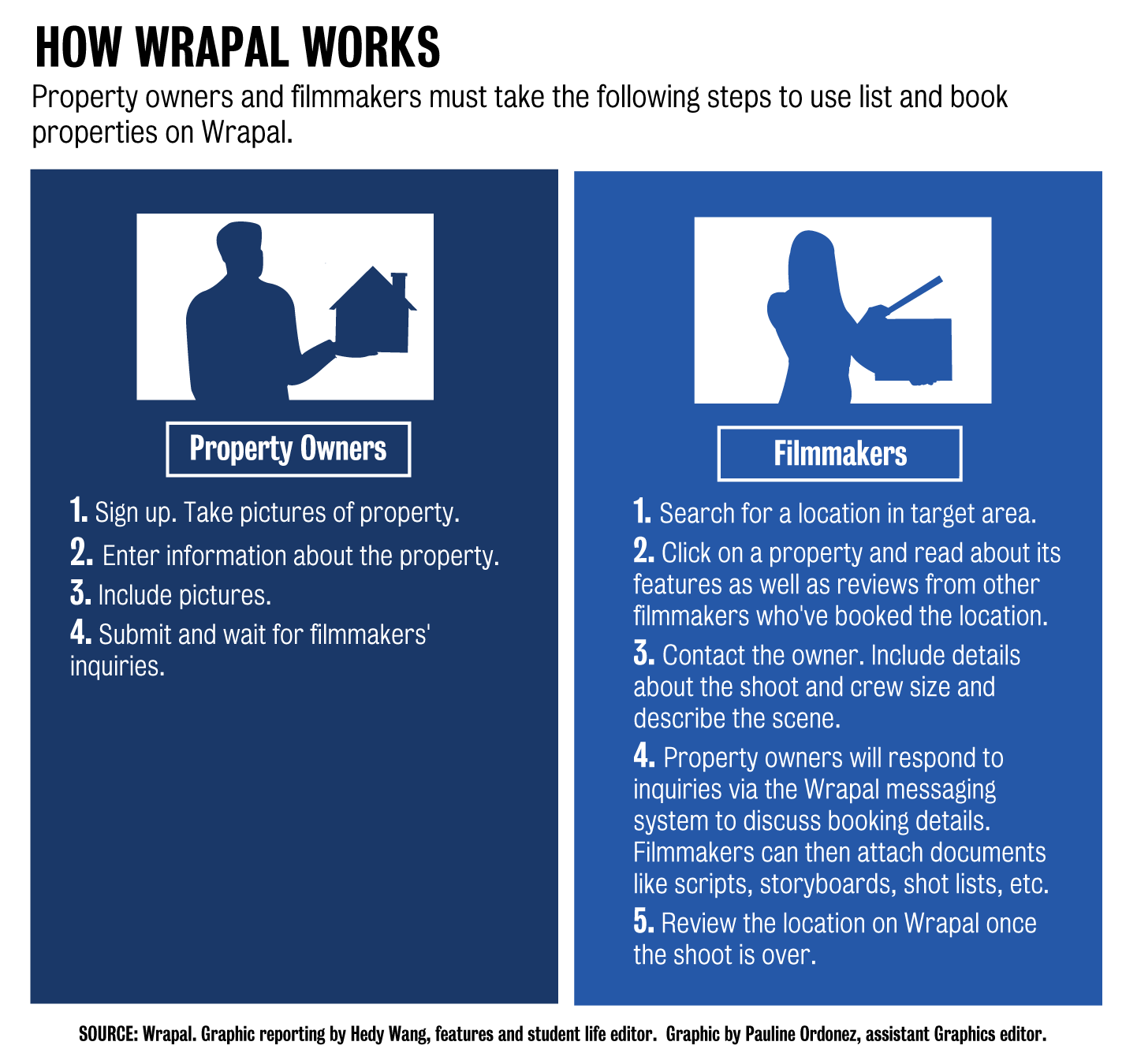 Sept. 22, 2017 10:15 a.m.
Brian L. Tan went bar-hopping every night for a month.
The purpose of these visits was not to drink, however; he was looking for a location to shoot a short film that required a bar setting. While he was able to find a location, he said he felt it took too long to find.
This experience and other issues with traditional location scouting methods prompted Tan, who graduated in 2010, and Melissa Nemcek, who graduated from the UCLA School of Theater, Film, and Television in 2012, to launch Wrapal in 2016.
Wrapal is an online platform that connects filmmakers searching for film locations with property owners willing to rent their properties to filmmakers. There are more than 1,300 residential, commercial and industrial properties in Los Angeles and about 215 properties in New York City listed on Wrapal, Tan said.
"We're at the intersection of technology, film and real estate, and to me carving out a small niche is very satisfying because I'm touching three worlds that wouldn't ordinarily come into interaction with each other," Tan said.
Nemcek, who met Tan through the Film and Photography Society at UCLA that Tan founded on campus, said she and Tan decided to work together because they had similar experiences as filmmakers trying to find shooting locations and had similar ideas to create an online database of film locations.
"One of the commonalities we both had faced while we were doing our shoots was the challenge in finding a location," Nemcek said.
Tan said filmmakers traditionally found film locations through searching on their own or hiring a film scout. However, he said most independent filmmakers don't have enough money for a film scout, so they have to rely on less efficient methods, such as searching on social media or going on websites like Craigslist and Airbnb that advertise rentals.
"The film industry is one of the most archaic and old-school industries in the world, so I thought it was right for something to come along and offer solutions," Tan said.
Whether he was working on an independent film or a big blockbuster, Tan said finding locations was the most challenging part of the production process because it was time-consuming and tedious.
"You'd have to go door to door … and try and convince them to let you rent their location," Tan said.
Nemcek she faced similar struggles as a film student. On a particular project she produced for a student director, Nemcek wanted to film at UCLA but couldn't find any resources that showed all the rooms and locations available on campus.
She eventually went around campus to take pictures of every women's restroom, classroom and hallway that she could get herself into to create a minidatabase for the director.
Andrew Acedo, a filmmaker who graduated from UCLA in 2016, said he uses Wrapal to look for film locations and finds it to be faster than traditional scouting methods.
"Obviously those locations still cost money, but it's cool how it was free to just browse and everything because other platforms cost money," Acedo said. "It gets pretty pricey at some places, especially for independent filmmakers, so I found (Wrapal) very useful."
Marlon Fuentes, a virtual reality producer at BuzzFeed who attended UCLA with Tan, said BuzzFeed frequently uses Wrapal to find film locations for its content.
"We create not strictly videos, but we are making about 600 pieces of content a day, so you can kind of estimate what that might be like in terms of demand on resources that can help us find locations, cast … anything that has to do with these videos," Fuentes said.
Fuentes said BuzzFeed used to use Airbnb to find locations, but that did not work as well because property owners were unfamiliar with how to accommodate film shoots.
"We have a lot of producers here, and their job is basically to find everything that we need to make our videos," Fuentes said. "With a resource like Wrapal, they can just very quickly identify what the locations are within our budget and then very quickly lock it in for us."
Tan said he uses the platform himself to find film locations and lists his own house on Wrapal. One day, when he was heading to the Rocky Mountains, somebody messaged him on Wrapal saying they wanted to use his home to film a music video. Tan agreed and simply told them to let themselves into the house.
The next evening, he found out it was Snoop Dogg who was filming at his house.
"BuzzFeed and Fox use our site, you never know who's gonna show up," Tan said, "Occasionally you get your big music videos and feature films."
Tan said he hopes Wrapal becomes ubiquitous in the film industry and plans to expand Wrapal to other locations in the country.
"I want Wrapal to be a verb that people use in the industry like 'Hey, let's Wrapal that location.'" Tan said. "That would be my dream come true."
Wang is the Enterprise editor. She was the News editor last year and an assistant News editor for the Features & Student Life beat the year before that. She is a fourth-year economics and communications student.
Wang is the Enterprise editor. She was the News editor last year and an assistant News editor for the Features & Student Life beat the year before that. She is a fourth-year economics and communications student.