Editorial: UCLA Transportation can improve by studying student transit needs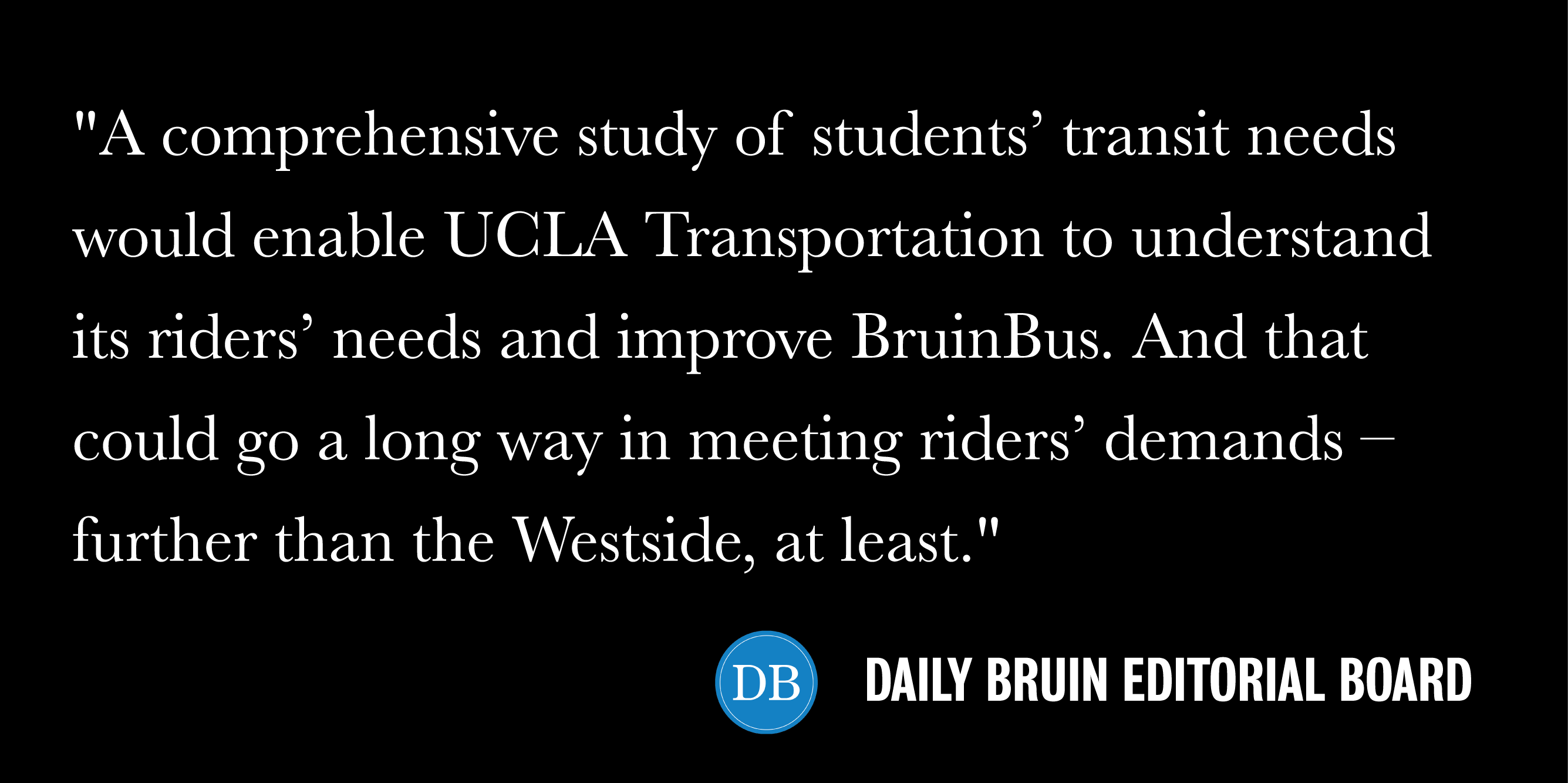 Take the Rapid 12 bus to the Expo Line station. Catch the Metro Red Line. And hopefully reach Union Station in under an hour and a half.
Getting to and from campus often involves a labyrinth of transfers between bus and rail for UCLA commuters, and there is a clear need for an expedited transportation process, especially given 28 percent of student commuters use public transit as part of their daily travel.
Enter BruinBus – UCLA's year-round shuttle service. BruinBus' various shuttles runs for up to 12 hours each weekday of the school year, offering students and faculty with free rides to a variety of Westwood destinations. Residents on the Hill can also take the bus on weekends to nearby grocery stores or Santa Monica.
But while the BruinBus services a great number of community members near campus – more than a million riders utilized it between July 2015 and June 2016 – those who live outside of the Westwood area are out of luck. After all, single-destination routes to Santa Monica limit the capacity of the bus to meet the needs of the student body.
As such, UCLA Transportation should conduct research into student transit patterns to understand how best to improve BruinBus' services, be that in changing hours of operation, expanding destinations or optimizing transit routes based on student demand.
BruinBus could use a boost in several ways. By ending its campus shuttle services at 7 p.m., for instance, the bus strands students with campus jobs or club activities that run well past sundown. And by only shuttling students to Westwood grocery stores or Santa Monica on weekends, the bus prioritizes Hill residents – who are only a short walk away from Westwood – over students further away from campus who could use a more direct means of returning to Westwood.
UCLA Transportation would also do well to respond to demand for transportation outside the Westwood area. Since the bus already travels to home football games, it's not unreasonable for it to also shuttle students to Union Station – about 10 miles closer to campus than the Rose Bowl – or even to the closest Red or Purple Line stations. Such a service could be modeled after USC's bus, which travels between its campus and Union Station past 10 p.m.
This isn't to say UCLA Transportation is oblivious to riders' needs. BruinBus added new stops in January – albeit, in the Westwood area – and UCLA Transportation conducts yearly student surveys that culminate in annual reports. These, however, do not necessarily capture the nuances of students' daily transportation patterns, nor do they differentiate between weekday, weekend and holiday traffic – each of which have demand for different destinations.
And while UCLA Vanpool operates almost 150 vans to transport students, the program depends on Bruins reaching out to get destinations serviced, generally operates for long distance commutes and only had 68 student riders for fall 2016.
A comprehensive study of students' transit needs would enable UCLA Transportation to understand its riders' needs and improve BruinBus. And that could go a long way in meeting riders' demands – further than the Westside, at least.