UC Regents recap – Sept. 13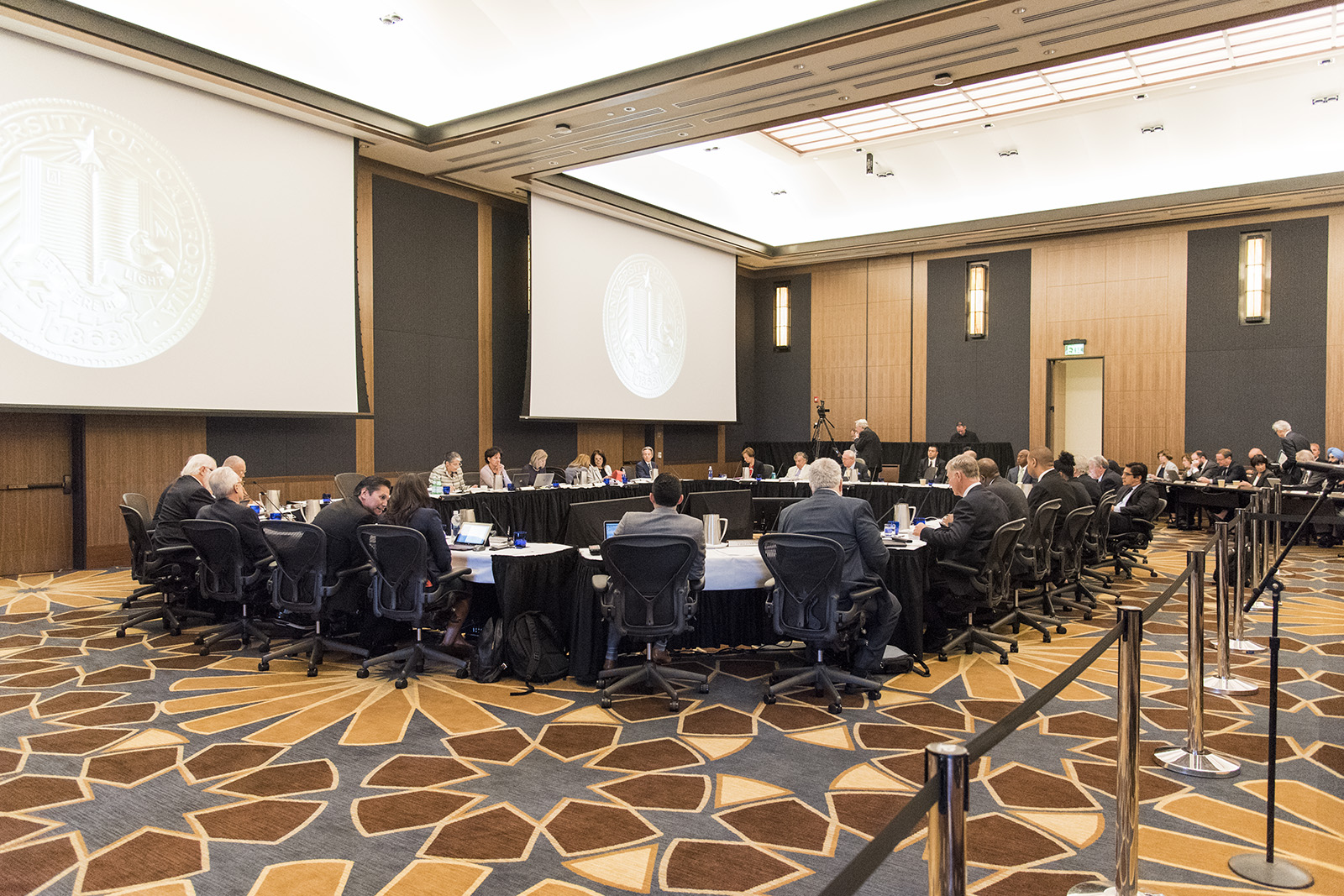 At the University of California Board of Regents' bimonthly board meeting at UC San Diego on Wednesday, regents discussed campus admissions verification procedures and the UC's upcoming budget, among other topics. (Daily Bruin file photo)
The governing board of the University of California met for the second day of its September meeting at UC San Diego on Wednesday. The Board of Regents discussed recent state audits of the UC, campus admissions verification procedures and the development of the UC's next budget.
Board of Regents
UC President Janet Napolitano announced the creation of an Admissions Verification Task Force to review campuses' procedures for verifying the academic information of students who are admitted. Over the summer, UC Irvine received criticism after rescinding a large number of admission offers from students who did not submit high school transcripts and test scores on time.
Public Engagement and Development Committee
Kieran Flaherty, the UC director of state governmental relations, said the University plans to build strong relations with state legislators by working on specific legislative goals and by engaging legislators at district meetings and UC campuses.
Regent Richard Blum criticized the state for auditing the UC and said he thinks the audit was a waste of state funding and resources. He added he thinks the audit painted a negative picture of the University.
Regent Norman Pattiz said he thinks it is wrong to criticize the state audit, and added the UC has agreed to implement some of the suggestions from the audit.
Compliance and Audit Committee
UC Executive Vice President Nathan Brostrom said that after state auditors reviewed 31 service contracts, they found two of the contracts did not fully adhere to the University's guidelines regarding employee displacement. He added the state recommends that the UC Office of the President more actively enforce compliance and revise its contracting policies and displacement guidelines.
Lt. Gov. Gavin Newsom criticized UC San Francisco for outsourcing some of its information technology positions to an Indian IT firm. He added he thinks the contract could be an abuse of the H-1B visa process. H-1B visas allow U.S. employers to temporarily fill positions with foreign workers to compensate for a lack of skilled domestic workers.
Regent Hadi Makarechian said that while he was originally against outsourcing, he thinks that campuses have to consider contracting out positions in order to cut costs.
Newsom criticized the rising cost of the UC Payroll, Academic Personnel, Timekeeping and Human Resources project, which seeks to replace campuses' outdated and decentralized systems with one processing center. Newsom added he thinks the project needs to have more accountability and transparency.
Academic and Student Affairs Committee
UC Irvine Chancellor Howard Gillman apologized for rescinding a large number of new student admission offers during the summer for those who did not submit transcripts and test scores on time. Gillman said the university had to over-enroll students because more applicants had accepted offers than the university expected.
Ruben Canedo, a research coordinator at UC Berkeley and co-chair of the UC's Global Food Initiative Basic Needs committee, said the UC will be releasing a Basic Needs report in November with details on students' experiences with food and housing insecurity.
Several regents, including Regent John Perez and Newsom, said they think the University should do more to help student athletes and make sure that they are performing well academically. Michael Williams, director of athletics at UC Berkeley, said the campus provides student athletes with academic support and mentoring, and said that athletes at UC Berkeley have been improving their academic performance.
Finance and Capital Strategies Committee
The committee approved plans and funding for several construction projects, including the Northern Regional Library Facility at UC Berkeley, a science and engineering building at UC Irvine and a medical building at UC San Francisco. However, several regents, including Makarechian, said they think the costs for the building in UC Irvine are too high, and asked the campus to look into offsetting some of the construction costs.
Napolitano said the University needs more funding to support increases in enrollment and added the University also faces costs for compensation increases from collective bargaining and expanding and maintaining infrastructure. She added that any tuition increases proposed for the 2018-2019 year would be offset by need-based financial aid, with a third of the revenue from a tuition increase going to financial aid.
Brostrom gave the regents updates on the UC's development of its budget for 2018-2019. Brostrom said when developing the budget, the UC is considering costs associated with enrollment growth, improving the student to faculty ratio, employee retirement benefits and financial aid. He added the UC is looking into additional sources of funding, including a tuition increase.
Brostrom said that while the UC has not yet developed a specific tuition proposal, it is currently consulting with campus and student leaders. He added the UC will present its budget proposal for approval by the regents during the board's November meeting.
Contributing reports from Ryan Leou and Rupan Bharanidaran, Daily Bruin senior staff.
Zhen is an assistant news editor for the national and higher education beat. She was previously a contributor for the campus politics beat and an online contributor.
Zhen is an assistant news editor for the national and higher education beat. She was previously a contributor for the campus politics beat and an online contributor.